Taste of the Union: Tapas at Prairie Fire
Looking for something more than coffee, tea, espresso and bakery and grab-n-go items at Prairie Fire? You won't have to go far for a tapas dining experience fit for any foodie.
Tucked behind the building's notable coffeehouse sits a tapas haven. With a variety of beverages as well as a refreshing mix of tapas to choose from, this cozy café offers the picture-perfect way to unwind after a long day.
The diverse options at Prairie Fire made it impossible to choose just one, so, in true tapas fashion I splurged for two.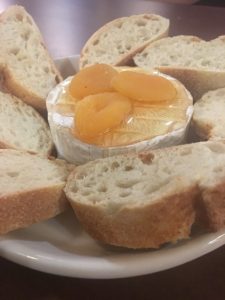 Going for a bolder choice, I first ordered warm brie served with a baguette. The brie was mild with a creamy base. There was honey drizzled on top to lend just the right amount of sweetness to the savory brie. The plate also offered a generous amount of dried apricot to complement the cheese and bread combo. For a simple, yet elegant appetizer, I was pleasantly surprised it is only $6.50.
Next, I opted for the chicken quesadillas. This dish consisted of three mid-sized quesadillas with a generous portion of mild salsa. There were hints of chili powder, paprika, cumin and other spices within the quesadillas, which gave them great flavor. This tapa costs $4.
To tapa it off, between 5 p.m. and 9 p.m. on Thursdays, Prairie Fire offers half-off tapas, which I will no doubt be taking advantage of. Perfectly nestled between the fireplace and the piano, the dining space offers a sophisticated dining experience to relax after a hard day. With out of this world flavor and real world prices, Prairie Fire will certainly see me again.
For Prairie Fire's hours, location and full menu, please visit union.wisc.edu/prairie-fire.