Renovated Memorial Union First Floor: The Ideal Study Spot for Finals Week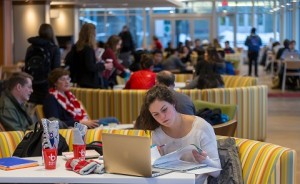 As if finals week weren't stressful enough, finding a place to study is a battle all its own. Fortunately, the doors to Memorial Union's first floor have opened just in time for finals season, and it is now equipped with all your necessities so you can sit in one spot all day like the finals gods intended.
You might remember a little space called Lakefront on Langdon, a.k.a. the closest thing to the Terrace during the long Wisconsin winter. Today, it is known as Lakeview Lounge and it has everything the college student could hope for during finals week. Decked with more than 100 outlets for your laptop and phone, Lakeview Lounge is the perfect place to camp out while you cram every last bit of lecture notes into your brain.
We're also stocked up on all things caffeine at Peet's Coffee & Tea to keep you going strong. Now located in the southeast corner of Memorial Union's first floor, Peet's has more seating and a wider menu selection than it had prior to renovations. We're sure you'll find something you love here, whether it's a drink, a pastry or a cozy window seat.
If coffee isn't your cup of tea, the Badger Market has snacks, refreshments, and supplies to help you through those long study sessions. Speaking of things you need, the Daily Scoop will be serving your favorite flavors of Babcock Ice Cream, and will also offer sundaes, smoothies, malts, shakes and pie for those of you craving some sweet motivation.
This improved space is not only equipped to keep you and your laptop going strong, but serves as a place to get work done in comfort. Lakeview Lounge's natural light and cozy atmosphere will make you feel at home, which is what most students need during finals week. When paired with a cup of Peet's coffee, Lakeview Lounge is the study spot of your dreams.
"I'm really looking forward to spending some time in Memorial Union now that it's renovated. I think students are excited to see the changes and to try the new restaurants," Sydney Schibbelhut, a UW-Madison senior, said of the updated space.