Studying at the Union
Friendly reminder, Badgers, finals are coming, and it's time to open those textbooks!
Okay, so maybe there's no friendly way to remind you about tests, but I'm here to help.  
I've spent my fair share of time studying on campus, at Union South and Memorial Union in particular. And I've found favorite spots at both buildings.
So, here are your soon-to-be-favorite places to study; panic that you know nothing; realize you do know things and you can do this; and then study some more at Union South and Memorial Union! 
Lakefront Lounge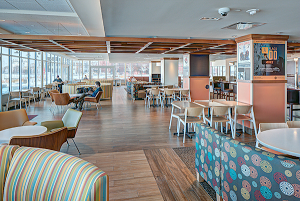 Studying with a group? While it can be a place for quiet study, the Lakefront Lounge is known for collaborative work and lively conversation. (Not to mention, the view is great.) Recently reopened after construction and still possessing that just-constructed shine to it, this is a top-notch location to study in Memorial Union.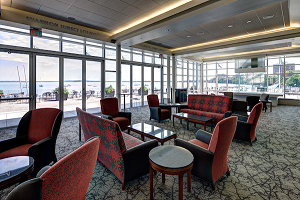 Shannon Sunset Lounge 
Tucked on the west end of Memorial Union across from the Shannon Hall is the Shannon Sunset Lounge. Different types of seats and tables abound in this study haven. It even has cozy, soft chairs that are sure to dampen the emotional blow of group projects and tests. This lounge offers almost 360° views of Lake and a fireplace to keep you warm. Whether you choose to study or socialize here, this lounge tends to have a calm and quiet atmosphere sure to sooth any panic-ridden heart.  
Prairie Fire 
With an endless supply of coffee nearby, Union South's Prairie Fire offers a quiet study lounge where soft music and nature-inspired décor awaits. This is where studying meets comfort and espresso flows.  
Insider tip: Prairie Fire offers gourmet, nicely priced tapas to fuel your studying. Check out the menu here. 
Hamel Family Browsing Library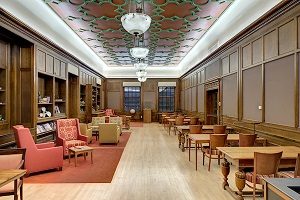 On the second floor of Memorial Union, this room offers plenty of seating and is the closest you can get to studying at Hogwarts on campus. This room is seriously so quiet you can hear a pin drop. A lot of folks walk right by this room, thinking it's reserved for a specific use, but that is very rarely the case. Most often, it's a space any member can use. Need to concentrate without distractions? This is going to be your spot! (P.S. Hey, fellow UW-Madison students, did you know that while you're a student you're a Wisconsin Union member and, after that, you can buy a membership as an alum? Click here for more information about your membership benefits.)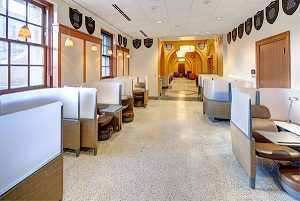 Study Pods 
On the first floor of Memorial Union, behind Gekas Commons (the room with the paintings across from der Rathskeller), a group of study pods are a studying dream come true. This is a perfect place to study in solitude. With outlets in each pod and coffee just steps away at Peet's Coffee, you are sure to be fully charged in every way and distraction-free.   
Sett Balcony 
Located on the second floor in Union South, this is your perch spot for success with plenty of seating, outlets and charging ports. The second level of the Sett makes this space a lively place for a joint-study environment. Need food? The Sett's burgers, sandwiches, salads and more are one level down. Check out the menu here. 
Ode to Seating throughout Memorial Union and Union South 
Now, this study spot isn't about a specific location, but more a general tip to explore Memorial Union and Union South for the seating scattered throughout both buildings.  
For example, if the first floor of Union South isn't give you the peace and quiet you need to study, check out floors two and three. Across these floors, you'll plenty of seating that tend to be quieter spaces, including a lounge outside of Varsity Hall on the second floor and cozy seats outside of Industry on the third floor.  
Looking for a spot at Memorial Union? Have you tried the seats outside of the Main Gallery on the second floor or the tables across from Great Hall?  
As a Wisconsin Union member, these are your living rooms to explore.  
Study on, Badgers! 
Now that you've got a look into some of the best study spots at Memorial Union and Union South, here are some other things to know:  
Remember to follow @WisconsinUnion on Twitter for food and beverages for a penny throughout the week. We call them Penny Promotions. You're going to call them awesome. 

 

Click here for other events and activities from the Union, which we collectively call Finals Frenzy!

 

Both Union South and Memorial Union hours have been extended for finals. Check out the modified hours here.

 
Happy studying!