On Stands Now: Wisconsin Union Directorate Publications Committee Releases Spring 2023 Magazines
Whether you are a music fan, travel enthusiast, foodie or arts lover, the Wisconsin Union Directorate (WUD) Publications Committee (PubCom) has a magazine for you!
The committee's four student-run publications – EMMIE, Souvenirs, The Dish, and Illumination – come out each semester with a new crop of exciting stories that take readers to new countries, behind-the-scenes with artists, into the hearts of poets and into Madison's top eateries.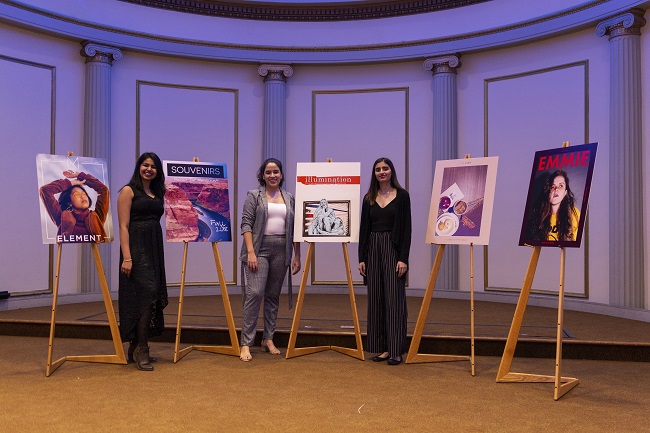 It takes a whole team of talented, passionate students to make it all possible, bringing their own story ideas, visions, and inspiration to the table.
These concepts are then translated into tangible stories that the students write, edit and lay out alongside images and other graphic elements, a months-long process that then translates into the vibrant issues found on newsstands across campus.
Publication staff can include anywhere from 10-40 student members, many of whom are new additions to the team.
"We will be releasing the Cheeky Issue this semester," says Amany Khreis, editor in chief of music publication EMMIE Magazine. "The theme is playful, a little silly and embracing quirks, be it music or not. EMMIE writers and artists' personalities really shone through, and I think that personal touch will add a conversational and close touch to EMMIE."
However, not every publication has a unique semesterly theme.
"Although we didn't have a specific theme going into the drafting process I noticed that a lot of our authors touched on a couple of similar points – how to more efficiently plan trips and save money in the process, and to acknowledge that some of the best parts of traveling can happen during unscripted time," says Sophia Halverson, editor in chief of travel publication Souvenirs. "I'm excited about all of the stories because they're all so different and cover different places and themes."
This year, the four magazines of WUD PubCom – alongside the Madison Journal of Literary Criticism – launched their spring 2023 issues at their distribution party on May 2, showcasing the latest in arts, travel and food!

To learn more about each publication, including where you can find a free copy on newsstands, visit https://union.wisc.edu/get-involved/wud/publications/publications/.