Paint Your Blues Away at Paintacular, Madison's Largest Free Group Paint Event
Is there any better way to soak up the final days of summer and ring in the start of the fall semester than with a free night of watercolor painting on the Memorial Union Terrace? We certainly don't think so! Mark your calendars, because Paintacular, Madison's largest free group paint event, will return to the Terrace in just over two weeks! As we look ahead to this year's Paintacular, we thought it would be fun to look back on some past Paintacular memories.
Paintacular has been a Wisconsin Union tradition since 2016, when the Wheelhouse Studios staff, led by former Wheelhouse Director Jay Ekleberry, was inspired by stories of other group paint nights. The team thought that it could take the idea one step further by holding the free event at the Wisconsin Union's not-so-secret lakeside getaway: the Terrace.
"Wheelhouse Studios, previously called the Memorial Union Craftshop, was established as a place where 'art is a verb,'" Jay said. "Wheelhouse staff emphasize the importance and healthy nature of the art-making process. Paintacular was designed to be a fun, easy and unique way to engage everyone in the process of making art, regardless of anyone's prior art experience."
During Paintacular, a Wheelhouse instructor leads participants in creating their very own painting, often a Terrace sunset, using watercolor paints and a canvas provided by the Wheelhouse team. While Wheelhouse invites and encourages Paintacular participants to paint the sunset scene that's being taught, it certainly isn't required; the goal is to enjoy the artistic experience.
Jay fondly recalls a moment from the first Paintacular in May 2016, during which two students created their own unique scenes, possibly inspired by the delicious aromas wafting from the Brat Stand at the Terrace as they sat wondering what to paint. The students settled on something fun and creative that has remained fresh in Jay's memory—and, luckily for us, his camera roll.
The first Paintacular was so well-attended and well-received that the Wheelhouse team hosted Paintacular for a second time in September, as part of UW-Madison's welcome events for students. Since then, Paintacular has become an annual and beloved Wisconsin Union tradition.
Due to COVID-19, 2020 marks the only year since 2016 that Paintacular did not occur. Last year's return of the event was made even sweeter with the relief of stepping away from a screen to connect with one another in-person once again.
"Coming back to campus for in-person events was such a joyful experience for staff, students, Wisconsin Union members and guests," Wheelhouse Studios Community Engagement Director Amy Guthier said. "It was wonderful to see people intentionally coming together again, talking and laughing with one another and enjoying being present."
When asked to describe Paintacular in three words, Jay chose "community art celebration," while Amy selected "joyful, imaginative and creative." Underlying both of their answers are themes of connection and fun, both of which sum up what makes Paintacular such a special Union tradition.
"Since it first opened in 1928, the Memorial Union has, at its core, been a place that has brought people together," Amy said. "The types of programs and events have changed over time, but the Union has remained a place that connects students, staff, faculty, Wisconsin Union members and guests through shared experiences like Paintacular."
This year's Paintacular will be led by new Wheelhouse Program Director Gabrielle Javier-Cerulli on Sept. 5, from 3-5 p.m. We can't wait to see what masterpiece you will create!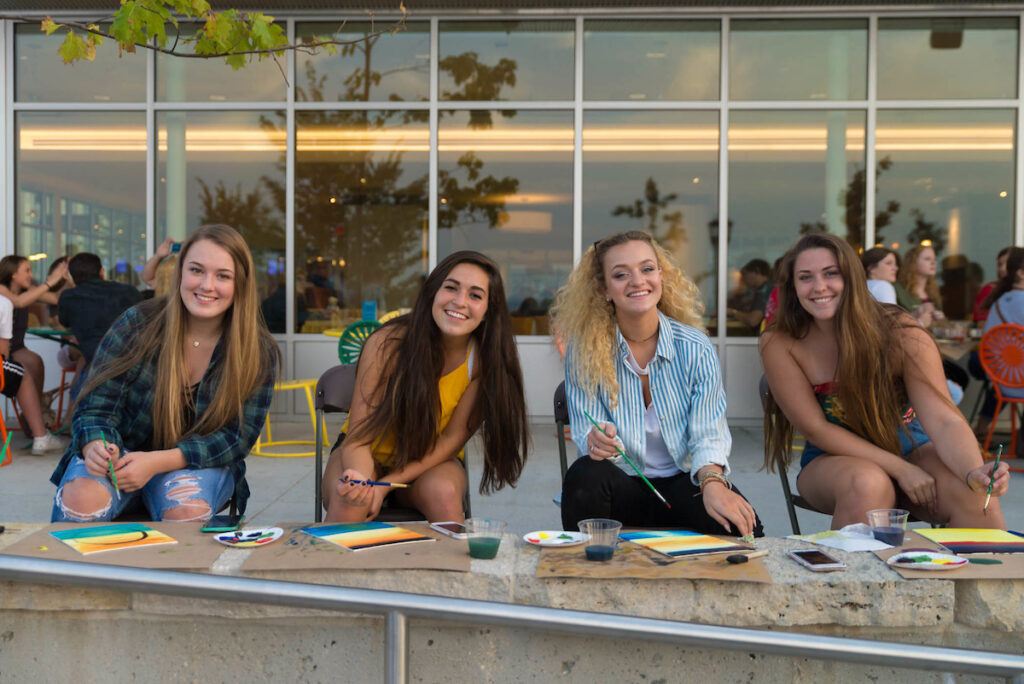 And the art doesn't stop once Paintacular is over—Wheelhouse Studios has art classes, free events and open studio space all year long. Click here to learn more about Wheelhouse offerings and to stay up-to-date on all things art at the Wisconsin Union.