Packing Tips from Outdoor Trip Leaders
By Brooke Hollingsworth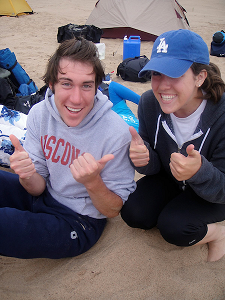 Packing for a hotel stay can be hard, so, when it's time to go camping (no indoor plumbing included) packing can feel nothing short of daunting. The Wisconsin Union's Outdoor UW team is here to help with tips and tricks from Wisconsin Basecamp Leaders Hannah Bucci and Murray Dunsirm.
Wisconsin Basecamp is an Outdoor UW program that looks to connect freshmen and transfer students with other students and to the great outdoors. Our Basecamp student leaders have experienced much of what the outdoors has to offer and are sharing their advice for how to pack for recreation success.
Think ahead.
It is good to prepare for sudden changes in the weather. Dunsirn suggests bringing a light rain jacket that can fit into a small pocket so that it doesn't take up a large amount of space and to also pack one warm layer. Even during the summer, nights can get a little chilly. Athletic shoes and clothing are strongly recommended.
Prioritize protecting yourself from the sun.
We are all glad the long awaited summer sun is back. But, when you are spending eight or more hours in it rock climbing or backpacking, you need to protect your skin from damage. Bucci recommends bringing sunscreen and a hat on your outdoor adventures.
Leave your electronics at home!
One of the main purposes of being in the outdoors is to leave the modern world and all of its worries behind. It's a time to connect with nature and connect with those along the adventure with you. Both Bucci and Dunsirn suggest just leaving devices like tablets and laptops at home in order to really get the most out of your experience. If bringing your cell phone for emergency purposes, try leaving it off unless it's needed. Not to mention there isn't any Internet in the woods or at the top of a mountain. And that's a good thing.
Make a list.
You're likely going to need some gear. What gear you will need will really depends on your experience. No matter your plans, a list is always a good idea. Do you need tents, backpacks, food, dishware or boating equipment? During Basecamp, this is all provided. But when you're venturing out on your own, your list of supplies will be your best friend. There's no Wal-Mart in the forest. If you're not ready to commit to buying a tent or other equipment, check out the outdoor rentals available at Outdoor UW here.
To find out more about ways to get outdoors this summer and how Outdoor UW can help you get started on your adventure, check out union.wisc.edu/outdoor-uw, or visit the Outdoor UW desk on the lower level of Memorial Union.