Equipping Adventurers: Outdoor UW's Outdoor Explorer Series
In its second year of instruction, the Outdoor Explorer Series (OES) is continuing to educate adventurers about the outdoors and equipping them with the skills and tools needed to carry out their own outdoor excursions. No prior experience is needed and all are encouraged to participate.
Last year, the OES curriculum taught skills ranging from preparing rations to learning how to backpack and fly fish. If you missed these offerings, don't worry! The OES is offering a number of exciting new courses that are essential for adventurers.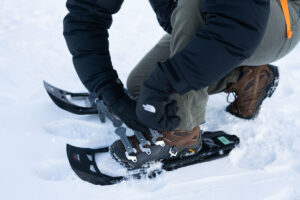 This year, the OES curriculum is expanding to include soft skill and leadership development courses ranging in topic from community building to being a conscious leader. The Community Building Tools course is led in tandem with UW's Adventure Learning Program, a group devoted to experiential education, personal and group development and empowerment. This is a great opportunity for outdoor recreation leaders.
Other course offerings include wayfinding and map reading, backcountry cooking and (brand new to the lineup) car camping.
OES courses begin with an introduction, followed by a demo and the opportunity to get hands on with equipment. To allow for maximum hands-on time, courses are hosted after work and school. By the end of the hour, adventurers will be empowered to take their learning out into the wilderness, ensuring their next adventure is a success.
For those adventurers who are seeking a more advanced experience, the OES is also offering certification and recertification courses from the National Outdoor Leadership School. These courses focus on wilderness first responder training and first aid.
Whether you're a veritable Bear Grylls or are looking to get out of your comfort zone and try something new, the OES is a great way to grow your wilderness skill repertoire. OES head Dan Dunne is committed to empowering all adventurers alike. Programming is designed with this goal in mind and is centered around equity and accessibility. All are welcome and encouraged to take part in these exciting opportunities which make escaping to the wilderness possible.
The Outdoor Explorer Series runs from Oct. 4 until April 15. Course fees start at $3. To sign up, visit the Series page here.