A Brand New Badger Bash Era: Welcoming Band Director Corey Pompey
On Sept. 7, we, at the Wisconsin Union, welcomed new UW Marching Band Director Corey Pompey to our historic Badger Bashes, the best home football tailgate in town. With his arrival on campus, Dr. Pompey ushers in a new era for our tailgate celebrations.
We will certainly miss longtime Director Mike Leckrone, who has been part of our Badger Bashes since the Bashes began in 1972. Professor Leckrone left a lasting with his warm personality, limitless energy and enthusiasm, and creative entrances to the Bash. But, Dr. Pompey's first Badger Bash marked a new beginning for the UW Marching Band's performances at Badger Bash, one that includes everyone's favorite music traditions (Is it even a Badgers game day without "Sweet Caroline?") and contemporary hits.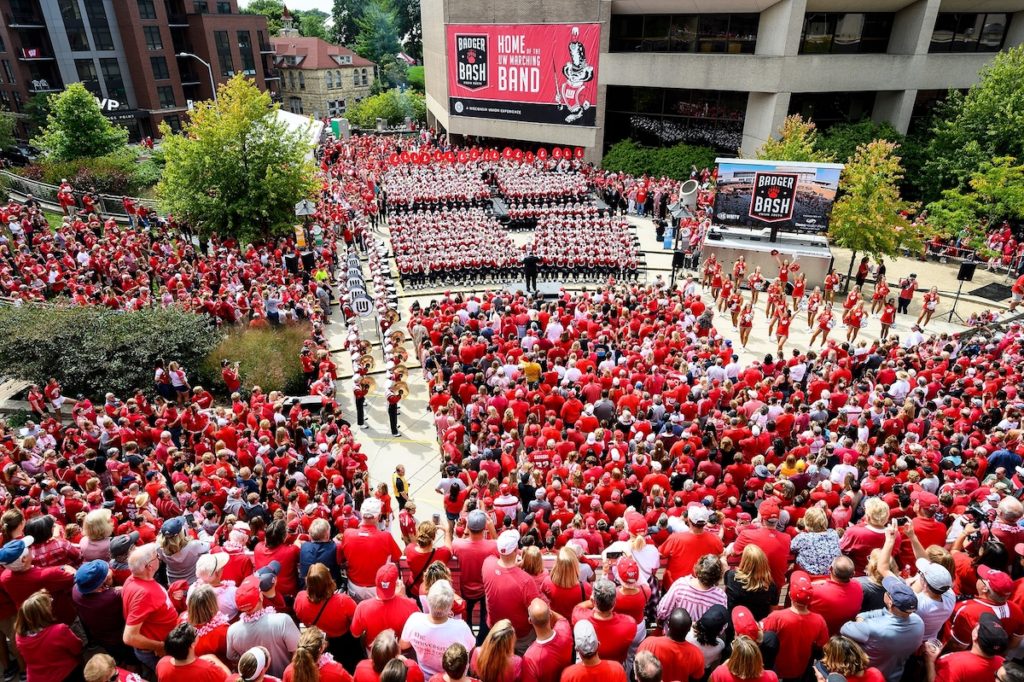 "I want to acknowledge how honored I am to have the opportunity to lead this program," Dr. Pompey said. "I also want to thank Professor Leckrone for all he's done. I look forward to carrying on the excellence of the program."
Before leading the UW Marching Band, Dr. Pompey served as an assistant professor of music, as well as the associate director of bands and director of athletic bands at the University of Nevada-Reno. Prior to his time in Nevada, he was the assistant director of bands at Pennsylvania State University and assistant instructor with University Bands at the University of Texas at Austin. He began his career teaching music in the public schools of Alabama.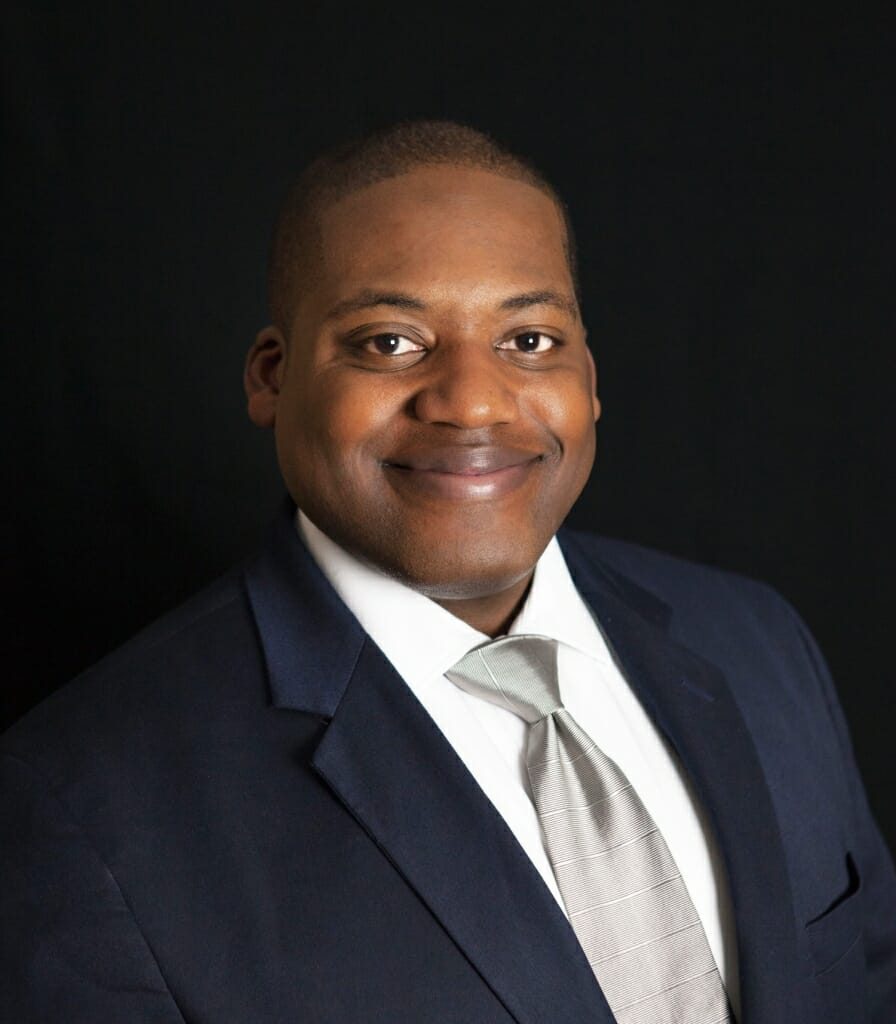 Pompey brings his years of musical experience to UW, and what better place to get to know Dr. Pompey than at Badger Bash, our free, family-friendly tailgate at Union South. It is truly gameday's best tailgate just steps away from Camp Randall.
Some of Badger Bash's highlights include a UW Marching Band performance led by Dr. Pompey, Spirit Squad performances, an appearance by Bucky, live music, more than 100 food and beverage options, as well as local celebrity emcees. Badger Bash is the only pre-game tailgate featuring a performance of the full UW Marching Band under the direction of Dr. Pompey.
Undeniably, the Marching Band's performance is the most iconic and anticipated moment of Badger Bash. This year's band performances will feature Dr. Pompey's new take on the production this season, including music you've never heard at a Badger Bash before.
The first Bash included songs by Beyonce, The Killers, The Jonas Brothers, Adele, NSYNC and a mashup of Camila Cabello's "Havana" and Cardi B's "I Like It," aptly titled "Havana Like That."
"The UW Marching Band brings something really special to Badger Bash," Wisconsin Union Communications Director Shauna Brenneman said. "We're excited to find out how Dr. Pompey puts his own spin on our tailgate celebration."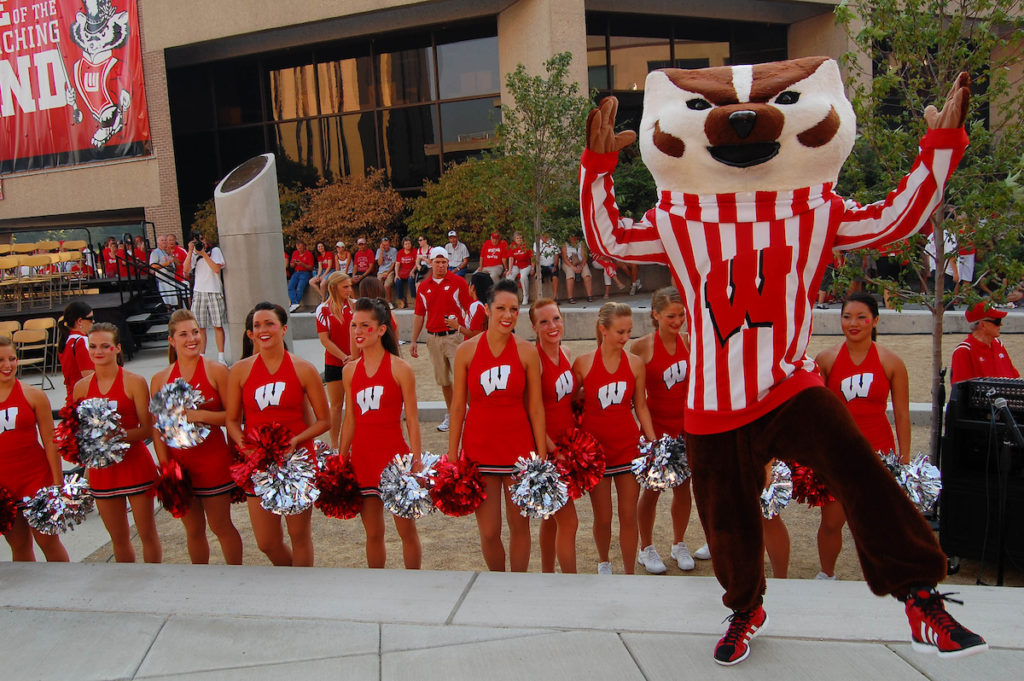 We invite you to join us at an upcoming Badger Bash. The festivities begin 2.5 hours before kickoff, with the Marching Band performing approximately 1.5 hours before kickoff. Before the performance, you can enjoy family-friendly games and activities, our plethora of dining options and an unforgettable gameday atmosphere. Don't have tickets for the game? You're still welcome and can even stay after the Bash to watch the game on our big screen in Union South's the Sett.
For more information about Badger Bash and all it has to offer, click here.