My Tapingo Experience (Alternative Title: How I Skipped the Line at Strada)
By Abigail Rennicke
Whether you are in the middle of being productive at work, in the zone studying, or just don't want to wait in line, Tapingo is a new convenient app to get the food you want and save time. The online ordering system is available via app or web browser to easily acquire all of your favorite Union or dining hall food and drink options through pick up or delivery. I recently tried this new online ordering option and will give you a look into my experience.
In my recent first experience with Tapingo, I was not disappointed. While working in Memorial Union, I was getting quite hungry and had pizza on the brain, so I ordered a Salumi pizza from Strada on the app and continued working. I was pleasantly surprised by how quickly the order was ready for me to pick up, bypassing those still waiting to order and saving time while satisfying my craving for mozzarella-topped goodness.
The app, itself, is easy to navigate with skim-able menu items, and the option to use Wiscard as a payment method is an added convenience. I especially appreciated the on-screen countdown that offered reassurance that my made-to-order, signature pie was in progress. I always knew how much time there was until cheesy satisfaction.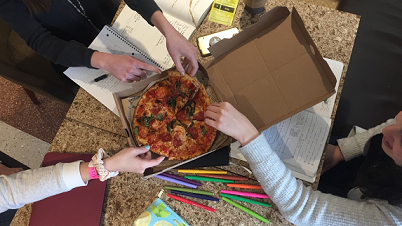 So now, with the tap of your finger, you can bypass Ginger Root's lunch rush lines, have your Peet's iced coffee delivered to your office, or order a Margherita pizza from Strada to your apartment or dorm.
Check out Tapingo for yourself here, or download the app on your phone or tablet's application store for easy food ordering and pick up (or delivery) of your Union food favorites!