Memorial Union Reinvestment Invests in Accessibility for All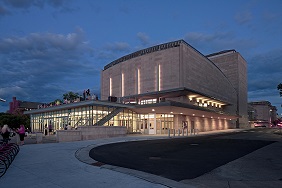 The Wisconsin Union is dedicated to serving as a campus living room for everyone. This is why we committed to making our building completely accessible from bottom to top through the Memorial Union Reinvestment.
The improved yet historically preserved Memorial Union, expected to fully open in late 2017, features ramps, elevators and doorways that meet standards set by the Americans with Disabilities Act (ADA).
Updates include a ramp installed on the second floor to connect the central and east wings, a raised Terrace that is now level with the first floor exits, an additional elevator in the west wing and wheelchair-accessible restrooms throughout the building.
Our beloved building was constructed in 1928, long before the ADA was passed by Congress. Prior to the Reinvestment, the building included multiple levels (27 to be exact). Some areas were completely inaccessible to individuals with mobility challenges due to staircases and raised floors.
The first floor of Memorial Union is undergoing final preparations for its upcoming debut. A date for this debut has not yet been set.
Along with additions the unveiling of spaces like the reimagined Daily Scoop, this reopening will also be the debut of hallways and doorways that have been modified to accommodate all of our guests' needs.
At the Wisconsin Union, we care about experiences and making memories for a lifetime. As we await the opening of the first floor, we hope our guests will find convenience, efficiency and comfort in what has changed and what has been preserved. We look forward to welcoming students, staff and faculty, members and guests home to the Memorial Union's first floor.