Mini Courses take advantage of unique learning spaces
By Emily Connor
The Wisconsin Union's educational programming will expand this fall as brand new Mini Courses graceUnion South. Rock climbing lessons, cooking lessons and dinner discussions will be just some of the new courses offered.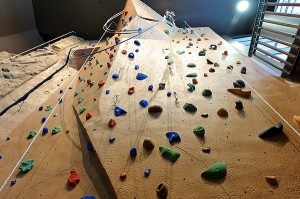 The new courses couldn't be possible without the help of Union South's brand new facilities. Mini Courses director Jay Ekleberry said the Union South space was uniquely designed keeping Mini Courses in mind. "The opportunity Union South is affording us as a program and organization is really neat," said Jay. "The Union was very conscious about designing learning opportunities into Union South regarding the building layout, room designs and features."
Mini Courses' new Thai cooking class will be just one of the many classes taking advantage of the new spaces. Starting in late November, guests can sign up to learn Asian-style cooking recipes and techniques. The class will take place in the new Ginger Root restaurant of Union South, and the everyday open kitchen structure will allow for a unique hands-on teaching environment. The glass panels that separate the cooking area from the restaurant during usual dining hours can be folded down to act as a breakfast bar area during class. Cooking class students can sit at the glass table area to watch cooking techniques, sample food and learn.
"When you visit Ginger Root, the presentation is great because you can watch employees actually cook your meal," said Jay. "But think about how it operates so uniquely as a teaching space. These are the kinds of things we had in mind when Union South was being designed."
Jay said the Union's own staff will have the opportunity to learn from the new Thai cooking course as well. Kitchen workers and dining staff plan to attend their own workshop to learn cooking techniques and possibly even create new recipes to add to the Ginger Root menu.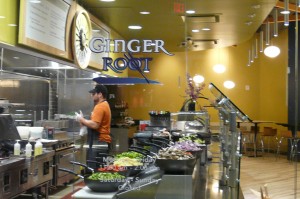 Mini courses don't stop in the Union South kitchens. A new rock climbing course will take place in the recreational area of the Sett. Starting in mid-October, "The Rock Gym" course will teach beginning climbers basic steps, techniques for better climbing and how to use the climbing wall as part of a diverse workout regimen.
Other athletic courses will also have new spaces to call home in the Union South building. The rubberized floor in the 5th Quarter studio will host yoga and Pilates courses. The building is also equipped with four open hardwood floor spaces in Varsity Hall and the Northwoods room, which plan to be used for dance lessons. "For years the campus has been screaming for more spaces for dance instruction and practice, and the Union has answered that call," said Jay.
But new cooking classes and athletic courses won't be the only new Mini Courses at Union South. TheInteractivity Foundation and Wisconsin Union Directorate will be putting on the first ever "Dinner and Dialog" event on October 4th and 11th. Guests will be able to discuss ideas and opinions on the evening's discussion topic, the future of higher education, while enjoying a catered dinner. The course is free, but pre-registration is required.
The course hopes to stress the importance of involving civil discourse and thoughtful discussion on today's most contested issues. "This is a really neat event, and I don't think it would be as influential without the new updated facilities in Union South," said Jay. "It's events like these in the brand new facilities we have that really allow us to be such a strong educational programmer."
"Group discussion is so important, and that's what Mini Courses is dedicated to," said Jay. "When the Internet can teach you how to sail or how to make a new pasta dish, you let me know. But until then, we'll be here teaching people face to face."
For more information about fall Mini Courses, visit the Mini Courses page on the Wisconsin Union website. 
Rock climbing wall photo by Bryce Richter and courtesy of University Communications.