Tips for Your Marquee Film-Watching Experience
Did you know there's a movie theater right on the University of Wisconsin-Madison campus that shows free films? Did you know that Wisconsin Union members, including students; staff; and faculty are invited to come enjoy these films? Located on the second floor of Union South, The Marquee can seat up to 330 guests for near-daily film screenings. From blockbusters like "Crazy Rich Asians," which packed the theater, to cult films like "The Room," students and community members alike flock to the plush, red seats. In this article, I am sharing some tips and tricks to help you make the most of your Marquee experience.
1. Pick up theater treats in Union South.
There's popcorn at Sett Recreation and plenty of other items from Badger Market and Union South's cafe and restaurants you can take with you into The Marquee! Pick up a bag of Buncha Crunch or grab a drink (Prairie Fire offers everything from hot chocolate to iced tea.) to bring upstairs.
2. You may want to arrive early.
How early? Well, that all depends on the film. Some films cause lines to begin forming two hours before. Since seats are usually on a first come, first served basis, your best chance at a seat is to arrive early. Doors usually open 30 minutes before the show.
We will add new films to the spring lineup soon! Watch for additions to the film schedule here: union.wisc.edu/film.
3. Pick your movie!
Okay, well kind of. You can help decide which films appear in The Marquee and (during warmer months) on the Memorial Union Terrace by emailing us at film@union.wisc.edu or, if you're a student, by joining the Wisconsin Union Directorate (WUD) Film Committee! FYI, you don't need to be a film major or film nerd to join.
4. Your filmgoing experience at WUD Film events is free, so don't worry about saving up for that date night or treat yo' self evening.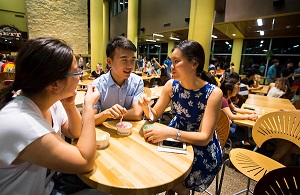 5. No one wants to go outside in sub-zero temperatures, so make a night out of what the Union has to offer.
You can grab dinner at the Sett or head to Sett Recreation for a round of bowling before the movie!
Feeling more adventurous? Dress in comfortable clothes, and grab a harness to climb your heart out on the Sett Rec's indoor climbing wall. All levels of skill are welcome!
6. If watching a movie in a less conventional setting is your thing, check out Terrace After Dark Music + Film Series starting in May!
Take a seat on an iconic sunburst chair, grab a scoop of Babcock Ice Cream and settle in for a film-watching experience overlooking Lake Mendota.
We, at the Wisconsin Union, are committed to providing you with the best film-going experience possible at film-viewing locations, including The Marquee. The theater includes a designated row on the left side of the venue for mobility devices, storage for mobility devices off to the side, four side-transfer seats, and more. Never hesitate to ask any of our hosts at WUD Film screenings for assistance. We want you to have an amazing, comfortable experience. For more info about The Marquee's assistance check out our website.
Come join us at The Marquee for new films, including advance screenings of hit movies. We hope to see you there! And click here for more information about upcoming films and the students leaders who make it all possible.