Student Team Member Learns about Marketing Experiences for a Lifetime
EMILY SIDERITS'S HANDS-ON MARKETING INTERNSHIP EXPERIENCE
Emily Siderits, Wisconsin Union social media and marketing intern, began working at the Wisconsin Union in October 2020. The University of Wisconsin–Madison junior is majoring in marketing as well as management and entrepreneurship in addition pursuing a certificate in Spanish studies. In addition to this busy academic year, she has taken on this important, hands-on learning role at the Wisconsin Union.
In her internship position, Emily writes content for and manages the Union's social media channels; assists with social media strategic planning and advertising; and assists with social media analytics. In addition to all of this important work, Emily also has hands-on experiences in brainstorming and develop marketing materials and campaigns as part of her internship role. We had a chance to connect with this busy, talented team member about her time as a Union team member and to learn about her professional plans. Read our interview with her below.
What are your professional post-graduation plans?
After graduation, I plan to pursue a career in marketing. As of right now, my options are wide open, but I'm currently interested in working for a midsized start-up, perhaps a consulting, consumer goods, or non-profit firm, and pursuing a position in digital marketing. I'm planning to study abroad in Seville, Spain, in the spring of 2022, so there's a chance I might return to Spain for work in the future.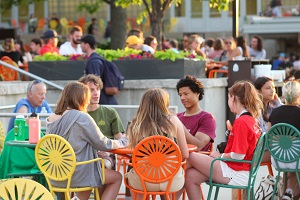 What is your favorite project, campaign or accomplishment in your Union role so far?
I was very humbled to be the marketing student representative for the 'Wisconsin Union Summer 2021 Residency: Returning to the Union' task force. After nearly a year of working in my position virtually, it was amazing to collaborate with various departments at the Union and plan for programming and marketing for this fall. However, my favorite project thus far was the reopening of the Terrace this past spring. I loved watching everything come together behind the scenes and seeing/hearing positive reactions from our students, faculty, staff and community members.
What do you like most about your Union role?
The people I work with hands down make this role so special. I am very fortunate to work under Isabel Finn, who is a natural-born leader with endless talent. I also work with one other student intern, Jordan Grob, and she is a fountain of creative ideas. We all complement each other perfectly, and I truly love seeing how our brains work together. Apart from my awesome team, I appreciate that I am regularly given opportunities to bring my own ideas/projects to fruition and am challenged with new tasks every day.
JOBS AT YOUR CAMPUS LIVING ROOM
If you know a high school or college student looking for on-campus employment or are looking for campus student employment yourself, please click here for information about our available student team member positions. Looking for full or part-time, non-student roles? Click here for a list of non-student jobs.