Leadership Experiences for a Lifetime with the Jones Leadership Center
Unique and intentional. These two words describe the leadership opportunities the Wisconsin Union's Willis L. Jones Leadership Center (JLC) aims to provide to the University of Wisconsin-Madison campus and beyond.
While people may think of the Union as being a place for everything from outdoor recreation to art, helping students develop leadership skills is one of the most important functions of the Union. At the JLC, Union staff help nurture these skills through networking opportunities, conference scholarships, leadership programs, and a lecture and discussion series.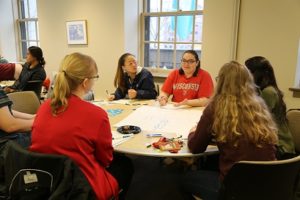 Laura Reul, a JLC intern and UW-Madison senior, said working at the JLC doesn't feel like work. She said, because she's invested in the mission to inspire others and impact the community through leadership, it feels like more of an experience than a job.
"The hallmark of the JLC is learning how to take leadership skills and transform whole communities, impacting people in a positive and meaningful way," Reul said. "The modules that focus on inspiring others and helping them discover their personal leadership style are the most rewarding."
Natalie Tri, another JLC intern and UW senior, said the experience pushed her outside of her comfort zone and helped her make friendships and get more involved in campus life.
Tri said the JLC-hosted Emerging Leader Retreat was the most memorable event she has done with the Center. The weekend-long event focused on enhancing team-building skills away from campus, which created a new atmosphere to experience leadership.
With all experiences, the Center aims to help participants connect with others to foster positive change, transform their visions into reality, share their ideas, and aspire to recognize what affects their ability to build trust and credibility.
"All of the leadership workshops can be applied to any area of life," Tri said. "It's an engaging, hands-on place to work."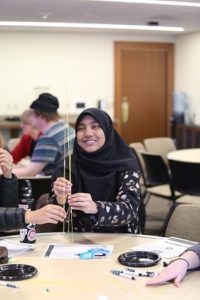 This work is inspired, in part, by the life of Willis Jones, a UW-Madison alumnus and someone who taught countless individuals how to become leaders. Described as one of the most influential high school sports coaches in Wisconsin history, he coached sports teams at multiple schools including Edgewood High School and Madison West High School.
While Jones earned many awards and honors for his coaching abilities, including being inducted into the Madison Sports Hall of Fame, he taught far more than athletic skills. He showed his students how to set goals, work together, celebrate wins, and accept losses and the lessons that come with them.
The Jones Leadership Center is named for Willis Jones in honor of his life's work and the individuals who continue to carry forward his lessons into the future. The work of the JLC would not be possible with the generous support and contribution of Jones' daughter Dottie King and her husband Bob King.
"Willis L. Jones, himself, was an authentic leader and inspired so many people to take an active role in making a difference," Union Communications Director Shauna Breneman said. "We work each day to honor his memory and legacy and to help others lead in their communities."
To learn more about the Jones Leadership Center, click here.
The opportunities within the Jones Leadership Center would not be possible without the support of Wisconsin Union members and generous donors, such as Dottie and Bob King. We, at the Union, thank you for your contributions, which help change thousands of lives each year.