A Day with the Wisconsin Union: Itineraries for Every Interest
Hey, Wisconsin Union-goers, it's a great day to have a great day, and we can help make that happen for you. We have events, activities and services for every interest at Union South and Memorial Union. To show you what we mean, we've put together example itineraries for you thrill seekers and art lovers.
For the Thrill Seeker
8:30 a.m. – Enjoy an Amazing Breakfast in an Iconic Place
Hey, thrill seeker, you're going to need some energy for your day. And we've got just the place for you to fuel up: der Rathskeller at Memorial Union. May we make a breakfast option suggestion? Try the Pesto-cado on sourdough. This filling breakfast is made of scrambled eggs topped with generous slices of avocado, crisp tomato, tender spinach and a delectable red pepper pesto.
10:30 a.m. – Go Paddling or Snowshoeing with Outdoor UW Rentals
How does a peaceful morning kayaking on Lake Mendota sound to you? How about (in a couple months) snowshoeing through a winter wonderland? Outdoor UW at Memorial Union has equipment available for rent for every season, including a standup paddleboard (one-person paddleboard or eight-person paddleboard), kayak, snowshoes, camping equipment or canoe. With paddling sports, you can go on your own adventure or have one of our awesome instructors teach you paddling basics.
Snowshoeing pro tip: If Lake Mendota is frozen, you can snowshoe across the lake from Memorial Union to Picnic Point, and, once there, reward yourself with a bonfire and a beautiful view of Madison!
12:30 p.m. – Lunch in the Sett
Before starting the next adventure in your day, you're going to need to re-fuel. And Union South, where your next adventure is, has you totally covered. Give the Sett at Union South a try. It has a large menu to accommodate many dietary needs. Our lunch suggestion: try the Bucky Burger. Ready for this description? We top a locally sourced, free range burger with sharp cheddar cheese, crispy bacon, a generous serving of sweet, caramelized onion and our house-made tangy yet sweet Sett sauce.
3 p.m. – Reach New Heights with Sett Recreation
Did you know that there's a rock climbing wall at Union South? The lower level of the Sett contains a wall that is two stories tall! The wall's path changes regularly, so, even if you've climbed at Sett Recreation before, chances are you've never climbed this exact wall.
Everyone 18 and older is welcome to climb, and Wisconsin Union members receive a 10 percent discount on their climbs.
Quick note, if you are a first-time climber, make sure you arrive 10-20 minutes early in order to complete orientation.
5 p.m. – End the Day with Some Bowling
Cool down after a day of thrills by bowling with some friends at Sett Recreation's eight-lane bowling alley. Hungry after all that adventure? Munch on some tasty treats from Sett Rec's menu of pizza, sandwiches and other snacks, such as the oh-so-cheesy and yummy Bosco Sticks.
If bowling's not your thing, give billiards a try! It's all right in Sett Recreation. The only problem? Choosing what to do first! Have fun!
For the Art Lover
8 a.m. – Start your Day Deliciously
Art lover, we are so excited for you to have an artistic day with us. Before you create art, let our dining team at the Sett create a culinary work of art for you. The Sett menu will satisfy the taste buds of everyone on your adventure, with everything from a short stack of fluffy, sweet buttermilk pancakes to a breakfast burrito filled with eggs, sausage, red bell pepper, cheddar cheese and breakfast potatoes.
10 a.m. – Be Inspired by Art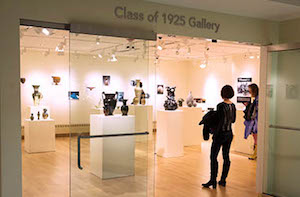 Both Memorial Union and Union South have an amazing, awe-inspiring collection of permanent and temporary art. There are currently two temporary exhibitions on display in Memorial Union, and one more at Union South. Curated by students, these exhibitions change throughout the year and bring the work of artists from around the world to campus. In addition to these, both Unions have original Wisconsin artwork scattered throughout the hallways and various rooms, so you are sure to stumble upon some works while strolling around, such as the Multicultural Murals in Gekas Commons.
Noon – Fuel your Creativity with Lunch
Once you've seen our incredible masterpieces, treat yourself to some food and beverages at our on-site restaurants, market or cafe before you continue your day of creativity. All of our options are delicious! Some visitor favorites include Cowboy Tater Totchos and Our Signature Stacked Burger at der Rathskeller and the Margherita Pizza at Strada.
2 p.m. – Create a Work of Art at Wheelhouse Studios
Get your creativity flowing with a DIY art project at Wheelhouse Studios in Memorial Union! With three studios, dozens of classes throughout the year and many different supplies on-hand, artists of all levels enjoy Wheelhouse as their campus art-making place. From photography to pottery, jewelry to sewing, Wheelhouse provides the opportunity for all artists to express themselves in their own unique ways.
Studio passes are free for Wisconsin Union student members (All currently enrolled University of Wisconsin-Madison students are members of the Union while at the university), and other Wisconsin Union members can receive a discount on monthly passes. A pass gives you access to the studios and all of their equipment when classes are not taking place. All Wisconsin Union members, including students, also receive discounts on classes.
5:30 p.m. – Your Culinary Experience Continues
Our dining and hospitality team works each day to make your dining experiences at Union South and Memorial Union incredible. They apply the art and science of cooking and baking to create culinary masterpieces with focuses on quality, speed of service and local ingredients, whenever possible.
At Memorial Union, alone, we have more than five dining options right on-site. Explore your options here.
7 p.m. – Paint the Sunset with a Group of Friends
End your artistic day at the Union with a group painting of the Terrace chairs at sunset. Round up your friends, family or coworkers to create a group of eight to 45 people, and create your own painted interpretation of the iconic sunburst chairs. We'll have an instructor there to help you along the way to creating your masterpiece. Included in your experience is a Wisconsin Union Adventure Book and a $10 Wisconsin Union gift card.
Adventures for All
We've not even begun to scratch the surface of all that you can do with us at the Union. Have different interests than the ones listed above? Check out The Wisconsin Union Adventure Book to build your own personal itinerary. The 60-page book provides information on all of the activities that the Union has to offer, while also sharing stories about the Union. So whether you followed one of these itineraries and want more, or if you are looking for a different day at the Union, this book has got you covered.
Check out all the other ways you can Union at union.wisc.edu.