Discovering a Home Away from Home: International Student Employees Find Comfort and Flexibility at the Wisconsin Union
It's challenging enough being a college student – never mind being one at a university located thousands of miles from home, in a different country. With the potential of balancing culture shock alongside classes, it isn't always easy to find a sense of normalcy and belonging.
That's where we come in.
At the Wisconsin Union, we are proud to offer a space where all students, including international students, can grow through out-of-the-classroom learning experiences – like those offered in one of our 70-plus student job positions.
You read that correctly – 70 different types of positions, ranging from administrative to food service, arts instructor to sound and light technician, hospitality to outdoor recreation. And international students can apply for them all!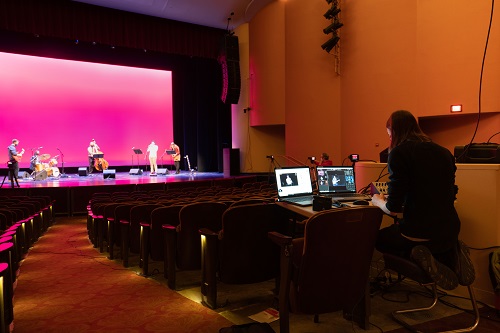 Nurfara Amirah Mohd Faisal has been studying computer science and entrepreneurship since traveling to UW–Madison from her home in Kuala Lumpur, Malaysia. Upon graduating, she will work for her academic sponsor, PETRONAS, Malaysia's national oil and gas company. She says her current student job as office assistant and student supervisor at the Wisconsin Union's human resources and training resource center has been extremely useful in preparing for her future in the hybrid field of human resources and computer science.
"Not only do I gain HR and staff education knowledge here, but I also get to refine my soft skills on a daily basis," Nurfara Amirah says. "This includes my command of the English language since English is my second language, teamwork, interpersonal communication, work ethic, critical thinking, organization, and many more."
We offer flexible hours so that students can not only focus on classes, but can also take school breaks as a time to visit home if they want. So go and enjoy a holiday with family and friends! We know it isn't every day you have the time off to fit in the extensive travel it takes to get home. Shake away some homesickness, and soak up some well-earned rest – your job will be waiting for you when you return.
Finding friends and entering new social circles can be difficult, but a campus job at the Union can help pave the way to introducing yourself to people outside of your classes or building. Many current student employees attribute their job at the Wisconsin Union to the way they made some of their closest friends at college, especially when factors like COVID-19 or varied class schedules can make it harder to meet up with people.
Having spent her freshman year remote in Malaysia, Nurfara Amirah says having a job at the Union made it possible for her to break through feelings of isolation and make new friends at work.
"Everyone has been friendly and supportive since my first day here," she says. "As an international student under a full sponsorship, there are days when I am under intense academic stress. My supervisors and colleagues have always been caring, accommodating, and encouraging towards me during these challenging days, and I can't thank them enough for it!"
Not to mention that being a Union employee means you get 30% off Wisconsin Union dining options. That Peet's Coffee latte you want before your early class? Just swipe that Wiscard. The cheese curds you're munching on in der Rathskeller while you catch up on last night's reading? Discount! The inevitable cone from the Daily Scoop that you're craving before your walk home? You betcha.
And – possibly best of all – our starting wage is $15 an hour, minimum, with opportunities for raises in recognition of the importance of our student employees. We value you, and we want to make sure you know it!
"It's undeniable that international students may feel pressured to 'fit in' and adapt quickly to the new environment here in UW-Madison, let alone a new country, but the people in the Union are very understanding of our situation," Nurfara Amirah says. "They treat us well regardless of our nationalities, which lifts a lot of the impostor syndrome burden off!"
Interested in joining the Wisconsin Union team? Any student registered at an area high school or college is welcome to apply for open positions at union.wisc.edu/get-involved/jobs.