Wisconsin Union Team Provides Insider's Look at Graduation Weekend
By Jade Anthony and Shauna Breneman
Long before University of Wisconsin-Madison seniors receive their diplomas, our effort at the Wisconsin Union to prepare an unforgettable graduation weekend at Memorial Union and Union South commences. From live music to graduation gatherings, it all happens with the help of more 2,000 Union employees with a shared goal: make graduation weekend special for all who come to our buildings.
In this story, we take you behind the scenes of graduation weekend at Union South and Memorial Union and introduce you to some of the people who make it all happen.
Events to Remember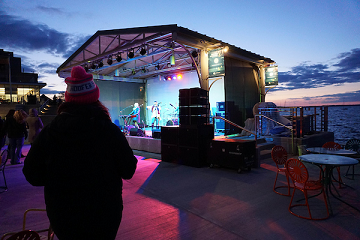 Music is as much a part of Union graduation weekend festivities as the big Terrace chairs. The Union music programming team begins planning the weekend's music schedule in January, four months before graduates don their gowns and caps.
"We know this is a time that's important," Union Music Committee Advisor Courtney Byelich said. "We want everyone to have an excellent time during graduation weekend."
For the programming team, as the snow falls in January, their minds turn to warmer months and the official start of a summer of incredible music at the Memorial Union Terrace.
"When the weather cooperates, graduation weekend is often the kickoff to summer programming and a great training weekend for our summer team," Byelich said.
Two summer coordinators are dedicated to making Terrace music programs possible. They work alongside light and sound technicians as well as Union team members Byelich, Leo Rubinkowski and Will Hoffman to make graduation weekend and many other music programs possible. Before graduation weekend, they learn about setup and other aspects of live music production. Graduation weekend, itself, is a days-long, hands-on learning opportunity for the summer programming team and, according to Byelich, one of the most rewarding experiences of the summer.
On Saturday, the music team begins helping performers setup around noon and finishes their day around 1:30 a.m., after helping performers load their equipment and setting the Terrace stage up for the next performance. It's all worth it to the team that fills this celebratory weekend with the sound of music.
"Graduation days are exciting for us, because they're days when all of our planning and preparation come together, and we can see people enjoying what we do," Byelich said. "We get to see people laughing and dancing. Those are good days."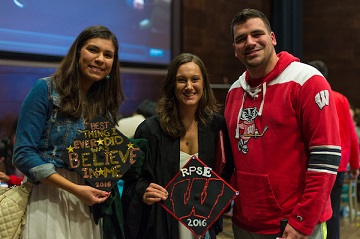 Music isn't the only art form that makes graduation weekend special; the Union's open arts studio Wheelhouse Studios also helps make arts and crafts part of the celebration. Before each spring graduation, Wheelhouse Director Jay Ekleberry and his team host Cappy Hour, a graduation cap-decorating event. Before the free event, which Union team member Angie Cunningham started, the Wheelhouse team prepares the decoration items, such as glitter and paint. Two to three Wheelhouse team members are on-hand during each Cappy Hour to help UW-Madison seniors have the best possible Cappy Hour experience.
With so many possibilities, the team looks forward to seeing all the ways graduating seniors will use the items to create visions all their own.
"Making art should be part of the celebratory process," Ekleberry said. "We like being part of the joy and fun of graduation."
Planning Every Detail
Behind the scenes of Cappy Hour, graduation parties, and other events at Union South and Memorial Union is a dedicated team of event management and production professionals taking care of details, big and small.
You'll see them do everything from helping guests find event spaces to setting up tables in the Union's gathering spaces.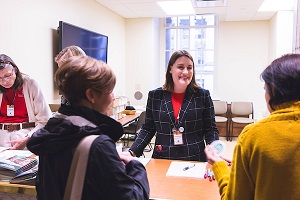 "In the early stages of event planning, we're thinking about the needs for each event, like how much space is needed, how many people will be there, and the room setup," said Campus Event Services Manager Jennifer Brown.
Beginning in January, the events management and production teams beginning meeting to discuss events' timing, the allocation of tasks, and staff roles for the events.
"Everyone plans to be here during graduation," said Wisconsin Union Production Manager Steven Zywicki. "It's a weekend where we all really come together."
In the few weeks before graduation, the teams finalize each event's details, including furniture and other inventory needs. The teams also map out each event, determining when rooms' setups will change, cleanup will occur, catering orders will be delivered, and where each staff member will be throughout the days.
Both Brown and Zywicki emphasize that collaboration among team members is critical for graduation weekend. In fact, during the implementation of the events management team's plans, staff throughout the Wisconsin Union, including team members from external relations, administration, programs and leadership, and other areas volunteer throughout graduation weekend to help make this important weekend's events incredible for guests. For Brown, it's the people who come to celebrate with the Union that truly make the weekend special.
"I love working with guests, students, staff and families before and during graduation weekend," Brown said. "During graduation, I really love seeing how happy everyone is and this sense of accomplishment in graduates."
This year, all event spaces will be used in both Memorial Union and Union South during graduation weekend. Union-planned celebrations will include multiple commencement ceremonies and private graduation parties. For the events and production teams, these are the culmination of a year-long planning process and an opportunity to see all of their work make a difference in attendees' lives.
"During graduation weekend, you know you're making a lot of families' days," Zywicki said. "That's what it's all about."
Delicious Celebration
An important team with which the events and production staff coordinate is Wisconsin Union catering.
Throughout graduation weekend, the catering team will serve more than 11,000 people across campus. In addition to creating culinary experiences for guests at Memorial Union and Union South, catering staff also deliver orders across campus.
Lisa Wadzinske, the Union catering director, leads the team that creates these experiences for thousands of people celebrating graduation each year. While the team serves Union and campus guests all year long, graduation weekend offers the team the opportunity to serve campus during a particularly important day in thousands of students' lives: the day they graduate and start a new chapter in life.
"Our student team members get to see their peers achieve something important, to see all of the hard work that they've put into school come to fruition," Wadzinske said. "They've worked side by side with some of these graduates for years."
In addition to creating appetizers and entrees for celebrations, the we make dozens of graduation parties sweeter each year with cake.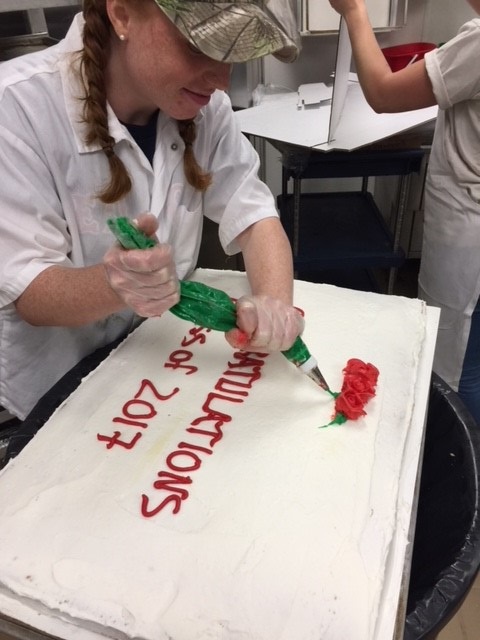 Before graduation, in one of the Union's kitchens, Union Head Baker Dan Hoffman leads a multiple day cake-making process he and his team affectionately call "Cake-O-Mania". During "Cake-O-Mania", Hoffman and eight graduating seniors, who have worked alongside Hoffman for a year, produce 100 cakes for graduation weekend.
"It's nice to have a bakery in-house," said Carl Korz, associate director for dining and hospitality. "It's a neat opportunity to be part of important moments in people's lives."
The baking team fills every available counter space in one of the Union's kitchens with cakes of many flavors, including white, yellow, marble, chocolate and fan-favorite carrot. Decorating, alone, takes the team around seven hours.
But, for the entire Union dining team, the hours of prepping, baking, cooking and planning are worth the smiles and happiness their work helps make possible.
Congratulations, Graduates
Our entire team looks forward to the happiness that fills Memorial Union and Union South during graduation weekend, to our buildings becoming a sea of seniors in caps and gowns, and to celebrating this important time in guests' lives.
"Graduation weekend is one my favorite times to be working at the Union," Union Deputy Director Susan Dibbell said. "Everyone is happy and proud — as they should be. For me, it represents the closing of one chapter and a new one beginning."
To those graduating this year, on behalf the Wisconsin Union team, thank you for making us part of your story at UW-Madison. We wish you congratulations on your accomplishments and on the start of a new chapter in your life story.
For a full list of 2018 graduation activities at Union South and Memorial Union, please visit union.wisc.edu/graduation.