How to Union in Fall 2020
Welcome back students, staff, and faculty! We are so excited to have you back in Memorial Union and Union South with us or enjoying our programming virtually. The Union looks a little bit different this year, from ordering through Grubhub at most dining options to reserving meeting spaces, we will share all the ways campus community members can use our buildings, services and programming this fall semester.
As you may know, only Wisconsin-Madison students, staff and faculty can visit Memorial Union and Union South. Patrons must present a valid Wiscard when they arrive. Each campus community member can bring one guest that is not affiliated with the university. Why this approach to access? Limited capacity. We have reduced our capacity and want to ensure we can serve students, staff and faculty while we have limited seating. We are disappointed and quite frankly heartbroken to not welcome all of our members and guests this fall but know we need to work differently for a little while.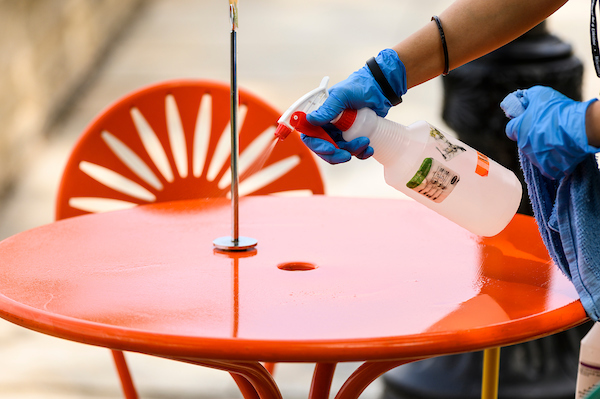 Prioritizing your Health and Safety

One thing that has not changed is that Memorial Union and Union South are safe places to visit. We want you, our campus community members, to know that we are not only meeting safety and health standards but exceeding them. We are increasing the frequency in high touch areas and are adhering to public health guidance regarding cleaning during the COVID-19 outbreak and are cleaning dining spaces between guests' visits. We have also instituted scheduled cleanings of study areas in addition to providing cleaning materials for self-cleaning at each study space. Study spaces are professionally cleaned and disinfected every two to four hours. Dining spaces are cleaned after each use. Restrooms are cleaned at least every four hours, and high touch areas as well as travel routes are cleaned at least every hour. All visitors must wear masks and practice physical distancing in all of our spaces.
Wisconsin Union Dining

Second, we want you to know all about our dining space protocols. Many of our restaurants, as well as markets and cafes, are open for Grubhub orders. Simply make an order on the app, and come to our pick-up points to collect your food or drink. Some of our outlying markets and cafes as well as our Badger Markets in Memorial Union and Union South are also open for in-person purchases. You can find a full list of dining options here. 
New this year is Carte Express, a grab-n-go food option in Memorial Union, as well as kiosk ordering from various restaurants. Currently we offer kiosk ordering from der Rathskeller, Peet's Coffee, Prairie Fire, Sett Pub and Saffron.
You can dine on the first floors of Memorial Union and Union South where seating is available, at the Union South Plaza, and at the Memorial Union Terrace. Magnets will be provided at each table, which we encourage guests to turn over when they are finished eating and leave their table. Union team members will then clean the space. Self-cleaning materials are also provided at each table.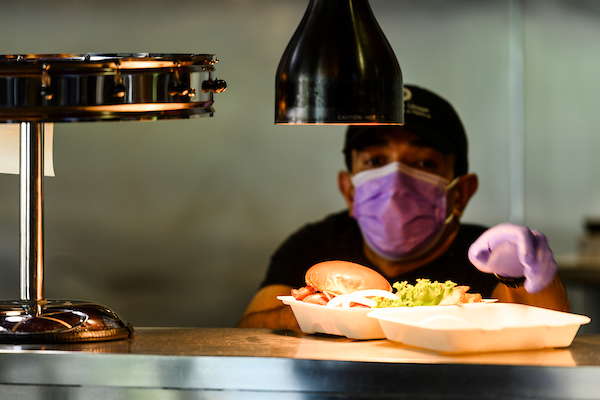 As always, we are here for all of your dining needs. If seating is not available, we ask that you seek other spaces for studying or dining to ensure physical distancing and limited capacity. If you ever need on-site assistance at either of our buildings, we encourage folks to look for someone with a Wisconsin Union name tag, and they will be happy to help.
And, of course, the iconic Memorial Union Terrace is open on a first come, first served basis. What could be better than unwinding from class with sunsets and der Rathskeller food? Our cleaning protocols are the same as our inside spaces: Union team members will clean each table after every use. Simply turn down the magnet on the table once you leave to let us know.

Additionally, the Union team will offer food delivery through Grubhub from some Memorial Union dining options to Chadbourne, Ogg, Sellery, Smith and Witte. For more information, visit our website.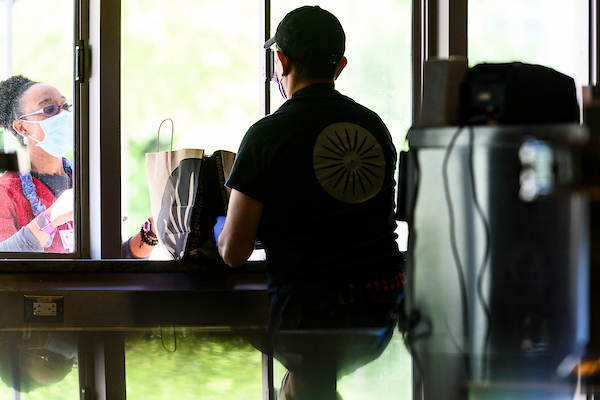 Study Spaces
Next, let's talk about study spaces. We are providing drop-in first come, first serve study spaces at Memorial Union and Union South that ensure physical distancing. Union team members clean each space every two to four hours as well as provide cleaning materials at each study area.
And, in classic Union fashion, we have many virtual events for you to enjoy this fall. For a full lineup of events visit our calendar here, which is frequently updated with new programming. The Wisconsin Union Directorate (WUD), the Union's programming and leadership board, and Wisconsin Union staff are hard at work planning many more Union events and activities. For more information about WUD, click here.
We will continue to work with campus and public health officials to create safe, useful and enjoyable spaces for our campus community. We encourage campus community members to visit our website throughout the coming months for the most up-to-date information about our buildings, events and activities and services. If you have any questions about what we offer, please contact us at union@union.wisc.edu. 

Through Union, We Gain Strength

We remain united as a team to support our campus community and our members across the world. Those we serve on our minds constantly as we plan for the future. We also remain united with you, our campus community, to make a difference and have a safe learning experience. We know you share our dedication to making the most of the circumstances with which we are presented. Through union, we gain strength.