Hoofers Adapt: What Accessibility Looks Like at the Wisconsin Union
Kathryn Bach and Megan Gray created Hoofers Adapt with one mission in mind: to advocate for access to nature and the outdoors. They lead Hoofers Adapt, a group of passionate advocates for accessibility and inclusion in outdoor pursuits at the University of Wisconsin-Madison.
UW-Madison occupational therapy students Bach and Gray joined Hoofer Ambassadors in hopes of learning about inclusivity in outdoor programming. The Wisconsin Hoofers' Hoofer Ambassadors is an interest group focused on including people in the outdoors who have been historically excluded from the outdoors. A member from each of the Hoofers' outdoor clubs serve as club liaisons and bring Hoofers Ambassadors's recommendations to their club executive boards as well as represent their clubs in the Ambassadors. The Wisconsin Hoofers is one of UW-Madison's oldest and largest organizations, with more than 2,000 members in six clubs and a governing council, which aim to help students and community members.

Inspired by the work of Hoofers Ambassadors, Bach and Gray began Hoofers Adapt. Hoofers Adapt has two roles. First, the group serves as a resource to existing clubs, including Hoofers, to make outdoor events accessible to all, regardless of ability. Second, Hoofers Adapt connects people with disabilities to outdoor recreation opportunities in the Madison area.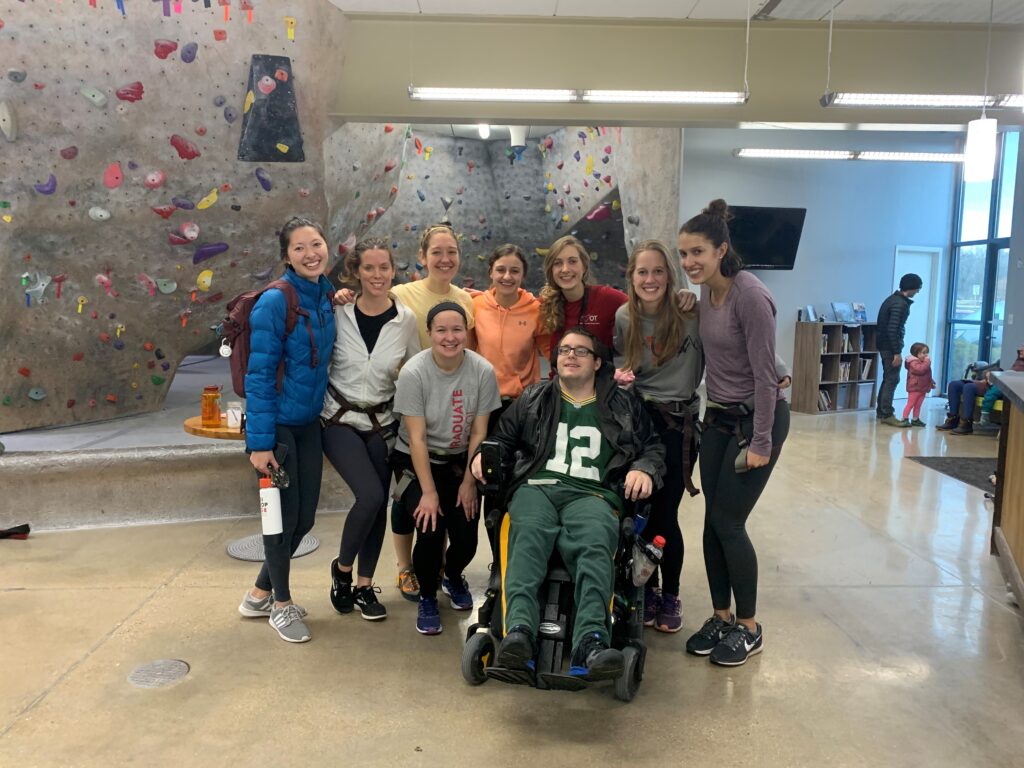 Hoofers Adapt organizes monthly trips to adapted climbing events at an indoor climbing gym in Madison, where volunteers help participants experience rock climbing.
In summer 2019, Hoofers Adapt purchased an adapted two-person kayak as well as hosted training on how to help guests use the kayak with Hoofers members and staff of the Wisconsin Union's Outdoor UW, which is home to the Hoofers as well as other recreation services, such as outdoor equipment rentals, outdoor yoga, group experiences, and educational workshops and courses.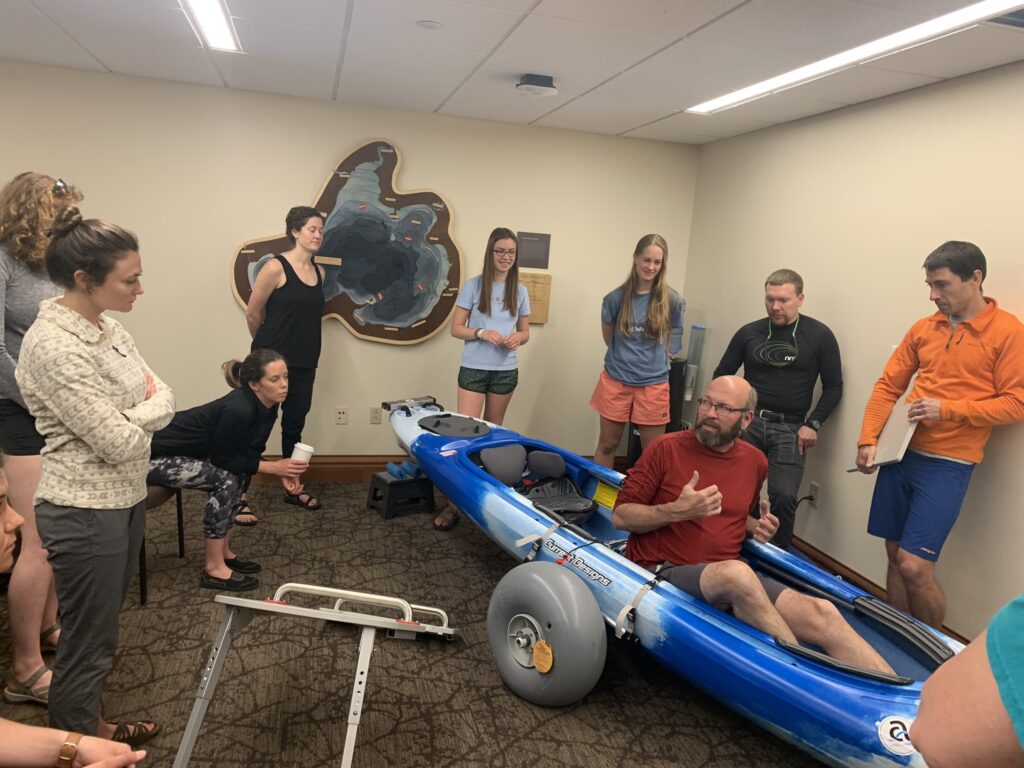 The kayak includes seats with extra support, a transfer bench to help the kayaker go into the boat, a large wheel to facilitate safe transport into the water, as well as wrist banks, which allow the kayaker to use their upper body to move the paddle instead of using their fingers to hold the paddle.

"One of our goals is to start to try to shift the perspective to show people that those with diverse abilities or disabilities can participate in the same kinds of activities as everybody else," Gray said.
The team's work earned the attention of national and local organizations as well as Madison area media. For example, Hoofers Adapt won the Inclusivity Bucky Award in March 2020. The UW Division of Student Life presents the Award to an organization that fosters learning opportunities, contributes to the scholastic and leadership growth of its members, and focuses on fostering interactions between members.
"We see ourselves as connectors," Gray said. "Our main purpose is to increase accessibility and inclusion, not only through activities but also through the culture of Hoofers clubs and our campus, in general."
One way in which Adapt members aim to make a difference is by collaborating with the UW-Madison Rehabilitation Psychology and Special Education Department. This partnership, which the Morgridge Center for Public Service helped make possible, allows more undergraduates to get involved with Hoofers Adapt, complete their service learning requirements, and gain invaluable experiences.

Hoofers Adapt is the Network Fellows project of both Bach and Gray. The UW-Madison School of Education's Network Fellows provides funding for students' community-based projects.

Also, in spring 2020, Hoofers Adapt planned to host a Diverse Ability and Inclusion in the Outdoors Summit, a movie night, and a collaboration with Best Buddies to celebrate the 30th anniversary of the Americans with Disabilities Act. While these events did not take place this academic year due to COVID-19, the Adapt team hopes to host them once it is safe to do so.

In the future, Hoofers Adapt also aims to collaborate with the Hoofer's Scuba Club to host adapted scuba events in a pool alongside Adapted Fitness, a UW-Madison program that provides adapted physical activity classes.
Check out Hoofers Adapt's website here for future recreation opportunities as well as information about Hoofers Adapt meetings and events.

Hoofers Adapt programming would not be possible without the Wisconsin Union Director's Fund, which provides support for the greatest needs of the Wisconsin Union, as determined by the Union director. To make a donation to this Fund, visit union.wisc.edu/donate.