Hold On to Your Skis: A Look at Hoofers History for Our 90th Anniversary
Ninety years ago, the Wisconsin Hoofers made its debut as the premier outdoors club at the University of Wisconsin-Madison. We can hardly believe that we have gathered with members for outdoor adventures and learning for almost a century. And that, today, we have six Hoofers clubs and more than 2,000 members. While much has changed since we first dreamt of establishing the Hoofers, a constant remains that we established day one: the desire to provide exceptional outdoor recreation activities. Join us for a reminiscent look back at important moments, fun memories, and talented people throughout Hoofers history.
In-Person Celebration
On April 30, the community and visitors gathered for an in-person celebration of the Hoofers' 90th anniversary. The celebration at Memorial Union included tours of the Tong Family Marina and new Hoofers spaces, free sailing with the Hoofer Sailing Club, free canoeing with the Hoofer Outing Club, a Hoofer historical photo gallery and retro gear display, and a silent auction featuring private sailing lessons, a season ski pass, retro gear, a kayak or canoe trip to Picnic Point, posters, and sailing sloop naming rights.
1920s
Norwegian exchange students, disappointed that their favorite activity was not popular in the Midwest, decided to build a wooden skip jump on Muir Knoll, a small patch of land on the shore of Lake Mendota. The jump opened on Jan. 11, 1920, to a crowd of 3,000. The Hoofers unofficially began with this jump.
1930s
In 1931, a committee of campus leaders officially established a University Skiing and Outing Club, and on Feb. 11, 1933, anywhere from 4,000-5,000 spectators watched the club's first tournament using a new ski jump on Muir Knoll. The crowd, which included people and cars, stretched down the hill out onto Lake Mendota. Events like this grew so popular that the Hoofers began to charge admission and built a fence to manage the crowd.
1940s
In the mid-1940s, hiking, one of the most popular divisions of Hoofers, combined with other outdoor activities and formed into the more general Hoofer Outing Club.
1950s
In the late 1930s, the Hoofers sponsored canoeing and biking divisions of the club. After a hiatus, the Hoofer Canoe Club began in 1952. It folded into the Outing Club in 1957.
1960s
Former Sailing Club Commodore Peter Barrett participated in his first Olympics in Finn Class sailing. He also competed in the 1964 and 1968 Olympics, winning silver and gold medals, respectively.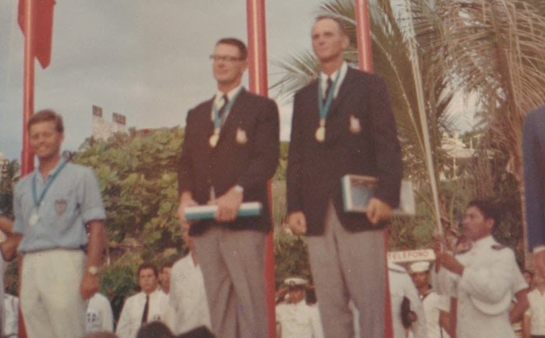 1970s
In 1976, the Hoofer Scuba Club began. That same year, the largest ever Hoofer membership base was recorded with more than 5,600 members.
1980s
In 1982, the Hoofer Sailing Club held its first-ever Pirate's Day. The tradition carries on to this day as one of the most celebrated Sailing Club events.
1990s
In 1997, the Hoofers resurrected the infamous replica of portions of the Statue of Liberty on Lake Mendota alongside the Wisconsin Union's Memorial Union, which serves as Wisconsin Hoofers headquarters. Lady Liberty first appeared on Lake Mendota in the late 1970s as part of Winter Carnival. Read more about this tradition here.
2000s
The Hoofers held its inaugural Giant Pumpkin Regatta in 2005. The event features students paddling hollowed-out pumpkins grown by UW-Madison students.
2010s:
In 2013, the Hoofers moved into its newly renovated home within the Wisconsin Union's Outdoor UW at the Memorial Union. Renovations provided the Hoofer clubs with about twice the amount of space they originally had below Shannon Hall in Memorial Union. This included individual club storage spaces, a more accessible boat house, locker rooms, improved Hoofer and advisor workspaces, and a larger, safer sailing shop.
For nearly a century, Hoofers has been the one-stop-shop for outdoor endeavors. We want to express our deepest thanks to the Hoofers members who made memories with us, the staff who supported the clubs in their adventures, and our donors who told us with their financial support that they believed in the importance of outdoor recreation.
For additional information about Hoofers, click here.
Click here if you would like to give to help continue the Hoofers legacy. The Wisconsin Hoofers are working to continue to enhance the Tong Family Marina and to move new efforts forward. Your help in making these dreams possible is valued beyond measure.