An Underwater Look at Hoofer Scuba
Founded in 1976, Hoofer Scuba Club celebrated its 40th anniversary just three seasons ago, and middle-age has never looked so good. From clean-up dives to remote trips in Florida, many communities benefit from Hoofer Scuba's charitable actions, and anyone can join.

This past January, Scuba Club members drove to Miami, Fla. to participate in the "Rescue a Reef" program. Members completed six dives, four of which were recreational and highlighted different sites, animals and structures in the area.

The other two dives focused on helping to replant coral and clean coral. Coral serves an important role in the oceanic ecosystem; it serves as a buffer from hurricanes' force, Samantha Schiereck, president of Hoofer Scuba said. This community service project was a major aspect of Scuba Club's trip.

While Scuba Club has not participated in many remote trips since 2008, club leaders are beginning to rebuild, Schiereck said. She added that members hope to continue planning winter trips and eventually add a spring option.

More locally, the Scuba Club dives most often in Lake Mendota, which has much more to see beneath the water than from the sunburst chairs on the Memorial Union Terrace. Out at a peninsula, called Picnic Point, along Lake Mendota's south shore, there is a sunken Ford Model-T at the bottom of the lake that Scuba Club members love to see.

While many local dives are often for pure enjoyment and learning, Scuba Club members also focus on clean-up dives, especially at Lake Mendota, the lake Hoofers call home.

"We go down and clean up the plastic cups, bottles, cans, anything that's not supposed to be there," Schiereck said.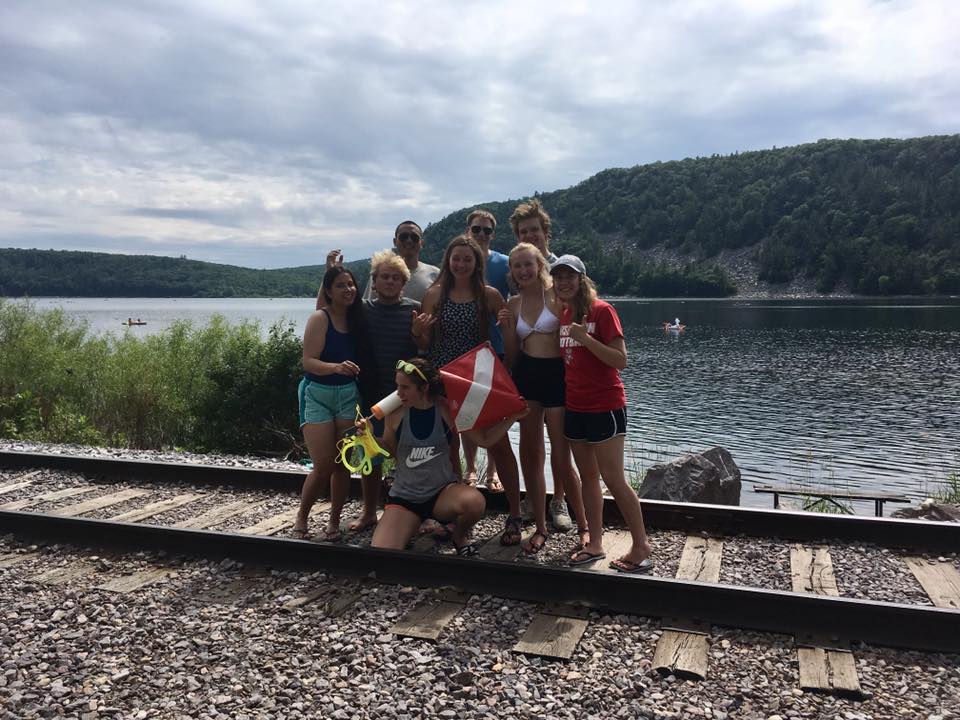 And while we are all awaiting the annual spring opening of the Terrace, Scuba Club members also await the beginning of their season. In the summer, club members dive about once every other weekend. In order to be qualified to dive, the Scuba Club require open water certification. The club's open-water certification class begins once Lake Mendota's water warms up enough to enter, Schiereck said.

"Since we can go underwater, we have access to places that very few people can go," Schiereck said. "We love diving here [in Lake Mendota]. We want to protect it and clean it. It's a unique look, you know. People swim in the lake. They enjoy boating on it. But a lot of people don't really see the true extent of what the lake has to offer. You really get to be a part of it instead of an outside observer that's affecting it."

Even in Wisconsin's colder months, the club keeps the scuba fun going with social events like painting nights, trivia and game nights, and pool dives. Last year, the club organized the "scubalympics," which fostered some healthy competition and included some fun activities, such as relays in the pool. And, regardless of the season, Scuba Club welcomes new members year round.

"[Socials are] a good way to meet divers and get to know them. You don't have to be certified or even be a member yet. If you're interested in learning more about the club or meeting the people, you can come to the events," Schiereck said.

Throughout the diving season, Scuba Club hosts many events in Wisconsin, as well, such as underwater pumpkin-carving near Halloween, jumping into Devil's Lake in Baraboo, even seeing planes and helicopters that were intentionally sunk for underwater viewing in Beloit. By joining Hoofer Scuba, members can see a whole new part of the bodies of water that so many already know and love.

Everyone, regardless of experience, is welcome to join Hoofer Scuba. To begin, club leaders recommend coming to one of the general monthly meetings to find out more.
Those interested in learning more about the club, upcoming scuba events and how to get involved can also click here.