5 Gifts that People Actually Want for the Holidays
In in the past, I've been among the throngs of people scurrying from store to store contemplating whether to give up, sit down on a mall bench and accept that the rest of the people on my shopping list will only have the gift of my presence for the holidays. No longer. I hope you'll join me in having a merry holiday shopping experience with us, at the Wisconsin Union, at Union South, Memorial Union or online at terracestore.union.wisc.edu. Looking for a place to start? Read about my top picks for gifts from our stores.
1. Mini Terrace Chair
Anyone who knows Memorial Union knows the Wisconsin Union's iconic Terrace chairs that appear on Memorial Union's lakefront area, called the Terrace, each summer. Their famous sunburst design will harken back to warmer months, and it will remind your loved one of relaxing times spent on the Memorial Union Terrace.
Standing at 4 inches tall, these mini chairs are too adorable and will look great in any space. They come in all of the traditional colors (orange, green and yellow), plus red. They even come in, for a limited time only, cow print! You might not be able to sit on them, but you can still love them.
2. Terrace Chair Water Bottle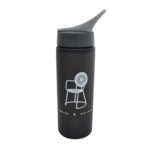 Have you ever looked up how much water we are supposed to drink every day? It's a lot. Your gift recipient can drink the daily recommended water in style with a Terrace Chair Bottle. It keeps water cold and includes a sip top valve for easy drinking. . The Terrace chair logo on it is a cute bonus!
3. Union Sweatshirt
Cozy and cute; you can have both with our sweatshirts options. It's a well-known fact that Wisconsin winters can be rough. For the walk to class, relaxing nights at home, and nights out cheering on the Badgers, the Union's large selection of sweatshirts, from crewnecks to zip-ups to hoodies, will make everyone on your list happy and warm.
4. Terrace Enamel Pins
Shopping for a student? Our enamel pins are a great way to add a little customization to students' backpacks and jackets. The little pins come in four designs, including a brat and an ice cream cone, so the students in your life can show their love of the Terrace all year long.
5. Gift Card
Can't decide what to buy? Buy a Wisconsin Union gift card, and let your loved ones choose for themselves! Gift cards come in values of $25, $50 and $100 and can be used at our markets, cafes, restaurants and online store.
BONUS TIP: Know someone graduating from UW-Madison this year? Students are members of the Union while attending UW, but why not buy them a membership so they can continue to enjoy Union South, Memorial Union and our services and events through a Wisconsin Union membership purchase? It's a gift that will last a lifetime. Click here to learn more about membership and its perks!
You can check out more of what we offer online and in-person at Badger Markets in Union South and Memorial Union.