Have a Creative Fall Season with Wheelhouse Studios
While we all say goodbye to summer (more appropriately known as Terrace season) many other Wisconsin Union team members and I are excited for vibrant oranges and reds to make their way onto campus foliage. So, in lieu of summer,  I ventured to Wheelhouse Studios to learn about the fall courses coming up.
As you'll quickly learn in this article, Wheelhouse Studios, the Union's in-house art studio, is home to just about every kind of art, including ceramics, fabric art, glass fusing, dance workshops, and food classes – just to name some!
"We encourage everyone to engage in the arts on campus," Tony Wise, co-director of Wheelhouse Studios said. "We strive to offer an open studio, accessible to being creative."
With that in mind, here's some of the ways you can have a creative fall season with Wheelhouse Studios.
Introduction to Wheel Pottery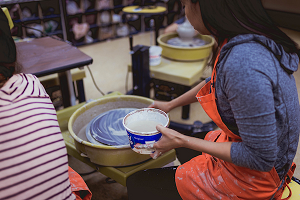 Various dates, Memorial Union
A Wisconsin Union classic, pottery at Wheelhouse is for new and experienced throwers alike. From bowls and mugs to vases and lidded vessels, in this class, you have the opportunity to create while learning about pottery techniques. In the end, you'll walk away with a glazed, kiln-fired masterpiece unlike any other! For a detailed schedule, click here.
Seasonings, Spices & Healthy Eating
Oct. 21, 6-9 p.m. Memorial Union
Take a walk on the seasoned side, and ditch the salt and sugar found in so many of our everyday diets. This class will show you how to replace them with healthier alternatives. The Wheelhouse team told us that mixing different seasonings can transform an ordinary meal, and the team is eager to share how through this class. Click here to register.
Introduction to Stained Glass: Gift Ideas
Nov. 27 – Dec. 11, 6-9 p.m. Memorial Union
Learn the inner workings of stained-glass design during this three-week course. From cutting to construction methods, these handmade gifts are sure to be a hit during the holidays (without hitting your bank account hard). Take a break from the stress of the day, and join Wheelhouse to create one-of-a-kind art. Click here to register.
Food & Red Wines
Nov. 28, 6:30-9 p.m. Union South
For our 21+ readers, learn the characteristics of cabernet sauvignon, merlot and pinot noir in this course. You can wow your friends and family by becoming an expert through exploring the makeup and features of these four wine styles and how they interact with many taste sensations, such as sweet and bitter. Click here to register.
Create with us!
So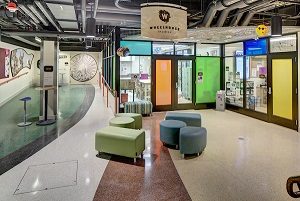 , what are you waiting for? Put on that sweater that's been in the back of your closet, grab a warm vanilla cardamom latte from Peet's, and come on down for a creative experience of a lifetime with Wheelhouse.
"At Wheelhouse, it doesn't matter what your art background is," Tony said. "Wheelhouse has facilities for users to experiment, create, and learn new techniques in the arts."
None of these courses suit you? Check out the rest of Wheelhouse's fall catalog.We're sure you'll find something: https://issuu.com/wisconsinunion/docs/wh_catalog_12_fall_issuu_18_0797. To register for a course, go to https://apm.activecommunities.com/minicourses/Activity_Search.