Shake Up your Group Outing with the Wisconsin Union
Planning your next corporate gathering or team-building get-together? We, the Wisconsin Union team, invite you take shake up your outing with our affordable activities. You can join us for one activity, or we can work with you to create a package tailored to your team's needs. ("Trust falls" not included.)
Cheryl Fanning, the director of member sales and service at the UW Credit Union, recently took her team outside of the "trust fall" with the Union's most popular group event: instructor-led painting at Wheelhouse Studios. With this event, each of Cheryl's team members created and took home a painting of a Terrace chair.
"They had a blast doing it, and so did I," Cheryl said. "They want to do another outing there soon where more of them can come."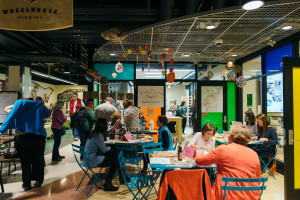 Based out of Memorial Union, Wheelhouse Studios can accommodate groups of up to 45 people with a range of activities from making t-shirts to creating mosaic coasters. While there are plenty of packages to choose from, Wheelhouse staff can tailor an event to your group, too.
"It's important for my team to do events outside of work," Cheryl said. "I know that these outings bring them closer together and create a more engaged workforce."
Over at Union South, Sett Recreation also offers activities that will take the groans out of team-building announcements, including bowling, billiards and indoor rock climbing.
"We are able to customize a great deal of what we have to offer in order to meet the needs of groups who come in," Sett Recreation Manager Bob Wright said.
Sett Recreation is perfect for a group looking to relax and have fun in a stress-free environment. Bonus: Your team will make memories and connections.
"People may not recall the details of their visit to Sett Rec, but they will remember how much fun they had with their friends," Bob said.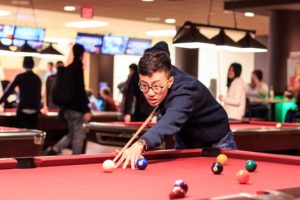 While bowling is by far the most popular group activity Sett Recreation offers, Bob said he is surprised that groups don't take advantage of other activities more often.
"I love interacting with our customers and ensuring that we are doing whatever we can to help them enjoy their time in Sett Rec," Bob said.
Looking for a more outdoorsy activity? Look no further than Outdoor UW at Memorial Union. The Outdoor UW team is ready to help even the self-described non-outdoorsy members of your team experience nature with activities for all skill levels, from paddling excursions to yoga classes.
Visit union.wisc.edu/group to learn more, or to make a reservation for your group. We look forward to seeing you and your team soon!