Celebrate Galentine's Day with the Wisconsin Union
Valentine's Day is quickly approaching, and while the day of love is often a dreaded holiday full of sappy social media posts, celebrating the love and appreciation you have for your friends gives you a different way to spend the holiday.
This year, celebrate Galentine's Day at the Union. While, sure, Galentine's Day is technically Feb. 13, the Union team is hosting events before and on Valentine's Day that will help you celebrate the love that is friendship.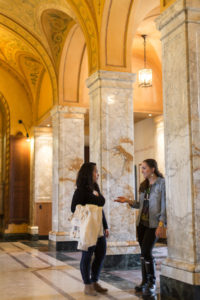 Instead of getting your girls traditional Valentine's Day cards, get them the type of Valentine they really want – desserts. Badger Markets across campus are selling Valentine's Day-themed baked goods on Feb. 14, so there's no excuse not to show your friends the love and appreciation they deserve with a sweet treat.
If you and your girls are feeling adventurous (and we're not experiencing Artic temperatures), pick up some snowshoes at Outdoor UW and trek across Lake Mendota to Picnic Point. Not only is the view of Madison beautiful, but the photo op will momentarily relieve your Instagram followers of their couple-filled timelines.
Make your Galentine's Day musical and attend a vocal performance by Becca Stevens, an up-and-coming musician who blends jazz, pop, rock, funk and R&B to create a unique sound you're bound to love. To make the event even better, tickets are discounted for students so there's no need to break the bank.
Or laugh along with your friends during a sneak peek screening of the film "Game Night", starring Jason Bateman and Rachel McAdams. The film is set to be released worldwide Feb. 23.
While there are countless ways to celebrate Valentine's Day, spending it with the friends who love you most is a foolproof way to enjoy the day. Gather your friends, and let the Union help you celebrate Galentine's Day.