Let the Union Help you find your Friends for Life
Coming to college as a freshman, sure, you're scared about college classes. You're wondering how you're going to get up Bascom Hill. And you may be strategizing about the number of alarms you'll have to set to wake up in time for that 7:45 a.m. class.
But you're also probably missing your hometown BFFs and thinking there's just no way you'll be that close with any other friends ever. And while no one will ever replace the people you grew up with, it's possible that your college friends for life is just one Wisconsin Union event or meeting away. Here are some of the places and events to find the Romy to your Michelle, the Joey to your Chandler…you get the idea.
Badger Bash
We all know that one of the best parts of fall semester is Badger football. From red and white bibs to jumping around, nothing beats the feeling of Camp Randall on a Saturday. But before kick-off, there's no better place to be than Badger Bash at Union South. It's got all the ingredients you'd expect for the best tailgate in town, like the UW Marching band, free games and free live music performances. If you're missing Badger Bashes on home gamedays, you're missing out.
The Sett
Food and recreation also bring people together at Union South's the Sett. Featuring a two-story climbing wall, frequent live music performances, bowling, billiards and other games, the Sett is the perfect setting to enjoy a night away from the library.
Wheelhouse Studios
Whether art is your forte or you've never picked up a paintbrush, Wheelhouse Studios is the perfect place to make both friends and art. So go find that person with good vibes down the hall and head to the lower level of Memorial Union. You and your prospective bestie can make jewelry, 3D art or discover your inner Picasso.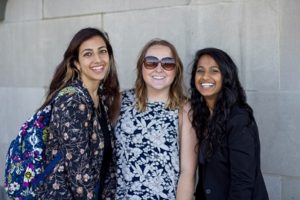 Wisconsin Union Directorate
College is a great time to discover yourself, to embrace the things you are passionate about and find new passions entirely. At the Wisconsin Union, one the best forms of self-discovery is getting involved with the Wisconsin Union Directorate (WUD). WUD is a student-led board that organizes, plans and promotes the Union's events. With 11 different committees focusing on the arts, cuisine and so much more, there is bound to be a WUD committee for you, and your new friends are waiting to meet you in that committee.
Outdoor UW and Hoofers
If adventure excites and being in the open air restores you, you're going to want to get to know Outdoors UW. With everything from kayaks to snowshoe rentals, you'll love exploring with people who love the outdoors as much as you do. For even more exploration opportunities, join fellow adventurers in one of our six outdoors clubs, known as Hoofers.
Whether you lead, learn or just play at the Union, on behalf of the entire Wisconsin Union team, welcome to your campus home away from home. Come create memories to last a lifetime with people you won't forget. Visit union.wisc.edu for more information about the Union