Our Favorite Mem-U Menu Items for Fall
By Emily Rohloff and Abby Synnes
Speaking as two current juniors at the University of Wisconsin-Madison, once school starts up again next month, we're planning on spending most of our free time at the Wisconsin Union's Memorial Union. The Memorial Union offers the perfect space for all of your needs: a relaxing environment for studying or reading, a lively atmosphere to meet up with friends or family, and, perhaps most importantly, plenty of places to eat. Whether you're a meat-lover or vegetarian or have dietary restrictions, you're sure to find something that pleases your taste buds and meets your dietary needs at one of Memorial Union's many dining options.
You could spend all day in Memorial Union and not run out of things to do or foods to try. We've compiled a list of some of our favorite Mem-U menu items as a cheat sheet for some of the best eats in Madison, as recommended by your local student experts.
THE MORNING RUSH
One scenario you are sure to encounter at some point throughout the year is running late for a morning class, meeting, or appointment. Instead of accepting the cruel reality of not being able to eat breakfast, you can make a short stop at Peet's Coffee, where you are sure to find quick, on-the-go breakfast and coffee options. Here are some of our favorite go-tos:
Whether you need a morning pick-me-up or a burst of caffeine to finish that last stretch of your morning, we recommend Peet's velvety iced vanilla latte or sweet hot caramel latte. If you're not a coffee fan but are still craving a creamy caffeinated drink, try its spiced chai latte, which is refreshing hot or iced.
Peet's also offers a variety of breakfast sandwiches, ranging from a tasty ham, egg and Swiss on a croissant to a savory, filling vegan egg and chorizo burrito. If you're looking for a smaller snack, you can also order a muffin, fruit salad, or pastry to-go, making Peet's a perfect before-class destination.
A MIDDAY STOP
The Memorial Union is a hub for students and the community alike. The convenience of its location combined with its many food options makes the Memorial Union the ideal place to enjoy lunch with a coworker or friend, or even get a head start on some homework. The Memorial Union has food options that accommodate many different dietary restrictions. Below you can find some recommendations for meat lovers, vegetarians and vegans alike.
California Club Wrap
Wraps from der Rathskeller are the perfect option for a quick lunch in between classes. For non-vegetarians, the California club wrap offers a mix of ingredients that are a little more adventurous than the simple yet classic chicken Caesar wrap. The California club features crunchy romaine lettuce, shredded Monterey Jack cheese, fresh avocado, finely sliced smoked turkey, crispy bacon and diced tomato. This tasty combo is then drizzled with creamy, house-made ranch dressing and wrapped in a wheat tortilla. Don't worry about the smoked turkey being too overpowering—the smokiness adds flavor without overwhelming the fresh taste of the rest of the wrap.
Southwest Wrap (V)
If you're not a big meat lover, never fear, der Rath still has options for you. The Southwest wrap offers a great vegetarian and nut-free option, as it includes ingredients of fresh romaine lettuce, shredded marble cheese, diced tomatoes, red onion, bell peppers, corn and the classic addition of black beans. These yummy ingredients are all wrapped in a flour tortilla shell and topped with the signature chipotle ranch dressing. You don't need to be worried about it being too spicy either! It is a great option for both lunch and dinner, and comes with your choice of side (choose from fries, cheese curds, onion rings, or tater tots!). This can be made vegan without the cheese and without the ranch dressing. Our self-serve condiments selection to the left of the beverage machine includes vegan BBQ sauce and vegan hot sauce.
Garden Signature Pasta Bowl (V)
If you're looking for a quick, delicious taste of Italian food, stop by and grab a pasta bowl at Strada. While it has several options to choose from, including a build-your-own bowl, the garden signature dish will not disappoint. It contains cavatappi pasta mixed with fresh red peppers, classic mozzarella, artichokes, Kalamata olives and seasoned tomatoes, and is topped with garlic oil and creamy basil pesto. This is a great option for those who are vegetarian or looking to get their fill of veggies for the day. This can be made vegan without the pesto and without the mozzarella. Because it is served in a to-go container, it is perfect to enjoy while sitting on the nearby outdoor space, called the Terrace, and basking in the views of Lake Mendota there.
Quinoa Black Bean Salad (V)
Get your greens in with this hearty, fresh and filling signature salad from Carte. The quinoa black bean salad features a bed of crisp lettuce topped with scoops of, you guessed it, quinoa and black beans, as well as vibrant cherry tomatoes, cubes of seasoned grilled tofu, bright green edamame, slices of red onion, sweet dried cranberries, crunchy sesame sticks and a light sesame dressing.
One of the best parts of Carte salads is how customizable they are to your specific preferences or dietary needs. It's easy to make additions, eliminations or substitutions since your salad is made right in front of you. I like to start with the quinoa black bean salad and swap the sesame sticks with croutons to keep the crunch but add a little more flavor, and trade the sesame dressing for a creamy, tangy balsamic vinaigrette. The saltiness of the dressing paired with the sweetness of the dried cranberries and tomato will satisfy your sweet and savory cravings and leave you feeling perfectly nourished before your next class.
LATE NIGHT MEMORIES
Some of the best memories can be made sitting on the picturesque Terrace, laughing with friends and enjoying the signature food classics of Memorial Union. As incoming juniors, both of us have spent our fair share of time watching the unbelievable sunsets from the Memorial Union Terrace, and nothing beats the aesthetic of some good old fashioned cheese curds, a table full of friends and the orange, pink and purple glow of yet another amazing sunset. Here are some of the best shareable options we have found:
BBQ Chicken Signature Pizza
If you're looking for a brand-new pizza experience, you have to try the BBQ chicken pizza from Strada. This signature pie offers a unique take on Neapolitan-style pizza, a pizza form that originated in Naples, Italy. Neapolitan pizza traditionally features simple ingredients like tomatoes, fresh mozzarella cheese, basil and olive oil (like Strada's margherita pizza), but Strada serves up unique flavor combinations in their other signature dishes.
The pairing of barbecue sauce and creamy ranch offers a sweet and tangy combo sure to make your taste buds sing. The pizza is then topped with a sprinkling of fresh mozzarella, wedges of seasoned chicken, slivers of red onion and a handful of crispy bacon bits. This awesome assembly is then tossed into a wood-fired oven and baked to perfection, leaving the crust crispy and toasty. These personal pizzas are the perfect size, whether you're looking to share with a friend or enjoy all by yourself.
Looking for vegan options at Strada? Our gluten-free pizza crust is vegan, and we have vegan sausage and vegan cheese.
Tater Tots and Rath Sauce
Tots from der Rath slathered in the signature Rath sauce are arguably the tastiest Memorial Union menu item. These shredded potatoes are fried to golden perfection and then generously seasoned with salt, pepper, paprika, cayenne pepper and garlic powder, creating an explosion of flavor. My favorite tots are the ones that are so coated in seasoning that they're almost completely rust-red. Dip these morsels of goodness in the housemade Rath sauce (der Rath's superior version of thousand island dressing, a combination of ranch, BBQ sauce, mayo, ketchup and adobo sauce from canned chipotles). Some people, myself included, enjoy Rath sauce so much that they have been known to eat Rath sauce with a side of tots rather than the other way around. No judgment here, the sauce is just that good.
Can't finish your tots in one sitting but want to enjoy your leftovers just as much the next day? Here's your Tot Tip from a self-proclaimed tot connoisseur: instead of heating up your tots in the microwave, try broiling them in the oven for five to seven minutes to recreate that crispy outer shell.
Deep-Fried Cheese Curds
Mmmm, nothing says Wisconsin like a good ol' deep-fried cheese curd, and der Rath has got some of the best curds in town. Grab a shareable size of these, because no one is going to be able to pass them up. The flaky outer layer and ooey, gooey insides will melt in your mouth and leave you wanting more. These curds are dangerously delicious, but so worth it.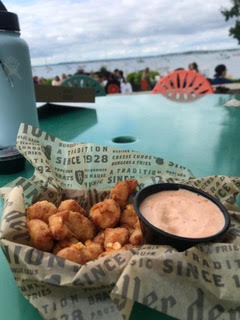 Ice Cream With a View
No meal at Memorial Union is complete without a tasty treat from the Daily Scoop. The Daily Scoop features a variety of Babcock and Chocolate Shoppe ice cream flavors, served by the cone or the dish. In addition to traditional dairy-based flavors, the Daily Scoop also has vegan and gluten-free options available.
It's a proven fact that your ice cream tastes 10 times better when it's eaten while looking out over the sunset of Lake Mendota, so bring your ice cream out to the Terrace to end your night on the sweetest note. Abby swears by a waffle cone piled high with chocolate peanut butter ice cream, which features smooth chocolate ice cream ribboned with chunks of salty peanut butter. Emily highly recommends a scoop of Badger Blast in a dish, containing rich, creamy chocolate ice cream mixed with hot fudge and chocolate chips, basically any chocolate lover's dream come true.
---
Make your way to Memorial Union to try one of these delicious meals, or branch out and find a new favorite. Check out union.wisc.edu/dine/find-food-and-drink to view the full menus for der Rathskeller, Carte, Strada, Peet's and the Daily Scoop, as well as all other Wisconsin Union dining locations.