A Place to Dine: Delicious Changes and Conversations
A lot has changed at the Wisconsin Union over the past year, and dining is no exception. While staples like der Rathskeller and the Brat Stand remain, new food options such as Italian dishes at Strada and handcrafted fare at Carte have made a name for themselves at the Memorial Union.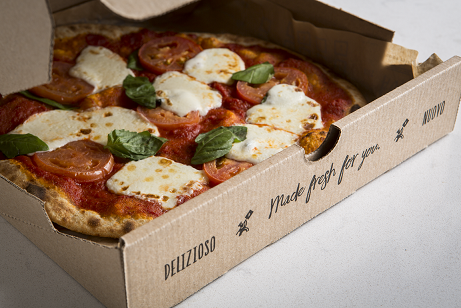 Since opening in January 2017, Strada has made Italian street food a dining go-to at Memorial Union. Visitors can partake of traditional options such as delicious, hearth-fired pizza or try unique, flatbread piadinas that are customizable and can be stuffed to the brim with pasta, cheese, meat and veggies.
"The piadinas have been a surprise hit," said Associate Director for Dining and Hospitality Services Carl Korz.
Around the corner from Strada at Memorial Union, Carte, the Union's new sandwich and made-to-order salad shop, has been a fresh, healthy addition to the building's dining options.
"All the soups and dressings are made in-house, and we keep the food as fresh as we can," Korz said. "My favorite is the black bean and quinoa salad with tofu and the ginger sesame dressing. So healthy and so flavorful."
Alongside the emergence of new food options, the past year has been full of innovation and sustainability efforts at both Union South and Memorial Union. From endeavors in composting to a push for waste reduction, the Union has begun its journey to become a more environmentally friendly place to dine.
Furthermore, the Union has made it a priority to deliver more locally sourced food options to those dining at the Union. Breads and bakery items are made locally, and produce is purchased from area farmers whenever possible.
"Local is great for so many reasons," Korz said. "It builds the economy, it allows us to purchase from people who understand our Wisconsin culture – and that means all our Wisconsin culture: ranging from local aquaponics- grown lettuce, to local cheese and beer, to bison and wild rice from the Native Mobile Market, which provides products from the Native American sovereign nations up north."
In an effort to recognize and dive deeper into the local food system and beyond, the Wisconsin Union Directorate (WUD) introduced a new committee, called the WUD Cuisine Committee, in September 2016. This committee's members have since dedicated their energy to making a positive impact on food systems not only on campus, but in Madison, the nation and around the world.
"First and foremost, we aim to be a place where students can start thinking about cuisine and the food system at large," said WUD Cuisine Director Sydney Weiser. "We want people to think about the fact that food is something we all need to survive, but food is also reactive, and we want to acknowledge what it means for food to be dependent."
Because WUD Cuisine is dedicated to increasing the Union's responsibility to students and the community, various educational opportunities regarding the food system and its lasting effects have been made available to students through the committee.
"We had an event with the National Organization for Women about the stigma of food stamps being used by low-income mothers, which was a really important event," Weiser said.
Weiser indicated sensitive conversations about food need to be had to give people a framework to be more conscious of the world around them, as well as the people who inhabit it.
"It's extremely important to our mission on campus to be discussing food as it intersects with culture, environment and finance, and how food is something that everyone needs but the reality is not everyone has the same resources," Weiser said.
Through these and many other efforts over the last year, the Union has made tremendous strides in dining – not only through food itself, but through a heightened awareness of the community and the environment surrounding it. With new menu items and a raised awareness of sustainability and the implications that come along with food consumption, the Union is proud to be a place for all to dine.
To learn more about the Union's dining options, please visit union.wisc.edu/dine.