6 Reasons to Buy a Limited Edition Terrace Chair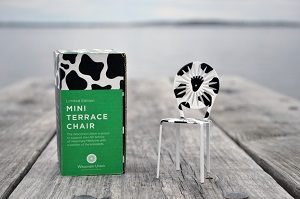 We, at the Wisconsin Union, are partnering with the University of Wisconsin School of Veterinary Medicine (SVM) to make a difference for thousands of animals and the people who care for them. Together, we have unveiled a new, limited edition, mini Terrace chair that will help support the school's building expansion project. It's cow-print! In this article, we'll give you six reasons you need this mini Terrace chair in your life.
Limited Time

No one wants to have regrets! So buy an exclusive mini, cow-printed Terrace chair while you still can! These endearing commodities are only available until October or while supplies last.

Support Veterinary Medicine

A portion of the proceeds goes towards benefiting Vet Med and helps support their building expansion project. To continue reaching their goals, they need your help — visit AnimalsNeedHeroesToo.com for more information about the expansion project.

It's Cute — Simple As That

This 2.25 x 2.25 x 4.5-inch chair is almost as cute as the many animals Vet Med helps. Giving back feels great — even better when you get a stylish, mini chair out of it!

For the Love of Animals

Ved Med's work with the livestock and dairy industries keeps millions of animals healthy and productive — happier cows, safer food, healthier people. For more stories about the animals Vet Med has helped and the School's positive impact, click here.

Support the Wisconsin Union Mission

The Union team believes in making lifetime connections on campus, one person at a time.

"It feels like a natural extension of our work in the community to help an important campus cause like the Veterinary Medicine building expansion," said Susan Dibbell, deputy director of the Wisconsin Union.

We hope you will join us in supporting this important campus effort and the students, staff and faculty who make all that Vet Med does possible.

You Love the Terrace

What better way to support the Union than bringing a little piece of the Terrace home with you. Memories at the Terrace never get old, and neither will this adorable memento of your time spent there.
If you would like to support this effort, you can purchase the exclusive, mini chairs on the Terrace Store website as well as in the Badger Markets in Union South and Memorial Union.