Reaching New Heights at the Union
You might see Union South as a place to study, grab some Ginger Root, or watch a game, but underneath the surface there is even more excitement happening. If you've ever eaten at the Sett, you've probably seen — through the glass panels — people making their way up a multi-story climbing wall. Head downstairs to Sett Recreation and you'll find our bowling alley, pool tables, other games, and — to many people's surprise — an indoor rock climbing wall. From beginners to pros, all are welcome at Sett Rec's climbing wall.
Zoe Jackson, the Sett climbing wall supervisor, says she became involved in climbing in an unconventional way — to overcome her fear of heights.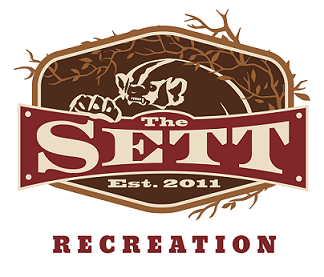 "Climbing seemed like a really accessible thing, especially because of this space and because it's an amazing sport, especially the people that are in it," Jackson said. "The biggest thing about climbing is that I've never seen any other sport that has a community like this one does."
This March, the climbing wall's crew will spend days preparing brand new routes for their semesterly (and free!) climbing competition. Jackson explained that the competition this year will be glow-in-the-dark themed with black lights, glow sticks, and glow-in-the-dark holds and tape. It is going to be laid-back this semester and focused on having fun, Jackson said.
"I think climbing is a really adaptive sport," Jackson said. "Basically anybody can do it, and it's a really individual sport. You can make it cater to you."
If you're new to climbing or just haven't climbed at Sett Rec before, we've got you! Check out the list below for some quick tips to get you started.
1. Be Safe.
Be aware of who is above and below you. Sett Rec provides "Climber Above" gates that help climbers know what's going on around them.
2. Get Comfortable.
Jackson advises that if you're climbing for the first time, just go up a little bit of the wall. You don't have to follow a route! It can feel strange to move your body in a new way. Also, initially dropping from a low height helps you become comfortable with the auto belays, which safely lower you back to the floor.
Beginners often want to use their arms to pull themselves up. Make sure to use your legs, and try to keep your arms straight.
3. Know that Falling (Safely) is Part of the Sport.
There's actually a proper way to fall — you don't want to lock your knees or your elbows. You actually want to roll onto your back and then put your arms straight out to the sides.
4. Ask For Help.
"Everybody here has been in the same position as you," Jackson said. "Don't be afraid to go out of your comfort zone and learn from mistakes as you go along."
5. Have Fun.
Climbing can be truly challenging, but what could make you nervous can also be what makes it exciting!
If you want to put your climbing skills to the test or just want to check out the climbing competition, come see for yourself on March 2 at Union South's Sett Recreation! The beginner division begins at 1 p.m. and runs until 3 p.m. The open division begins at 3:30 p.m. and runs until 5:30 p.m. Be sure to check out the prizes (like a 1-month climbing pass to Sett Rec) for the top-scoring climbers!
To find out more information about The Sett's climbing wall check out their website at union.wisc.edu/events-and-activities/climbing-and-bowling.