Hoofer Mountaineering Club: Climbing to New Heights
Since becoming the president of the Hoofer Mountaineering Club, Rachel Andrie has helped the Mountaineering Club reach new heights with her vision and leadership.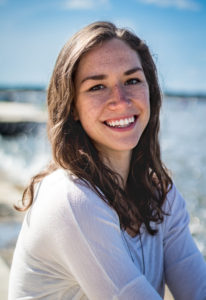 The University of Wisconsin-Madison junior did not set out to become the president of the Hoofer Mountaineering Club, one of the Wisconsin Hoofers six clubs. In fact, she found the club when, as an avid horseback rider, she sought out the Hoofer Riding Club.
"I made some friends in the Mountaineering Club, started climbing, and I never stopped," Andrie said.
Andrie graduated from Columbus East High School in Indiana in 2014. Through some conversations with a former Hoofer Mountaineering Club president, she became drawn to the policy-making involved with the position.
She enjoyed the philosophy of the club, and saw value in its role in the school and the greater climbing community. Now, as president, Andrie wants to expand the club's new member education and further enhance safety procedures to keep everyone safe.
With the help of the Mountaineering executive board, Andrie is continuing the work of the club's past two presidents in implementing new gear rating policies to measure proficiency with equipment, developing safety practices for different situations, and formalizing the club's procedures.
"By nature, mountaineering includes some risk management," Andrie said.
Andrie provided an example of such a risk; on a recent trip to Devil's Lake in Baraboo, Wis., a climber nearly grabbed a snake hiding in the rocks.
"We want to encourage safe climbing and help climbers anticipate possible risks," Andrie said. "While risks can't be eliminated, knowing proper safety techniques can help climbers manage risks."
Andrie also expressed the importance of creating policies that match industry standards.
"Having our policies closely mirror industry standards can help climbers continue climbing later in life," Andrie said, "We have a huge climbing community here in Madison that this helps them be part of after college."
She has seen former mountaineering members go on to climb all over the world. The club also includes community members who have climbed for many years after their time at UW-Madison.
The club often partners with the Sett at Union South, Boulders Climbing Gym, and the Wisconsin Climbers Association to provide club members with as many climbing opportunities as possible.
"We are also trying to organize more trips through the club, which is something that we haven't been able to do in the past few years," Andrie said.
Learning to climb through the club, then moving up into a leadership position and finally into the president position, Andrie knows that the experience members gain is unique to the Mountaineering Club and wants members to get the most out of their time in the club.
"Traditionally, the club has used mentorship through members to educate newer members," Andrie said. "We want to protect that sense of mentorship, and, at the same time, offer other learning opportunities, such as clinics and practices at meetings."
Andrie has seen mentorship work firsthand many times, including this spring break when she helped new climbers climb and navigate the Red Rocks in Nevada.
"One night I was talking to one of them about what kind of climbs I wanted to do the next day, and everybody flocked over to me," Andrie said. "So I handed them the guidebook, and I said, 'Well, you know how to climb now, so you can figure out what you want to do tomorrow.'"
"It was really cool to see people grow and develop that way, going from not really knowing where to start to feeling confident in their climbing and being able to handle that themselves."
The Hoofer Mountaineering Club meets on Thursday nights in the Mendota Lodge in Memorial Union. The club offers climbing opportunities for all skill levels, from beginner to seasoned climber. More information on the club and the activities available can be found at www.hoofermountaineering.org.