Meet Our Wheelhouse Instructor: Chef Allison
Wheelhouse Studios, an open art studio in our building Memorial Union, offers art classes on everything from pottery to culinary arts. With classes designed for beginners all the way to seasoned creatives, our talented instructors are knowledgeable, friendly and FUN. As we look ahead to our exciting classes, we wanted to introduce you to one of the amazing instructors you'll meet in class!
Name: Allison McKee, executive sous chef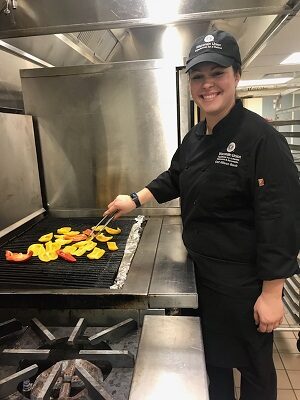 Semesters Teaching at Wheelhouse: 3
Background: Chef Allison has worked as a chef here at the Wisconsin Union (the nonprofit that runs Wheelhouse) for seven years, where she helps train our student employees. Before her time at the Union, she worked in private restaurants and country clubs.
Past Classes Taught:
Fall Favorites for Two!
Intro to Italian Cooking
Cooking Pizza and Calzones!
Cooking Great Breakfast
We are always looking to grow our offering of culinary arts classes. If there is a topic you'd love to see offered, reach out to let us know at wheelhouse@union.wisc.edu.
Wheelhouse classes fill up quickly! Is the class you wanted to attend full? Couple things you can do:
Experience Chef Allison's and her Team's Artistry at Memorial Union
Want to experience some of the culinary creations by Chef Allison and her creative team? Visit Memorial Union, where we serve up house-made soups, salads with house-made dressings, pizza combinations dreamt up by our culinary experts, and more. Explore our menus here.