Celebrating Each Decade of Memorial Union's History
When we look at the Wisconsin Union we have today, it's easy to forget how long we've been part of the UW Madison campus.
A lot has changed in the past 90 years, but what hasn't changed is how we evolve to meet the new needs that come with every new decade. Each generation has a brought fresh perspective to our organization and has moved us forward. We seem timeless thanks, in part, to the thousands of student leaders that keep us young, vibrant and light on our feet.
Through the ups and downs of the last 90 years, the Union has stood as a reminder of our common ground. Our literal common ground: the living room of campus.
Celebrate with us as we look back on 90 years of impact and historical moments in Memorial Union's history.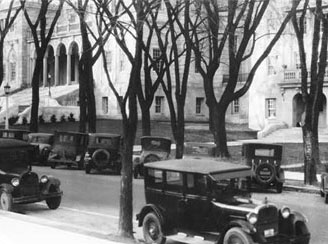 1928: Memorial Union opens
It was a great day in the Wisconsin Union's story when Memorial Union opened in October of 1928. It was history in the making, as the Wisconsin Union would go on to set the standard for campus student unions throughout the country.
1930s: The Arts
It did not take long for the Wisconsin Union to invest in the arts. We were ahead of our time, with a gallery space included in the design of Memorial Union and our own collection of artwork started almost immediately. We were even a part of the Public Works of Art Project, which gave us the Paul Bunyan murals, still visible today in the Paul Bunyan Room. But the '30s were about more than artwork; it was also the decade we welcomed the Wisconsin Union Theater! The theater opened in 1939 and has hosted incredible performances ever since.
Former Wisconsin Union Theater Director Fan Taylor famously said, "What matters is not what kind of music you present; what matters is that what you present is the very best." This principal has guided programming and spectacular performances at the Union for almost 80 years and gives our students in the Wisconsin Union Directorate (WUD) Performing Arts Committee the chance to interact with some of the most talented performers in the world.
1940s: A United Community, Women as Leaders
The '40s were a time of growth for the Wisconsin Union. As the United States entered World War II, the Union, alongside campus, as a whole, worked to provide aid to service members. This was also a time for women to grow as leaders. In 1942, women officially gained full access to der Rathskeller (yes, it was originally for men only), and the next year a women named Carolyn Hall was elected to be the first female Union president.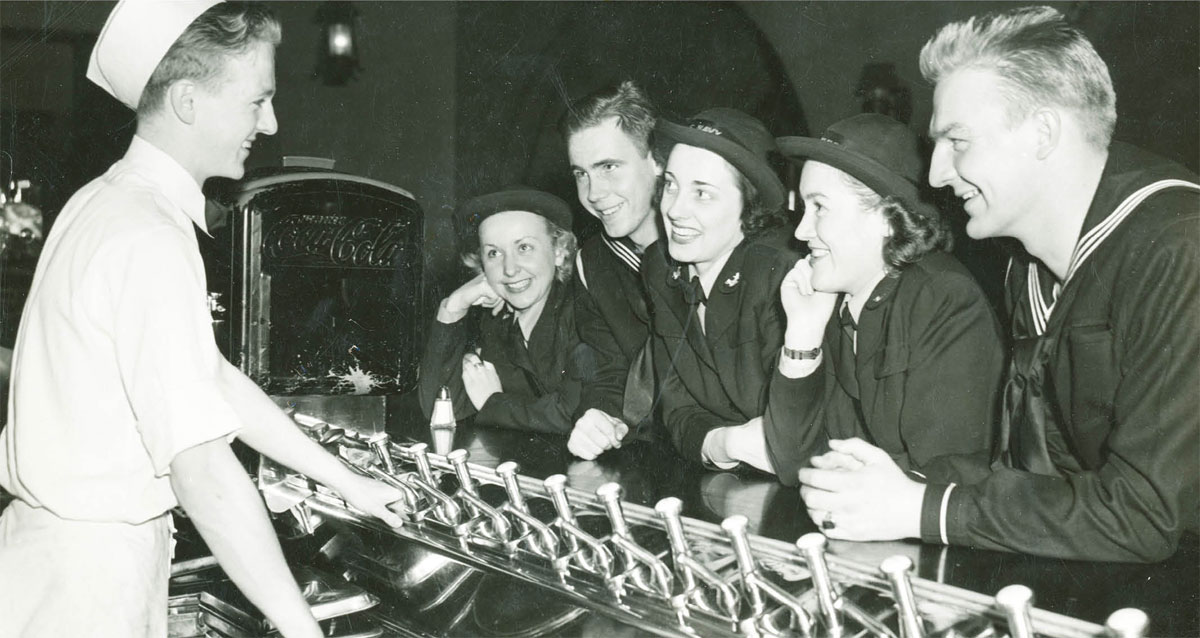 1950s: Dining and Socializing at the Union
Just as it is today, back in the '50s, a bite to eat or a seat at the Union was in hot demand. To accommodate growing demand from students, Memorial Union expanded its dining facilities. Our former Union Director Ted Crabb began his Wisconsin Union career in the Rathskeller during this period. The Union is still a great place to work on campus with flexible scheduling, great coworkers and all-staff parties. Some things never change!
1960s: Leaders' Voices
The '60s were a decade characterized by political and social protest. The Union was not exempt from these difficult times, and our Union programming worked to bridge a divided campus and provide a healthy space to debate issues of the time. Not only were we a space for campus-wide discussion and for student leaders to share their ideas, but the Union also welcomed national champions, including Martin Luther King, Jr., twice.
Today, we still serve as a space for people with differing views and ideas to come together to learn, debate, and build friendships. We also welcome speakers and leaders from around the globe. Bringing students and leaders together is a hallmark of our organization, and one that we are proud to have continued throughout the decades.
1970s: Activism and Change
The '70s were a time for change all around campus, the nation and the world. In response to increased interest from students, we opened an Election Center to register voters and provide information on voting. We're still leading that charge today as one of UW-Madison's on-campus polling places and an organization that strongly encourages its members to be active participants in our democracy. Learn more about our 2018 Vote initiative here.
1980s: Recreation and Wisconsin Hoofers
For decades, the Wisconsin Hoofers have given students the opportunity to participate in outdoor recreation. In addition to time-honored favorites, like sailing, skiing and snowboarding, we also have unique opportunities including mountaineering and scuba diving. Our students and Union members have enjoyed the six Hoofer clubs for generations and continue to do so today. Wisconsin Union members receive discounts on Hoofers memberships! Learn more about joining the legacy of recreation here.
1990s: The Terrace – A Gathering Place
The Memorial Union Terrace is one of the most iconic places on our campus and city. After a renovation in 1987, the Terrace became even more fun. WUD Music and WUD Film started programming films and live music on the Terrace, which continues today as a part of our incredibly popular Terrace After Dark series. An ever-enduring staple of Memorial Union, the Terrace continues to be the place to be on campus. While the Terrace may not have always looked the way it does now, the beautiful views of Lake Mendota and the sunset over Picnic Point are timeless, as is the coming together of campus and the wider Madison community.
2010s: Renovation
In 2016, we completed the Memorial Union Reinvestment. The Reinvestment was a comprehensive effort to update our spaces to new safety, accessibility, and environmental standards, preserve and restore historic elements of Memorial Union, and create an overall better experience for our guests. It is our promise for the future and our reinvestment in the Union member experience.
In the past 90 years, we've been through a lot. We've worked hard to serve our community, to provide social education and to help our members play. Much of what we love about the Union is a common thread that connects us back to those students who pledged money to start a college union back in the 1920s. We love the Terrace, we meet our friends and classmates in der Rathskellar, we brave the frozen lake in the frigid winter, and we care about the issues impacting our community and moving our union and campus forward to keep up with the times.
We, at the Wisconsin Union, fondly remember the past, learn from our history, and look forward to continuing to change and grow in the future. Here's to the next 90, and On, Wisconsin!