Celebrating Day of the Badger
Calling all Badgers and Badgers-at-heart! We need your help to continue to provide student leadership opportunities, top-notch facilities and world-class programming. On April 9, Badgers will come together to make a difference. Join us during this day-long rally, called Day of the Badger, to make a difference through giving and sharing the call for others to give to the Union's Student Leadership Endowment Fund.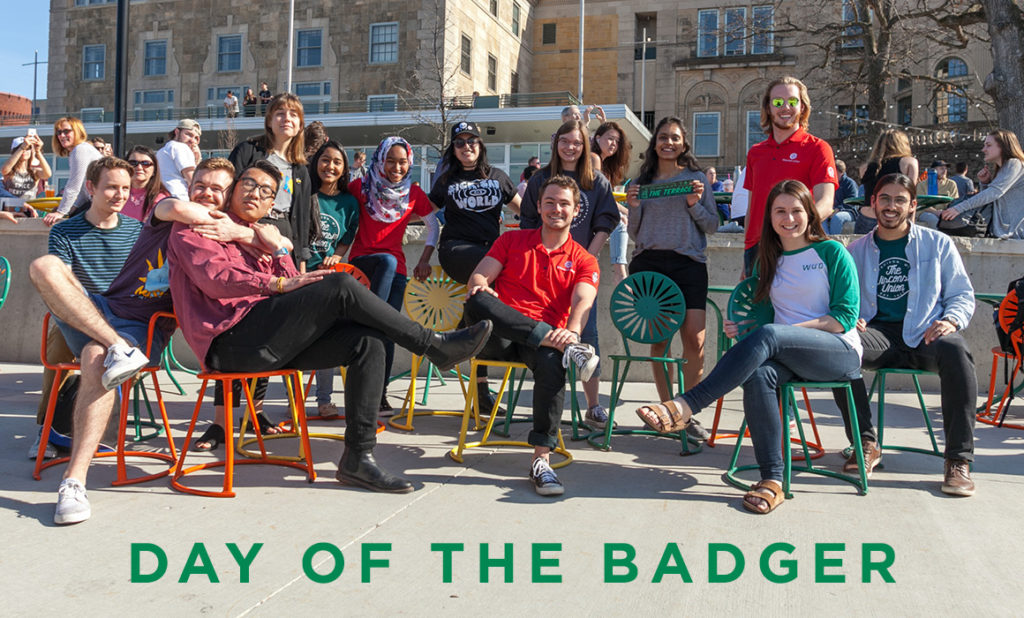 Your Day of the Badger support of this fund will help students lead the way at the Wisconsin Union, as they have done for more than a century at the Union. Student leaders are at the heart of the Wisconsin Union. They create, promote and implement fantastic programming for Wisconsin Union members and guests to enjoy, from art exhibitions to outdoor recreation opportunities.
These students are helping plan these events and gain real-world skills along the way along the way as Union officers and members of the student programming board, called the Wisconsin Union Directorate (WUD). Made of up 10 WUD committees and six Hoofer clubs, the board's student leaders make sure that UW-Madison students have access to diverse experiences for a lifetime.
These students lead the way and gain valuable skills, thanks to you. Your contributions to the Student Leadership Endowment Fund help us provide financial support to WUD officers, directors and club presidents in recognition of their leadership and for upholding the spirit and traditions of the Wisconsin Union at UW-Madison.
Student officers receive the equivalent of 80 percent of in-state tuition and directors and club presidents receive the equivalent of 60 percent of in-state tuition for their service to the community.
On Day of the Badger, we ask that you join us to continue to support these student leaders and their work and to continue our more than century-long tradition of student-led, incredible programming for the community.
Day of the Badger begins at 5 p.m. April 8 and goes until midnight on April 9th. It's a day for all Badger alumni, current students, and Badgers-at-heart to show their UW pride and support by pledging gifts to the Student Leadership Endowment Fund.
It is only with your support of the Wisconsin Union that these students are able to touch the lives of millions of people each year across the campus community and beyond. We can't wait to celebrate success with our amazing Badger family!
To make a donation on Day of the Badger, on April 9, go to https://www.dayofthebadger.org/campaigns/union.