Student Committee Celebrates Community with Collaborative Summer Publication
Community has many definitions and is all of its definitions. It can be a geographic region, perhaps the place in which you were raised or the one that you choose for yourself. It can be a group with whom you share ideals. It can be many people sharing a mission or goal. The last is certainly true for the dedicated student leaders of the Wisconsin Union Directorate (WUD) Publications Committee, which came together despite the miles between them to create a summer issue dedicated to the study and celebration of "community."

When COVID-19 hit, the team of UW-Madison student writers, artists, and editors found themselves separated, unable to gather in-person and unsure of when they would meet in-person again. As they worked to discover how to maintain their community of creators, they found themselves inspired to come together in a way like they never had to provide a summer issue that would serve as a platform for ideas around the idea of community.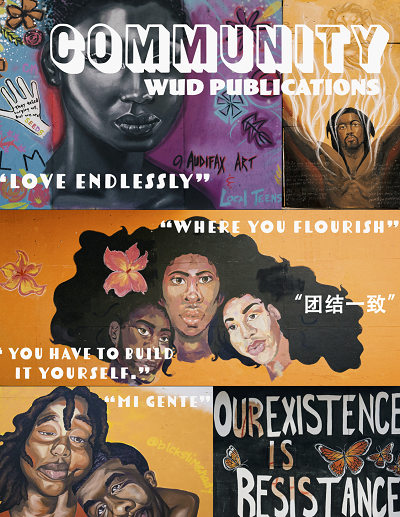 The Committee publishes six magazines and journals that they share online and (when not strewn across the world during a global pandemic) in printed issues throughout Madison. The UW-Madison student-run Committee provides creative outlets across a range of topics, from fashion to public policy. Above all, its students celebrate creativity by providing hands-on experiences in publishing, editing, writing and art-making.

The most recent publication from the Committee is different in both its solely digital format and in that its creators are from all of the Committee's publications, who collaborated without in-person contact. The resulting digital issue is a collection of pieces on public policy, art, music, food, and more with a common thread of community running through them.

Nestled within its pages are images of recent murals created on plywood that covered the windows of businesses in downtown Madison, Wis.; an interview with one of the mural's artists; perspectives on food system inequality, racism as a public health crisis, and equality in workplaces; poetry; and so much more.

In each piece, the thread of community urges readers towards the examination of self, others and relationships. The Committee hopes that this issue inspires dialogue and encourages readers to participate in and foster community in the spaces they can currently safely occupy.

"Community can be built by voices, and each voice matters," WUD Publications Committee Director Evanka Annyapu said.

Click here to read the summer issue.

Despite the challenges that distance presented, the Committee persisted in its mission to foster its community of creativity and serve as a platform for dialogue and idea-sharing throughout the summer.

One such effort is the Committee's Black Voices Amplified campaign. This effort, which began in June, aims to amplify Black voices in travel, music, fashion, prose/poetry, food and public policy to create opportunities for everyone to learn about and participate in multifaceted conversations. Click here to read messages from this effort.

The Committee recognized that many challenges and opportunities ahead in the participation and creation of communities and the important conversations that happen within them.

"Dialogue is so important, and that's exactly what we hope our summer issue and all of our publications inspire," said Madelyn Vilker, WUD Publications Committee associate director of marketing and digital collaborations.

To read past issues of the Committee's magazines and journals, click here.

Those who would like to support the Publications Committee's efforts can do so by becoming a publication sponsor, which includes an advertisement in a magazine or journal. For more information about reaching readers through WUD Publications advertising, email publications@union.wisc.edu.

UW-Madison students can also help create publications by joining the Committee in one of a variety of roles, from editing to graphic design. To learn more about becoming part of the WUD Publications Committee, email publications@union.wisc.edu.

"We are committed to honesty, respect, and the continuance of our platform for community-building and dialogue no matter the circumstances," Annyapu said. "There will always be stories that need to be told, and we look forward to working together to share those stories with our readers, wherever they may be."