Campus Farmers Market Returns with New, Delicious Options and Community Favorites
An oasis of fresh vegetables and fruit; delectable, vegan cupcakes; chocolate-enveloped donuts; chili-kissed local honey; and more await you at the Wisconsin Union's Campus Farmers Market at Union South.
The Campus Farmers Market features local products Thursdays 10 a.m.-2 p.m. now through Oct. 24. Stop by, and enjoy free samples, live music, and special Farmers Market events, such as button-making with Wheelhouse Studios, and Dogs on Call. (Stop by to pet some adorable dogs Sept. 26!)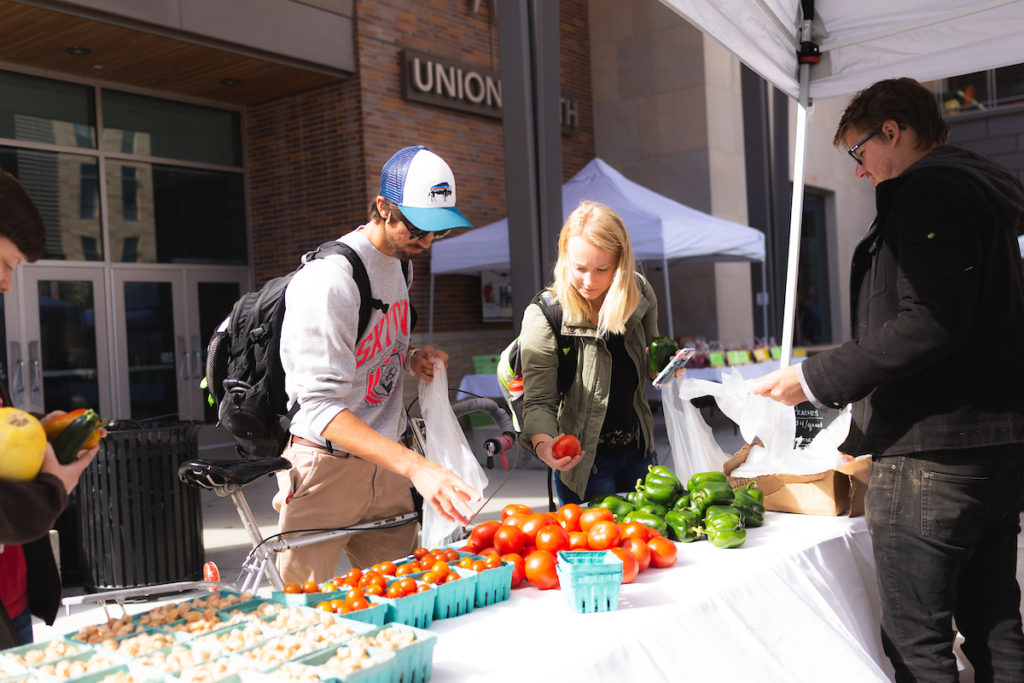 Plus, check out our exclusive Farm to Table bags each week, which are stuffed with fresh, local produce and have a recipe to transform the fruits and veggies into a delicious meal with minimal prep and cook time.
"With this year's market, we chose to increase the variety of both product and experience," Campus Farmers Market Coordinator Olivia Scumaci said. "By facilitating communication between students and the Union's local partners in agriculture, the Campus Farmers Market enhances student interest in agricultural issues and sustainability initiative all while supporting local vendors."
New this year, Bloom Bake Shop has made its Campus Farmers Market vendor debut. Bloom is a bakery and cafe focused on staying local and giving back to the Madison community and inclusivity, including gluten-free and vegan offerings. Find them in their adorable, revamped Volkswagen Bloom Bus providing delicious baked goods and more.
Bloom offers everything from handmade pastries to cakes, pies, poptarts, brownies, doughnuts, cookies and bars, as well as sandwiches and fresh greens. With the Campus Farmers Market, Bloom — which has a store on Monroe Street — comes to you!
The Bloom team has said this of its approach to baking: "We purchase from local purveyors and companies that believe in being a steward to our land, the animals they raise and their workers' well being. We believe that translates into better health for all humans and animals and, overall, a commitment to a better planet."
The Campus Farmers Market will also feature other amazing vendors, including Parrfection Produce, Munchkey Apples, Savory Accents and Porchlight Products, who all are bringing their exceptional products from southeastern Wisconsin right to you on the University of Wisconsin-Madison campus.
For more information about the Campus Farmers Market, click here.