Bottling up Sustainability: Water Bottles and the Union
Wisconsin Union members and guests can now purchase a reusable, recyclable aluminum Pathwater water bottle with a student-created design that celebrates everything Union through Grubhub when purchasing Meals To-Go and when ordering food and beverages at the Memorial Union Terrace.

These cost-effective, recyclable, made-in-the-USA bottles feature sustainably sourced, reverse osmosis-filtered water. In providing this custom, reusable bottle, we, the Wisconsin Union team, aim to reduce purchases of single-use, plastic bottles. (Will this lose us some purchases of single-use bottles? Yes. Why are we still doing it? Because sustainability is more important than profit.)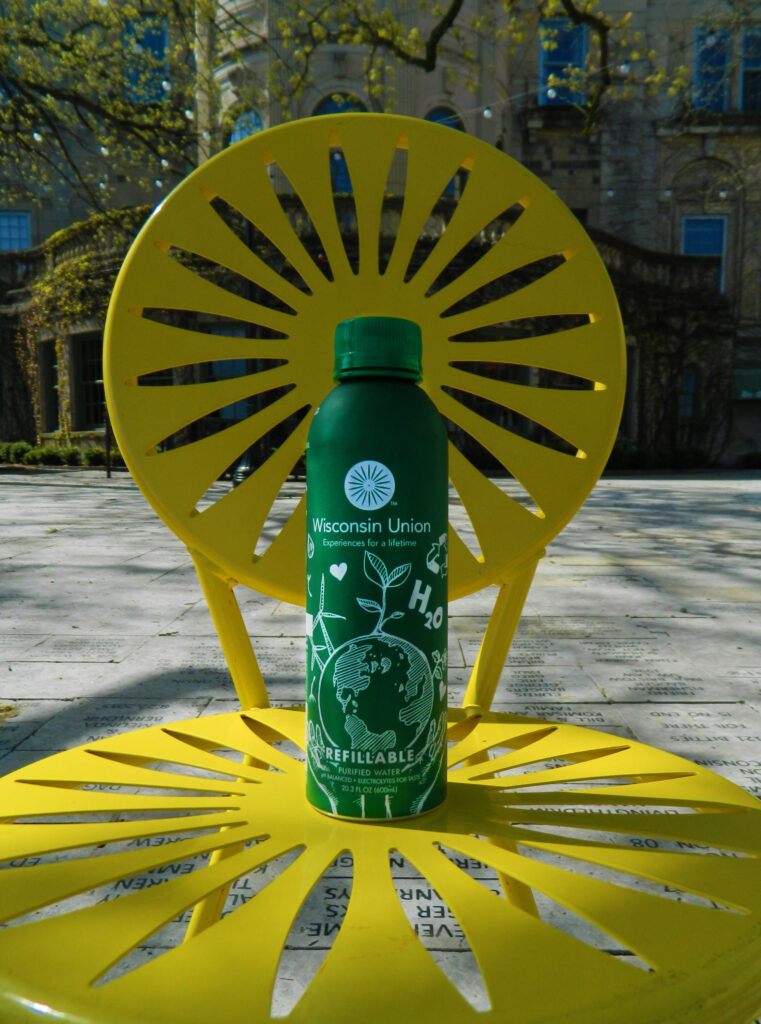 The Wisconsin Union x Pathwater bottle sports a Union student employee-created design that Wisconsin Union traditions and sustainability-related images with an overall earthy vibe. The bottle design resulted from a lighthearted competition between the Union's marketing team four student graphic designers.
"Everyone's idea of what sustainability looks like is a little bit different. Everyone came up with a design and was able to flex their creative muscle," said Marketing Coordinator for Wisconsin Union Dining Services Lauren Isely.

Jessalyn Mailoa, one of the talented student interns, won the competition with her design that now wraps around the Wisconsin Union x Pathwater bottle.
"This was a great opportunity for me to gain more experience and critique for my work as a graphic designer," Mailoa said. "It also means that, hopefully, people will be using these bottles with awareness and care towards the environment."
We chose to work with the Pathwater team due to the high-quality of the team's lightweight, eco-friendly bottle and because the bottles address the issues of plastic bottle manufacturing and high rate of consumption with a cost-effective, customizable solution.
We aim to contribute to sustainability in many other ways, as well, from construction in our buildings to our dining and cleaning practices. For more information on how we work to preserve our planet, check out union.wisc.edu/sustainability and this article.

For more information about the Wisconsin Union x Pathwater collaboration click here, and, to purchase a Wisconsin Union x Pathwater bottle through Grubhub, click here.