Behind the Scenes: Officer Barrett "Bear" Erwin
A smiling face within the building and around campus, University of Wisconsin–Madison Police Department (UWPD) Officer Barrett "Bear" Erwin's connection to the Wisconsin Union's building Memorial Union actually began before he started working at Memorial Union as a police officer in 2017; it actually began before he was even born, when his parents met while sailing with the Hoofer Sailing Club.
An eight-year veteran of the UWPD, Erwin works to ensure the safety of staff, students and all visitors. In some cases, protecting this large community may involve writing a ticket, but as Erwin puts it, "That's not what we're here for." These little things keep the campus a little safer, but there is much more to the police work done day in and day out by Erwin and the UWPD.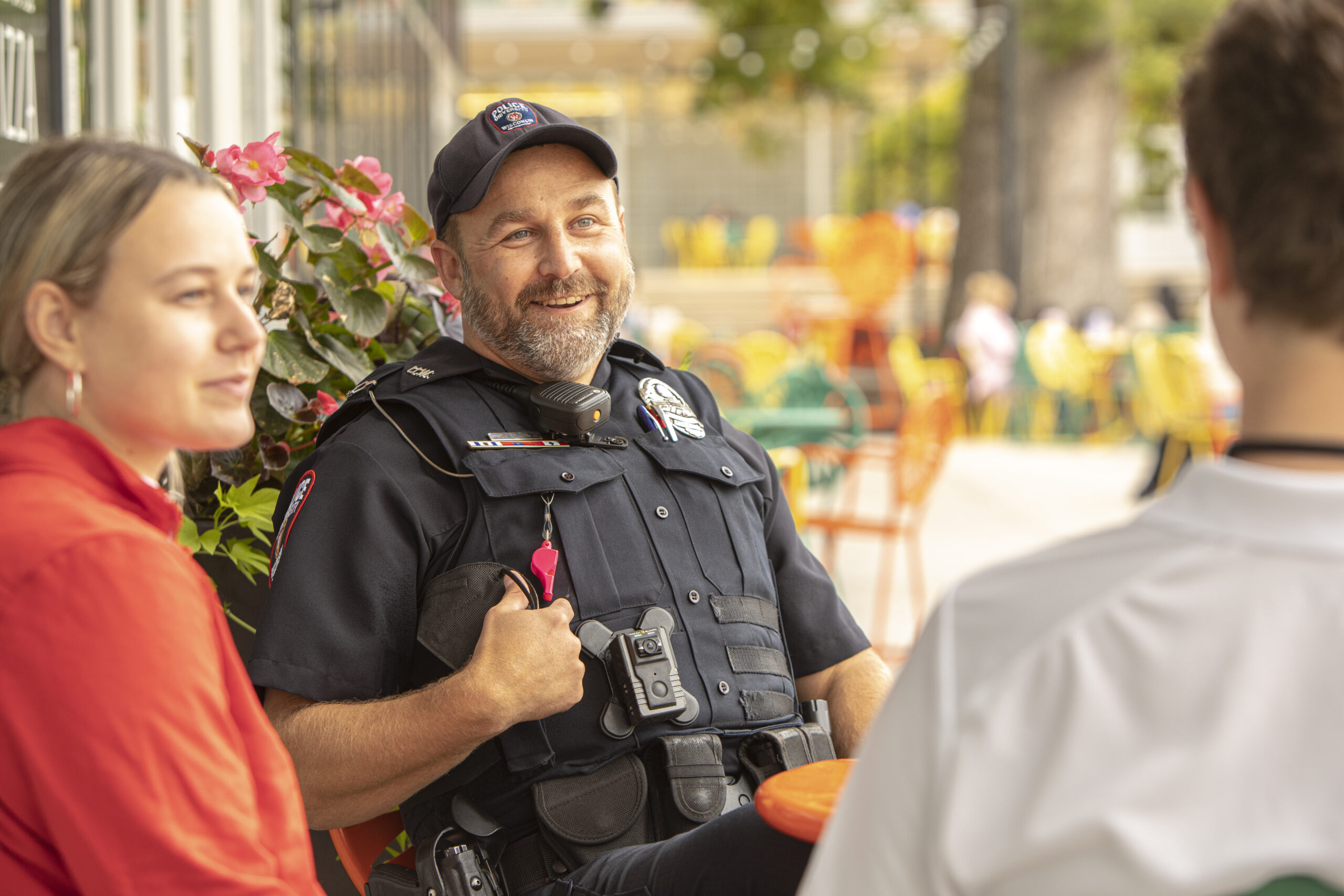 The UWPD stands at the cutting edge of modern policing, maintaining its officers' modern toolbelt with frequent, rigorous training that focuses on recency and relevance. For Erwin, following his training, maintaining a cool head and safely getting through a crisis is the biggest reward.
"Obviously, firefighters don't want there to be a fire, but if there is, they want to be the first to put it out," Erwin explains. "The UWPD wants to be the first to go out and help someone."
No matter the emergency, Erwin emphasizes how important it is to be present with a person in crisis and to listen because "nobody can hear anything until they are heard."
Being patient is especially important when working with someone who may be struggling with their mental health, he explains.
Erwin estimates that a large majority of UWPD's policing is mental health-related. For many, the adjustment to life at a big university can be very difficult – a fact that Erwin is keenly aware of as a graduate of the University of Minnesota.
To meet the need for passionate advocates of mental health, Erwin has focused a lot of his training efforts on the topic of mental health. One of his key responsibilities involves working with behavioral intervention teams across campus to identify students in crisis who may be in need of class accommodations, professional assistance or other resources. This is an important component in Erwin's larger effort to "make sure that students can be as successful as they can be."
Erwin's desire to see others succeed is not limited to the student body, however. Throughout his career, he has spent time helping in and around various communities, ensuring success for not only those who may be struggling but the community they occupy, as well. His work and presence in Memorial Union is not only an integral part of our Wisconsin Union community but also the greater campus and Madison area communities. We are so grateful to have Officer "Bear" in our halls!