Behind the Scenes at the Union: Verne Scholl
From grab and go items to deli sandwiches, Wisconsin Union Markets and Cafés Division Director Verne Scholl and his team have made sure that you have access to the best grab-n-go items to fuel you throughout the day. I recently met with Verne who has been with the Union since September 1997 to talk about his time here and all that our markets and cafes across campus offer.
What was your professional journey like before joining the Union team?
I started off as a dishwasher and prep cook in restaurants and worked at private restaurants right up until 1992. In 1992, I took my first state job at the Green Bay Correctional Institution, where I was a food production assistant. So that got me into state service and I met my wife there later on; I met her in prison while she worked in the records office. Then, we moved to Black Rivers Falls for a year but moved to Madison afterwards for my wife's communications career. I got a call later and started in Grainger Hall, a deli that is currently Capitol Café. Now, I'm here.
What is a typical day like for you?
You just don't know what a day is going to be like, and I do like that about it. I am also really passionate about numbers. I like doing food and beverage industry research for my own decision-making and to help other Union folks. I like to get things done right away, too, whenever I can.
What is your favorite food item at our markets or cafes?
I'm a big "breakfast" person. The ham, cheddar and croissant Panini in the markets and cafes is really good.
Some of our most popular student employee positions are in our markets and cafes; what do you think makes roles in markets and cafes particularly enjoyable?
My units are really small and focused. There is no food prep or production — it's all grab and go and retail. Because they are so small, the students and my unit managers have more time to make more of a connection with coworkers and supervisors. Our cafes and markets teams feel like families.
What are some recently added or upcoming markets or cafe items that are you excited about?
We just introduced a protein four-pack, which has cheese, sausage, hardboiled egg and almonds in it. We have a double dip pack, which is the same concept but with hummus, walnut and roasted red pepper spread, carrots and flatbread. We also introduced a shaker salad and a shrimp spring roll, both of which I'm really excited about.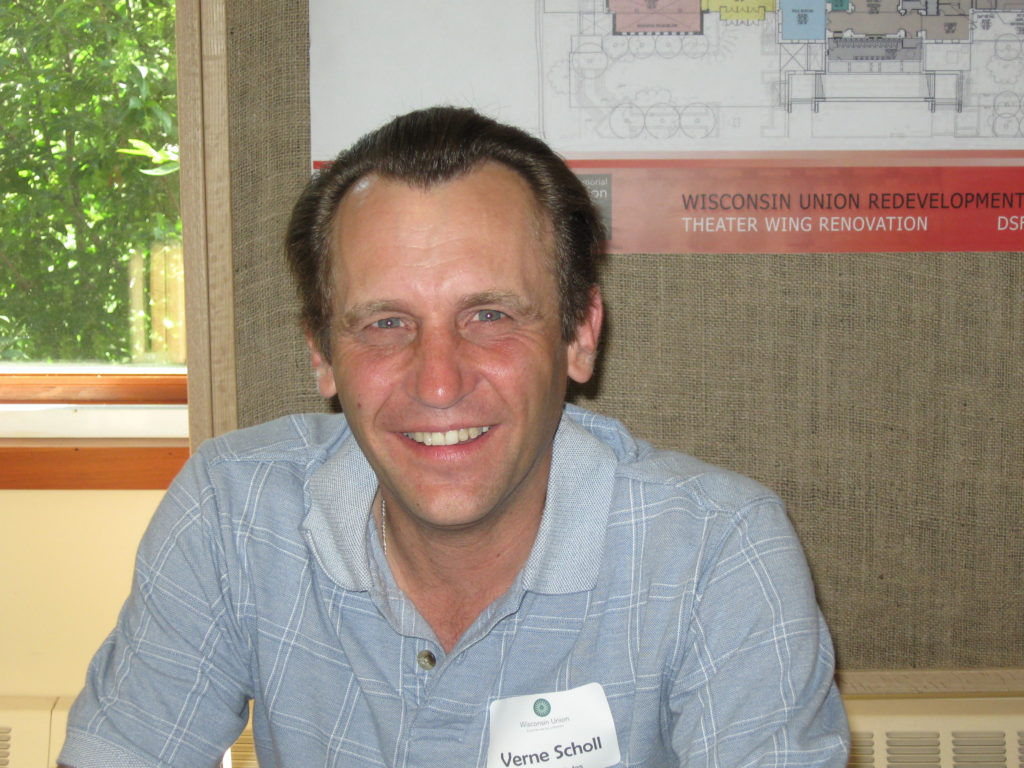 Do you have any suggestions for customers who don't have much time?
The nice thing about our markets and cafes is that we run a huge retail line not just of our Wisconsin Union products, but we also have outside vendors. So, we've got anything from granola bars to our grab and go sandwiches. No matter which café or market you visit, there's everything from a snack to a full meal you can pick up without waiting for everything to be prepared.
What is the best professional advice you've ever received?
A former boss once told me, "If you put the organization and the division first and foremost in your thought process, there is nothing that we can't fix. A good decision is one made for the right reasons. The decision just needs to be made." He was saying it's okay to make mistakes and to learn from them.
What do you enjoy the most about your work at the Wisconsin Union?
I get to meet so many different people on this campus, including really great students. I try to be a mentor to students as much as I can; I really enjoy doing that, especially when I hear from students years later about how lessons they learned at the Union helped them or resonated with them at future jobs.
Is there anything else students or patrons should know about our markets or cafes?
The one thing I really want them to know is when they support us at the Wisconsin Union and our operations, we actually support them. Some of our revenue goes towards student programming and helps support the leadership positions that create Union programming.
When he isn't working at the Wisconsin Union, Verne loves to golf and plays three to four golf tournaments a year. He also loves to spend time with his wife of 19 years and bowls two nights a week with his son.
Learn more about Wisconsin Union dining by visiting union.wisc.edu/dine.