Behind the Scenes at the Union: Jay Ekleberry
Well, you've probably heard of Wheelhouse Studios, but you may not know about the man behind it all, Studio Director Jay Ekleberry. Jay has been with the Wisconsin Union since 1984 and has provided countless members and guests with hands-on art experiences and helped customers creatively make an impact in the Madison community. His passion to learn and foster a sense of engagement among everyone who enters Wheelhouse Studios is contagious. Jay is especially passionate about community-based art that focuses on the public collaboratively taking part in the art creation process. We met up with Jay to learn more about his take on art and his experiences at Wheelhouse.
What has kept you at the Union for 34 years?
I have stayed at the Unio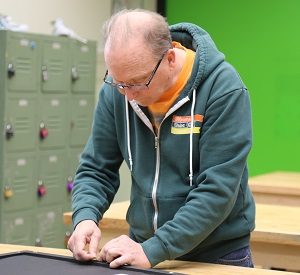 n for so long because of our team's desire to do what is best for the world. The partnership between students and Wisconsin Union staff is what allows the Union's mission of shared social experiences to happen daily. The process gives students the opportunity to learn and grow through leadership experiences, while providing me with vibrant and rewarding student collaboration experiences. The Union's support of Wheelhouse has also played a role, because it has offered me the ability to work creatively in these processes.
What drew you to a career in art?
For me, it's not about art but rather learning. We need to use all parts of our brain and be creative alongside being analytical. In terms of the art, itself, I believe that expressing ourselves through the process of art helps us learn better; we become healthier and less stressed. For me, it is about allowing people to experience the value of art daily within the Madison community where we can create a direct influence.
How would you describe a typical day at Wheelhouse?
Every day is certainly different. I come in as early as possible to prep, because, once the doors open, there are always unexpected challenges that come with the day. More importantly, each day, my focus is on helping people engage in art at whichever level they choose. It could be as simple as student members coming to check out the studio once or members regularly coming in and using the workspace as their own. Getting to see the joy of people creating art and witnessing them surprise themselves with the art they produce is what I enjoy most about each day. It's the engagement in the process, not the finished product that is important to us at Wheelhouse.
Which program is your favorite at Wheelhouse?
One of that surprised me the most was group events, and we have a ton of them. Groups from across campus come in to use the space, and it's great to help facilitate that process. We have been very fortunate in serving campus groups by hosting them in a space where they can be messy and immerse themselves in art. The whole process helps to build social capital which is what makes the campus a community.
What is one thing you would like to tell students about Wheelhouse that they may not know?
Wheelhouse is truly an incredible value. If you are a University of Wisconsin–Madison student, you have free access to the tools, equipment and studio space. We are a resource that I encourage student members, non-student members and guests to take advantage of. The opportunity to experience art is so important.
Some of Jay's favorite artists include Andrew Goldsworthy for his nature-based instillation art, and Lily Yeh for her work in community-based art.