Behind the Art of the 91st Annual Student Art Show
To view some of the best art created by UW-Madison students, there is no better place to look than the 91st Annual Student Art Show. Located in the Memorial Union's Main Gallery and Class of 1925 Gallery, the art show presents fantastic, thought-provoking pieces, all curated by the Wisconsin Union Directorate (WUD) Art Committee. Just as each piece of artwork has its own story, the artists behind the art have their own tale to tell as well.
Josh Stolen, an art major in his last semester at UW-Madison, started his art career through others being impressed by his drawings of characters from movies.
"That's how I caught the bug, just knowing that this could be something I actually get into and just went from there," Josh said.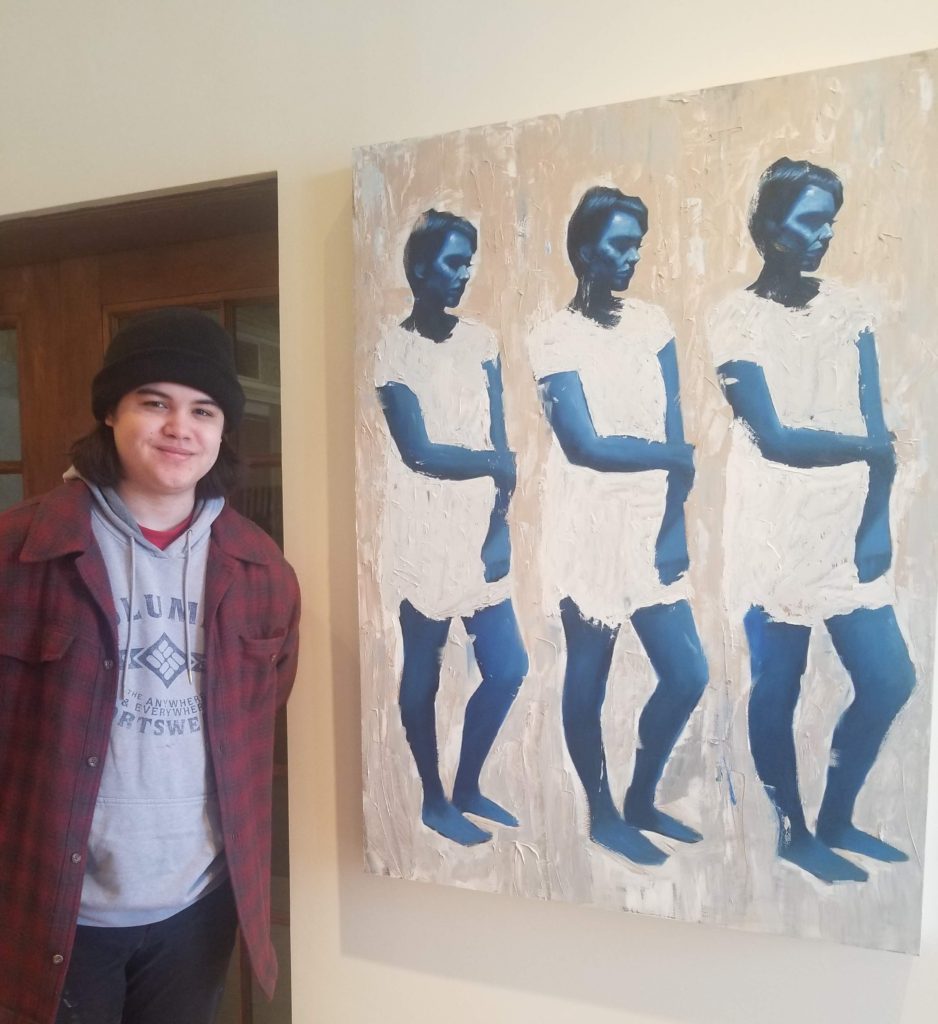 Along with being selected by the WUD Art Committee to have his artwork in the show, Josh also won the 1930 Purchase award for his piece, Recur. While Josh admits that he found out about the WUD Art Committee a little too late in his career to join, he still expresses great admiration for the work that they do and encourages all students artists to get involved.
"I appreciate all of the things they put on and was glad I was able to participate in this show," he said. "I think that there's nothing but good things that could come from being surrounded by like-minded artists."
Alongside intended art majors, the art show hosts artwork from students who maintain their passion for art as a hobby.
Emma Lai, a sophomore studying economics, psychology, and religious studies, found her artistic streak at a young age.
"Art is more of a side project, but it's definitely been apart of my life since I was very little," she said. "My mom is an artist, so from a young age she gave me paint and drawing utensils."
Two pieces of Emma's work were selected for the art show, and her piece, Friends, Romans, Countrymen won the Porter Butts Art Purchase Award. Emma is elated to have her work in the art show, calling it a big surprise, and a pleasant one, to be selected for both.
Regarding her art being in the show, Emma said, "Now that it's part of the Union and more people can see it, that's really inspiring and I am really humbled by that."
Both Josh and Emma have hopes for what they can say through their artwork.
"I want to express my inner feelings, and try to make things that can show what's going on in my head. It's the way I feel most comfortable expressing myself," Josh said.
Emma said she hopes to express individuality. "I've come the conclusion that nothing can be truly original, but things can be unique and individual. It's wholesome individuality that we have. We're not just pieces of things coming together, we are one whole individual."
Along with Josh and Emma, every student artist in the 91st Annual Student Art Show has a story to tell, and their artwork is brimming with ideas, thoughts and emotions that are ready for willing eyes. All we have to do is look, and listen.
To show support for these artists and many more, visit the 91st Annual Student Art Show, running from now until April 5th. For more information about the art show, click here. To learn more about the WUD Art Committee, check out https://union.wisc.edu/get-involved/wud/art/.