Taste of the Union: Smoked Beef Brisket at the Sett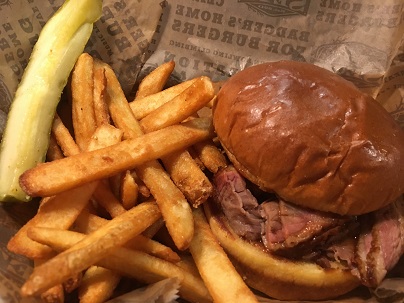 It can be easy to miss the new menu items the Wisconsin Union has to offer with the temperature calling us into hibernation. Union South has recently added a range of barbecue style options to the menu that I thought were worth braving the cold to try.
One of the many delicious dining options at Union South, the Sett on the first floor offers classic pub food, including burgers, wings and sandwiches. The low prices make the Sett a staple dinner to a busy college student and other campus-goers. I have found myself opting for the classic Bucky Burger more than I want to admit.
Some of the recent additions to the Sett focus around barbecue-style cooking. Longing for the taste of a backyard barbecue, I couldn't help but stray from my go-to options and try the smoked beef brisket.
A Sett team member said the brisket doesn't receive as much praise as she would imagine. She frequently finds people questioning the taste of the sandwich, having never tried brisket before; I was no different.
The sandwich comes with a pickle spear and one of the many side options the Sett provides. Sizing up the brisket, I first found myself intimidated by the large portion size, but after the first bite, I was sold.
The brisket on its own was juicy and tender. By far the most notable feature had to be its smoky flavor. The barbecue sauce only intensified the brisket's taste of a summer cookout (a welcome break from winter).
All-in-all, the brisket was delicious. The sandwich and side for $8.99 offers a substantial amount of food for a low price. I'd consider myself a fairly picky eater, usually playing it safe when going out to eat, but the Sett's brisket was absolutely a worthwhile walk on the barbecue side.
More information about the Sett, including business hours, is available at union.wisc.edu/the-sett.