When You Say "Badger Bash," You've Said It All!
When I tell you that the Wisconsin Union is home to gameday's best tailgate, I really mean it. If you've ever attended the Wisconsin Union's Badger Bash, you already know why. And if you've never been, this is your year to make it happen. After you've put on your best red and white ensemble, follow the sounds of laughter and live music, as well as the smells of brats and burgers, until you reach Union South, just steps away from Camp Randall Stadium.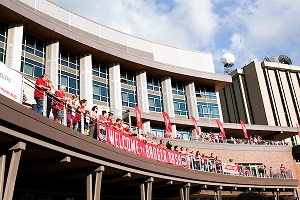 Badger Bash is one of the longest-standing and most well-loved Union traditions, drawing in Badger fans (and sometimes even our opponents' fans) from all over. When Union South opened in 1971, then-Assistant Wisconsin Union Director Corky Sischo noticed how many people were stopping at Union South for food and drinks before Badger football games. Inspired by this observation, Sischo came up with a seedling of an idea that would keep people coming to Union South in the hours before home games. Sischo connected with then-University of Wisconsin-Madison Marching Band Director Mike Leckrone to present his thoughts, and the two of them teamed up to found Badger Bash in 1972. Although Badger Bash began as a modest way to warm up the band and invite fans to celebrate at Union South, it quickly transformed into a sensational event featuring food, live music and a whole lot of school spirit.
You know what they say: time flies when you're having fun. With that logic in mind, the two and a half hours before kickoff are sure to pass in the blink of an eye, because we've got a schedule packed with fun for you and your family to enjoy.
We know the football team has to warm up before kickoff, but Badger fans have to warm up their cheering, too! And what better way to rehearse than by singing and dancing along to performances by the UW-Madison Marching Band and Spirit Squad on the Plaza? (The Plaza is located on the southwest side of Union South, between Dayton Street and Randall Avenue.) There's no better feeling than pumping your fists to "On, Wisconsin!" or swaying along to "Varsity" alongside your fellow Badgers.
Exciting news: Sett Recreation will open once again this fall! There's no better way to pass the time before kickoff than by grabbing some snacks and drinks and challenging your friends and family to a game of pool or bowling. This year, we will be offering a "classic bowling experience" until we can install a new scoring system.
Stop by the Orchard, located on the eastern side of Union South, for a wide variety of games and activities that will keep you and your family entertained while you count down the minutes until the big game.
Badger Bash wouldn't be complete without grabbing a bite to eat from one of Union South's many delicious dining options. For a quick, convenient meal to tide you over until game time, grab something from the grill outside: we've got hamburgers, brats, chips and many assorted beverage options for you to enjoy. The Sett Pub, Sett Recreation and South Cantina will have special Badger Bash selections on game days for you to eat and enjoy. Prairie Fire and the Daily Scoop will have their usual offerings to fulfill your coffee or ice cream cravings. The Badger Market will also be open, where you can buy anything from a box of candy to a refreshing beverage.
In addition to attending the large group Badger Bash events, you also have the option to host your private tailgate within Union South. We are fully booked for the 2021 football season, but keep an eye out next year to host your tailgate at the Wisconsin Union!
Come join us for Badger Bash festivities two and a half hours prior to the start of every home game, and stay late for a game watch on the Jumbotron inside the Sett. We guarantee the Badger energy will be through the roof. This year's home football game schedule is as follows:
Sept. 4: Wisconsin vs. Penn State
Sept. 11: Wisconsin vs. East Michigan
Oct. 10: Wisconsin vs. Michigan
Oct. 16: Wisconsin vs. Army
Oct. 30: Wisconsin vs. Iowa
Nov. 13: Wisconsin vs. Northwestern
Nov. 20: Wisconsin vs. Nebraska
Check out union.wisc.edu/events-and-activities/special-events/badgerbash to keep up-to-date on everything Badger Bash, and "On, Wisconsin!"