Babcock Ice Cream, Lifelong Friendships, and Golden Opportunities
Jackson Comeau, a 2016 UW-Madison political science and international studies graduate, loves cookies and cream Babcock Ice Cream. He's been buying it at the Wisconsin Union's Memorial Union and Union South for as long as he can remember. From the first time his grandparents took him to visit campus, through his three years serving on the Wisconsin Union Directorate (WUD), and even now, as a Wisconsin Union Association trustee, it's always been a favorite of his. But cookies and cream Babcock Ice Cream wasn't the only treat he found at the Wisconsin Union. He found the treats of lasting friendships, golden opportunities, and fond memories all within WUD.
Comeau learned of WUD purely by chance. He was sitting in a political science discussion class when some classmates mentioned a society and politics committee meeting they were planning to attend. They asked Comeau to join them, and on a whim, he agreed.
After attending that first meeting, Comeau quickly rose through the ranks, starting first as a committee member of WUD Society and Politics (SoPo) and later becoming the associate director of the committee his sophomore year. As associate director, he planned meetings, assisted the director of the committee, and worked closely with then SoPo Advisor Jim Rogers. It was this close relationship with Rogers that defined the rest of Comeau's college career. He says that one of the most important things he learned from WUD, and specifically from Rogers, was to just be yourself.
"As corny as this sounds," he says that he "learned to truly be myself and the more I was truly myself, the more I was able to connect to those around me. Jim helped me drop the high school ego and taught me how to start making meaningful connections and focusing on where I wanted my college career to go."
Without being able to shed that "high school mentality" early in his sophomore year, Comeau doubts that he would have been able to achieve all that he has today.
As a junior, Comeau became the director of the SoPo Committee. In this role, Comeau was responsible for once again organizing committee meetings, choosing topics for discussion, and facilitating conversations amongst members. He remembers being nervous about planning these meetings, especially because he wanted to make sure that people focused on the topic at hand. Yet, he soon came to realize that most people came for the relationships. They came to make friends and to meet people with common interests, and that really resonated with Comeau. "There is so much community to interact with at the Union. It is by definition a joining together," he said. From the people he met at his first meeting to the leadership team that would eventually become some of his closest friends, Comeau, among many others, found a home in the Wisconsin Union Directorate right from the start. 
During his senior year, Comeau held the highest officer position: Union Council President. For his final year at UW-Madison, he wanted to give his all to WUD, and the financial support he received from the Student Leadership Fund made that time commitment possible.
Some of his fondest memories—spending time with the vice presidents and directors scheming and plotting and planning and venting and working; starting mid-afternoon and looking at the clock only to realize it was now midnight; having to work through controversies and issues as a team—came from his time as Union president. During this time, he also participated in a residency with the Wisconsin Union Association (in which he serves as a trustee today), to facilitate and bring value to student membership programs.
In this residency, he worked closely with the trustees, many of whom he built personal connections with. They took the time to offer him advice, connected him with professionals, and even sent him meals! Miguel Guevara, the recent chair of the Wisconsin Union Association, even offered Comeau a post-graduate position in his consulting firm which springboarded Comeau off campus and into the real world. Comeau says, "Without the Wisconsin Union and the skills and relationships I built, I would not have ended up where I am today. I owe the Union a debt of gratitude that I will forever be trying to pay."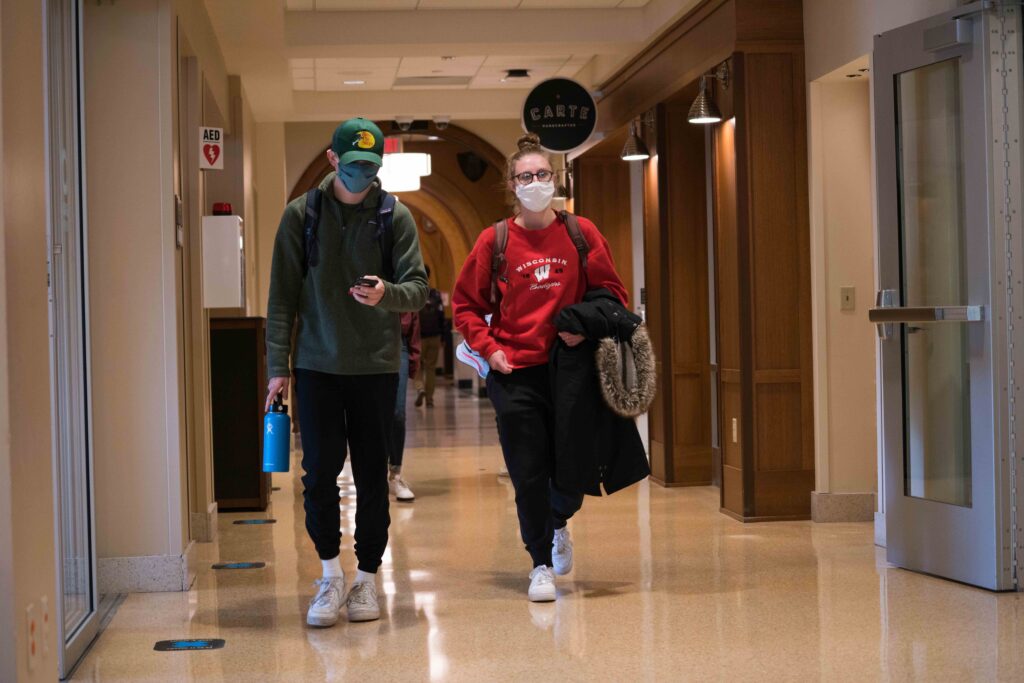 In an attempt to not only repay the Union but also to offer students the same opportunities that were given to him, Comeau joined the Wisconsin Union Association and currently serves as the chair of the Student Engagement Committee. As chair, he works with other committee members to help students find success both on and off-campus and connects with WUD students, student employees, and other students involved with the Union. Not only that, but he also provides funding for WUD programs, shares knowledge and tips with students, and in general, serves as a resource to those who need it.
"The biggest motivator," he says, "is hearing about the amazing things students do at the Union. As someone in corporate America, things are often so rigid and structured that seeing students be innovative and think outside the box is truly a breath of fresh air. It's refreshing to see what students are able to do with peer support, and the Wisconsin Union Association helps with that." 
As a sophomore still getting accustomed to college life, Comeau didn't think it a big deal to attend a WUD society and politics meeting at the urging of some classmates in his political science discussion class. Little did he know, this one decision would impact him not only in his college career but far, far beyond.