Art for Everyone at Wheelhouse Studios
Are you looking for a new date night idea?
Do you want to get the kids involved in a new activity? 
Or maybe you are just looking to try something new?
It's time to let your creative spirit run free at Wheelhouse Studios! Wheelhouse Studios is an open art studio in Madison, located in the lower level of Memorial Union. The studio has three versatile workspaces, flexible designs, drop-in art opportunities, and classes for both art enthusiasts and first-time artists alike! 
This summer there is ample opportunity to get involved at the studio through a variety of programs and open studio times.
Wheelhouse Classes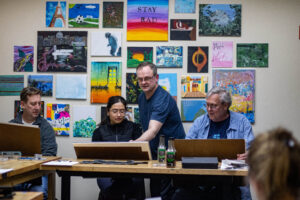 Expand your horizons this summer and pick from a multitude of art classes, including ceramics and pottery, drawing and painting, glass art, jewelry and metals, photography, and printmaking. Creativity has no limits at Wheelhouse Studios!
Wheelhouse Open Studios
Also stop in during open studio hours for self-guided work. The open studio hours are noon to 10 pm, seven days a week. The three art studios, Studio Y, Studio O, and Studio G are flexible and available when class is not taking place. Studio Y offers ceramic artwork, including a pottery wheel and glaze space. Studio O offers 3D art, including metalsmithing, sculpting, laser cutting. Studio G offers 2D art, including creating acrylic paintings, digital photography, and sewing.
Students are welcome to enjoy the open studio hours for free. Union members have the option to use the open studio hours for $6/day, and community members can enjoy open studio for $8/day. Both Union members and community members have the option of purchasing monthly or yearly passes as well, details are located here.
Free Art at the Terrace Art Zone
If you're looking for other free art opportunities, check out the Terrace Art Zone, presented by Wheelhouse Studios. The Terrace Art Zone welcomes visitors to join in on the FREE arts and crafts available on the Terrace throughout the months of June to August on Wednesdays, Thursdays, and Fridays from 4-7 pm, or while supplies last.
People of all ages and skill levels are welcome to participate in the Terrace Art Zone! Also be sure to watch out for more information about the Terrace Paintacular, Madison's largest group paint night, taking place September 5 from 3-5 pm.
Wheelhouse DIY Kits
Wheelhouse Studio also offers visitors DIY take-home art kits for those wanting to let their creativity flow on-the-go this summer! The Wheelhouse Studio kits include acrylic paint kits, bracelet kits, string art kits, and watercolor kits.
Whether you are in Madison this summer or on-the-go, make sure to check out all the classes, programs, and DIY kits available at the Wheelhouse Studio this summer.