A Gift to Last a Lifetime from the Union Team
Our spring and summer grads missed out on timeless traditions. Pictures in the larger-than-life Terrace chair was just one moment our 2020 graduates deserved but couldn't experience because of COVID-19. They worked tirelessly over the course of their college careers, conquering every challenge along the way, only to have their graduation plans upended by the sudden changes necessitated by the pandemic.
We wanted to do something special for this group of students that overcame and missed so much. One small token of appreciation for the time our grads' spent  with us made its way to more than 5,000 doorsteps this spring and summer. While our full gratitude could never be put into a package, to show our thanks for sharing their university experience with us and acknowledge their accomplishments, we sent them a mini Terrace chair and commemorative charm as well as a lifetime Wisconsin Union membership.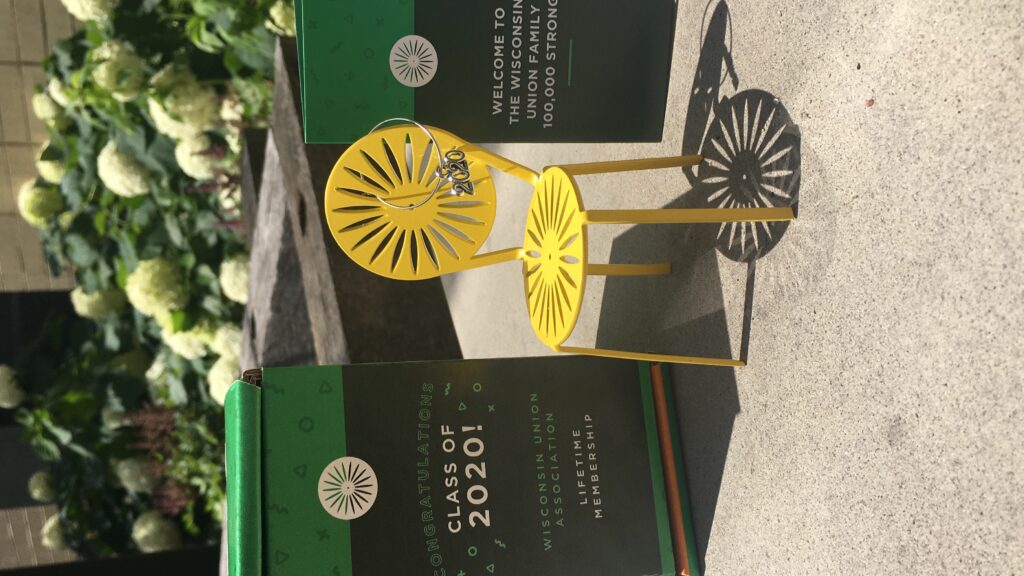 Beginning in March, the Union team has worked hard to address the logistics of sending these first-ever gift boxes out to our grads, and, in July, the Union team came together to assemble the packages. It took folks from across the Wisconsin Union as well as support from the Wisconsin Union Association to make this gift possible, and we are so grateful for each and every person who helped along the way. All told, our team spent more than 250 hours on this enormous labor of Wisconsin Union affection and appreciation.
The most challenging parts of this project? Assembling the gift boxes when most staff are working remotely and the process of mailing the boxes across the world. When the call went out to Union team members to put the gifts together on-site, team members from across the Union donned their masks, traveled to a strangely quiet Memorial Union (closed at the time to the public by campus order), and created a physically distanced assembly line. For some team members, it was their first time back in one of our buildings since the campus shift in operations in March. For our staff, it was a rewarding and healing experience to be able to do something to make an impossibly difficult situation for our new alumni a little better.

We are so glad our grads are part of the Union family forever, and able to enjoy everything that comes along with Union membership, including discounts on Union events and activities, access to members-only classes and connection with our community.

The images below provide a glimpse of the effort that went into processing thousands of these delightful gifts of a lifetime.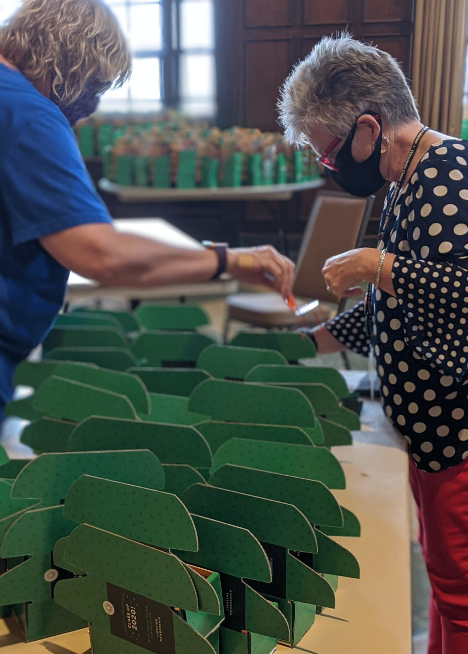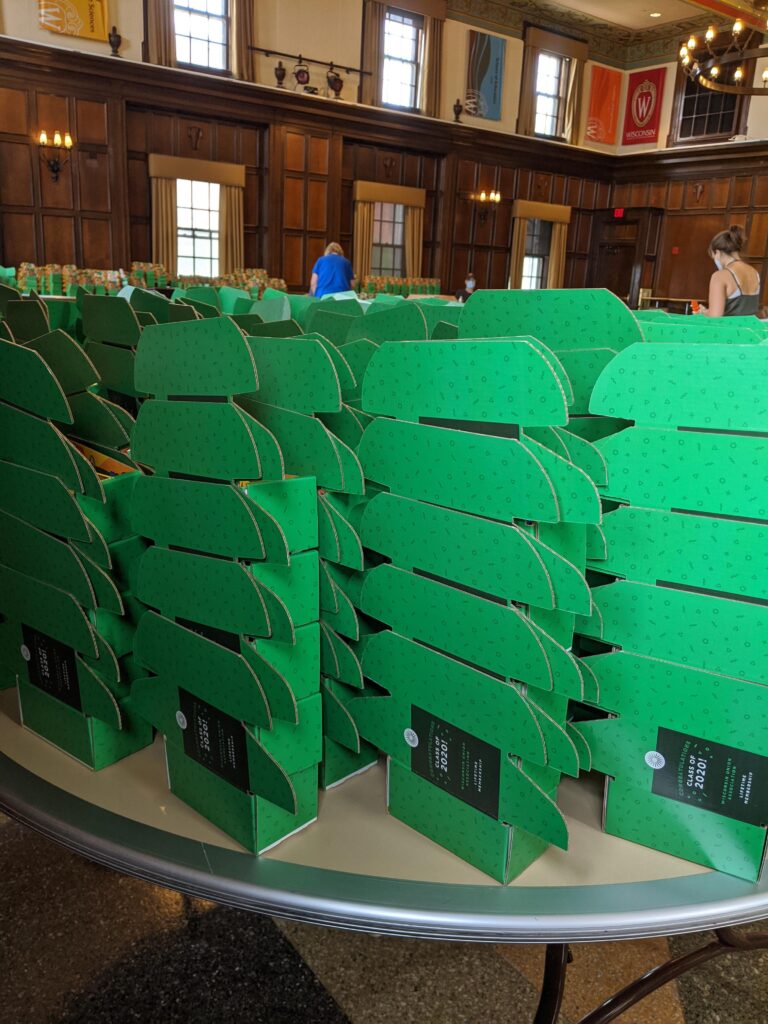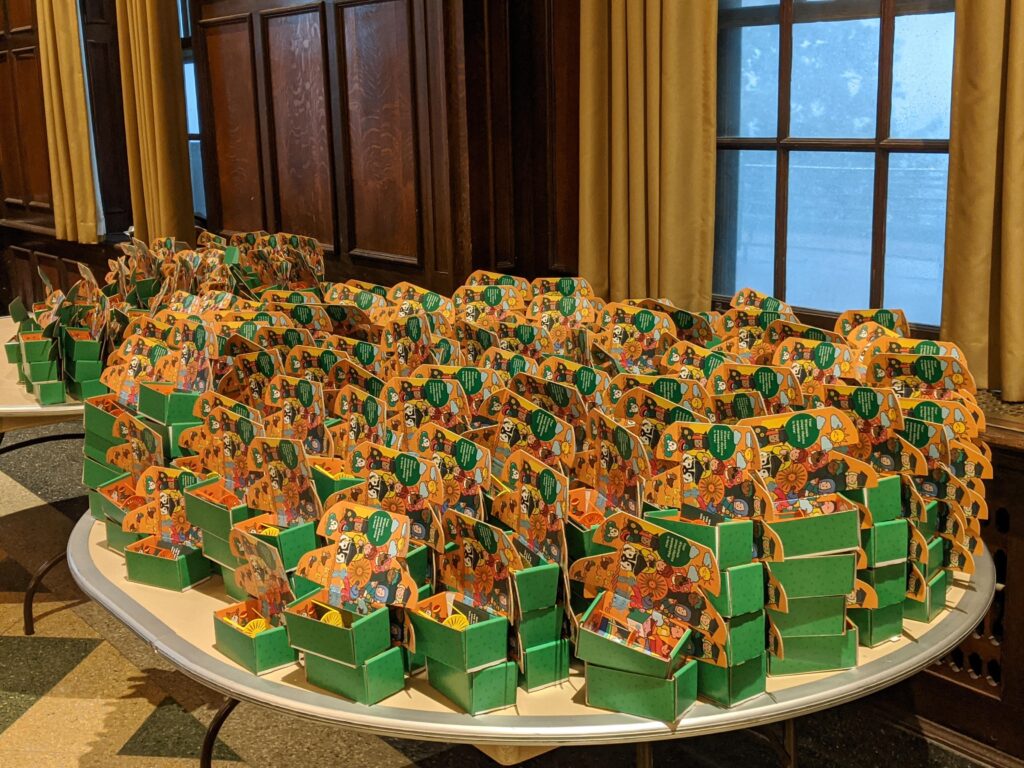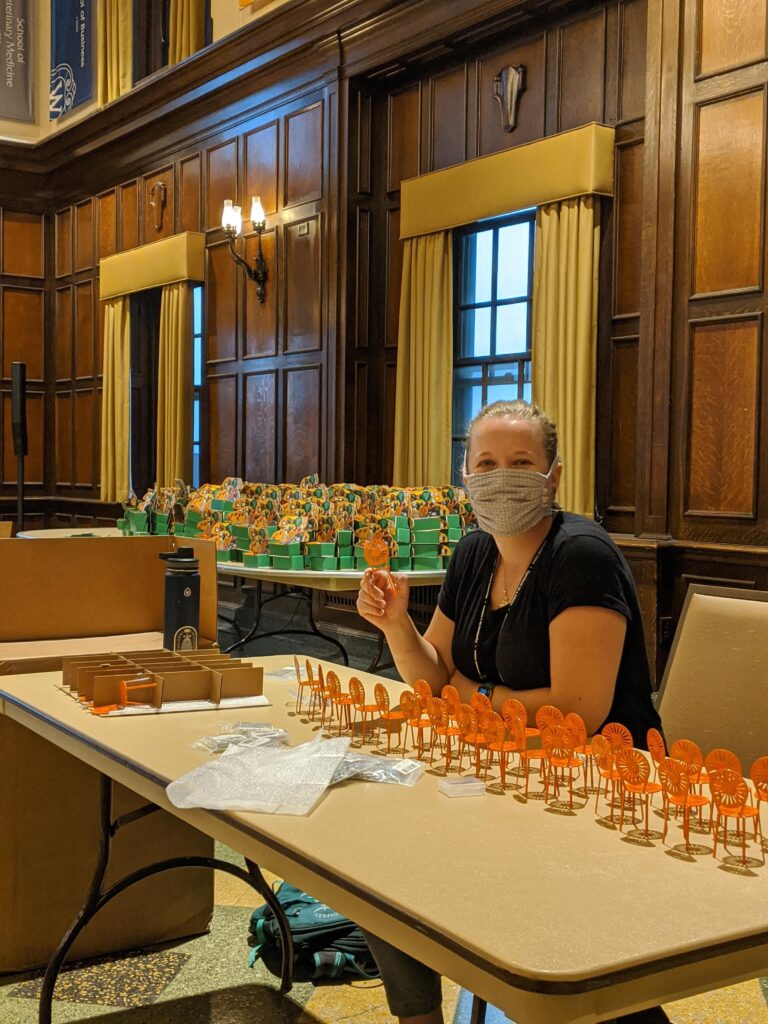 "We are grateful for the support of our members, even more so during this time when our spaces aren't available to everyone," Wisconsin Union Membership Manager Dawn Dever said. "They're shining examples of the Wisconsin Union spirit, and we look forward to when we can welcome everyone back."

While this year was anything but expected, we send our deepest thanks and best wishes to all of our graduates.
Want to help support efforts like this? You can support the Wisconsin Union by purchasing Meals To-Go, purchasing items from our online Terrace Store (Check out our gift boxes that you can purchase!), donating, and by sharing this story on social media with family and friends.