Printing Up a Storm: StudentPrint Celebrates 50 Years
The world has seen a lot of change over the past half-century – and StudentPrint (SP) has been there for it all. SP started as a source for printing protest materials in 1972 and has seen its share of social and technological revolution. Through many transformations, the campus print shop has continued its role as the best spot in Madison for deals on all types of printing jobs.
Whether it's stickers, posters, T-shirts, or copies, SP's 50 years of expertise extends far beyond paper projects to bring high quality products to meet every need. Newly inducted as a member of the Wisconsin Union family, SP continues to bring their personalized service to those both in and out of the UW–Madison community.
The print shop is student-driven with positions in management, marketing, financial, and customer service divisions. This unique approach offers students a space to gain leadership skills and shape the future of the business.
"StudentPrint is a great opportunity for learning," says Corey Holl, SP manager and graphic designer. "It's a team environment – and definitely a family. You form lasting relationships and get really good experience."
As a nonprofit, SP seeks to keep the lowest possible prices for its customers while supporting the talented student staff members who make customers' dreams into realities. The shop's graphic design team is also available for consultations, providing everything from guidance to creation of visuals – whether it's just designing letterhead or even crafting an entirely new logo!
"When you purchase your print-related items through StudentPrint, you are supporting student learning and development, as well as a nonprofit business that caters to the UW–Madison community," says Matt Douglas, SP advisor. "Our prices are very competitive and often more affordable than other full-service print providers."
In addition to their everyday job duties, students on the SP team may choose to be a part of several specialty project teams – marketing, inventory, website, finance, copyright, sustainability, outreach, and equipment – that advance the print shop's functioning and services. As a member of the marketing, sustainability, and website teams, Corey looks out for ways to enhance the business's operations alongside his fellow SP members.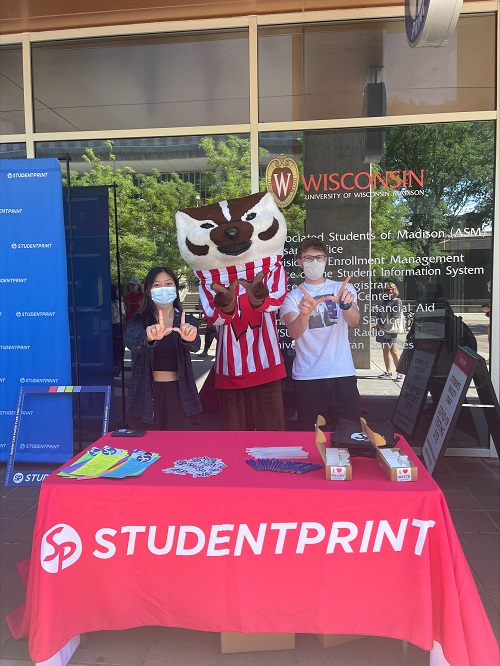 The student team isn't limited to those of specific interests or majors – and that's what makes the shop so great! You don't have to be studying marketing to be a marketing director, or have to be majoring in art to be a graphic designer. Students with passion and an interest in being a part of the team are welcome to apply to join.
"Seeing how team members have changed and grown over their time at SP is amazing," says Matt. "It is also amazing to see the impact they, as individuals, have on SP. We are thrilled to still have a place where we can provide support for students and the campus community while giving our student staff an opportunity to really flourish!"
Interested in commissioning StudentPrint for your next order? Visit stuprint.org. Looking to work for SP? Apply for open positions at stuprint.org/jobs.