Leadership, Mentorship, and Finding One's Voice: Mae Hurtado-Thiele Receives 2023 Women's Leadership Award
For a while, Mae Hurtado-Thiele says she lost her voice. As a child, she felt alone as the only girl in the upper level math classes and the only Spanish-speaking student at a new school. She felt less inclined to speak up, or even to speak Spanish in front of others.
But when she found her voice again years later, it was that of a burgeoning leader – and that of the 2023 recipient of the Anne Louise Martino Leadership Award. The annual honor through the University of Wisconsin–Madison's Leadership Certificate Program, administered by the Center for Leadership & Involvement, recognizes a graduating female undergrad for her incredible contributions to the campus community and beyond.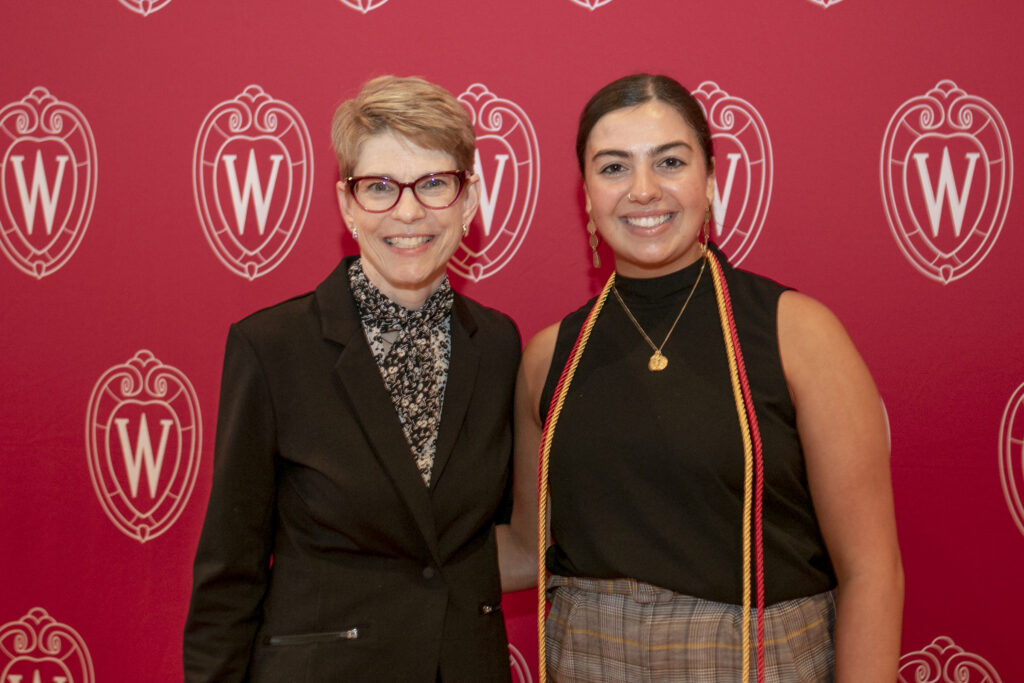 As an undergrad genetics and genomics major, Mae held a host of roles throughout campus: student lead historical researcher at the UW Missing in Action Recovery and Identification Project, academic chair of the Undergraduate Genetics Association, undergraduate researcher in the Judith Simcox Lab, president and co-captain of the Club Field Hockey team, and ambassador for the UW–Madison College of Agricultural & Life Sciences – just to name a few.
"My leadership experience has helped me grow into the confident and capable student, scientist, and leader I am today," Mae says. "The Leadership Certificate was valuable to me, because it provided me with the time and space to reflect on my shortcomings and also my strengths as a leader, and it gave me the outlet to practice these skills and improve them."
The Leadership Certificate Program encourages students to grow as leaders across campus through trainings, workshops, mentorship and hands-on experience in areas of students' choice. Not only does it push students to actively engage in their community, but it provides campus with thoughtful, inspired leaders in and outside of the classroom. In fact, UW–Madison students participating in the Leadership Certificate Program have substantially higher leadership outcome scores than students who have not participated in the program, according to data collected through the 2021 Multi-Institutional Study of Leadership.
Named after a 1988 alumna and local businesswoman, the Anne Louise Martino Leadership Award inducts female-identifying students into the UW–Madison Women's Leadership Award Network, where recipients like Mae can continue to receive guidance and support from female-identifying leaders in various fields.
"I am thrilled to be a part of this amazing network," Mae says. "I'm looking forward to learning by example and also to have new friends and mentors all across the country. Additionally, with all of the big changes and transitions ahead, I'm incredibly grateful to have Anne and the other women in the network as mentors."
What's next for Mae? Unsurprisingly, the scholar has some pretty exciting plans. She is starting a two-year fellowship at the National Institutes of Health's National Cancer Institute, studying the role of CD4+ cells in autoimmune responses and multiple sclerosis.
She's following her grandmother's advice – "La educación no ocupa espacio," or "education doesn't take up space." – and is hoping to attend medical school after her fellowship in pursuit of becoming a physician-scientist.
"This award is a testament of the work I've put in throughout the years," Mae says. "I've worked incredibly hard to establish myself on campus as a leader for young women and Hispanic students in STEM, and I intentionally built a network of diverse individuals who had similar goals to help make my dreams a tangible reality. At the end of the day, this recognition serves as a personal reminder that hard work does pay off and that those many long days filled with classes, work, and extracurriculars are absolutely worth it."
Including Mae, 75 students received their Leadership Certificate in May 2023. A full list of those recipients can be found here.
Thank you to the members of the Leadership Certificate Review Committee for their help reviewing student submissions and for their ongoing support of the program.

Students interested in pursuing their Leadership Certificate can visit cfli.wisc.edu/leadership-certificate-info-packet to learn more. Looking for other student leadership opportunities and programs? Check out the Center for Leadership & Involvement website for more information.