Bloom Where You're Planted: Students Recognized at 2023 Bucky's Award Ceremony
Each spring, we are honored to recognize the hard work and dedication of Badgers at the annual Bucky's Award Ceremony through the Center for Leadership & Involvement's (CfLI) Student Leadership Program. The event provides a space to celebrate and applaud the valuable contributions University of Wisconsin–Madison students are making to improve campus and beyond.
This year, we were able to spotlight the incredible work of 18 individuals and seven registered student organizations who are encouraging a community of thoughtful, respectful leadership and forging a more welcoming and inclusive environment for all – check out a few of their stories below!
Brelynn Bille, recipient of the Creating Inclusive Community Award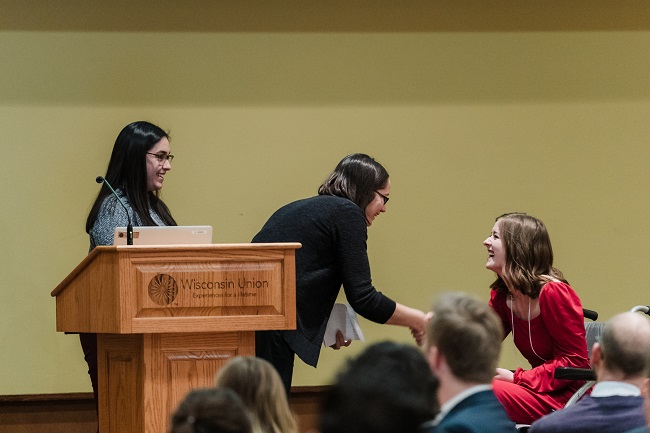 Driven by a desire to enhance accessibility and disability visibility on campus, junior UW–Madison student Brelynn Bille has been hard at work.
She has successfully advocated for the construction of the Disability Cultural Center as part of a coalition, personally petitioned Gov. Tony Evers to officially declare July as Disability Pride Month in 2022 (with plans to do so each year until the month is federally recognized), presented at UW–Madison's Diversity Forum and All Campus Leadership Conference, and is currently working on an independent study to pinpoint ways the university can enhance accessibility and lower the barriers for individuals with disabilities to thrive and succeed on campus – just to name a few of her accomplishments. She also was recently named UW–Madison's 2023 Campus Compact Newman Civic Fellow.
"When you're a disabled person on this campus, you are constantly facing stigma and barriers to receiving an equitable education to your able-bodied peers," Brelynn says. "I am most proud of how my work has helped other students become aware of the issues facing students with disabilities on campus, and the overall issues and barriers facing disabled people in all spaces."
Through her many efforts, Brelynn is transforming the conversation on campus and inspiring change.
"I hope to be part of the leading students who are working to alter the discourse around disability and accommodation in order to create a more inclusive space for all," she says. "One focal point of my work is to make it known by others, not for the personal recognition, but because I cannot do it all myself. By creating a system of allies, more people are able to learn about disability, physical and digital barriers, and what accommodations and accessibility can look like in the spaces they are active in, I can vicariously make UW-Madison a better place for other disabled folks."
She encourages students who are interested in increasing disability awareness and inclusivity to connect with the Disability Cultural Center in the McBurney Disability Resource Center to learn more about how to be a community ally.
There's so much still to do, and Brelynn's work is certainly just getting started.
"The next step in my work is focused around expanding campus DEI officers and coordinators to educate themselves and their peers around DEIA (diversity, equity, inclusion, and accessibility)," Brelynn says. "By having DEIA present on campus, it would hopefully increase the level of awareness that the university has for the disabled population here, and would require accountability in the efforts of having representation."
Wisconsin Student Parents Organization, recipient of the Best New Student Organization Award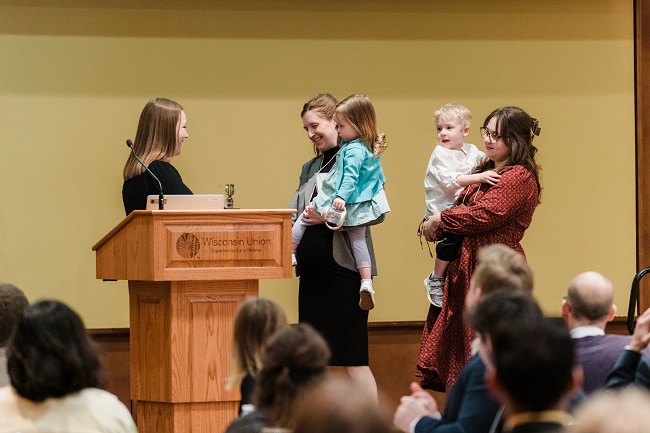 Formed by two student parents in the fall of 2022, the Wisconsin Student Parents Organization (WISPO) supports the caregivers on campus who are balancing their lives as parents alongside their undergraduate or graduate studies. Already boasting over 100 registered members, the organization has created a shared community for students who can often feel isolated or unrecognized.
"Kateri (WISPO vice president and co-founder) became a parent as an undergraduate and I became a parent during my PhD, and we each experienced distinct challenges, ranging from inequitable accommodations to resource accessibility, feelings of isolation, and outright discrimination," says Erin Conley, WISPO president and co-founder. "Although our experiences were different, we both recognized the need for a student-led parenting community on campus. We quickly formed a core team of student parents that make up WISPO's leadership body, and this small but incredible team has formed and sustained the organization into the vibrant community it is today."
From connecting student parents to free diapers and childcare options to providing parent study days and child-friendly social get-togethers, WISPO is creating an outlet for student parents to network, connect with and learn from one another – and most importantly, feel supported by a strong community.
"We have heard from numerous members how important the WISPO community has been to their sense of belonging over the past academic year," Erin says. "We frequently hear from members who have learned about a resource from WISPO that has greatly benefited their family, and knowing the positive impact we have made on these families means the world to us."
WISPO's mission is threefold: to create a parenting student community, to provide access to valuable resources for student parents and caregivers, and to fight the stigma often associated with being a pregnant or parenting student in college.
"Much of the change that needs to happen on campus must happen on the individual level," Erin says. "In much of academia there is an unspoken understanding, especially for birthing parents, that your time as a student is not an appropriate time to have children. This is especially true for undergraduates. The campus community must acknowledge that all university students are entitled to parenthood should they choose it, that raising children is a fundamental human right, and that this truth is independent of your academic status."
Awarded the Bucky's Award for Best New Student Organization, WISPO has stepped up to the plate to make student parents feel seen, celebrated, and supported – all while continuing to advocate for inclusivity and accommodation.
"We continue to bloom, and we aim to help each pregnant and parenting student on our campus bloom, as students, as parents, and as valued members of our community," Erin says.
Individuals interested in joining or supporting WISPO can find more information on its Instagram page. 

Looking for leadership student opportunities and programs? Check out the Center for Leadership and Involvement for more information.