Celebrating Pride: the Creation of the Wisconsin Union's 2022 Pride T-Shirts
In honor of Pride Month 2022, the Wisconsin Union released a limited-edition t-shirt with a Pride-themed design by then Wisconsin Union Graphic Designer Intern Clara Huskin '22. In this story, Clara provides insight into how her design choices encapsulate the Union's commitment to a campus living room that celebrates all.
Over the course of 27 different versions, Clara finally arrived at the finished design found on Badger Market shelves at Memorial Union and Union South as well as at TerraceStore.union.wisc.edu. Clara designed every component with intention and through research, beginning with her reference point; Keith Haring—whose work has experienced a resurgence amongst younger generations—was an LGBTQIA+ and AIDS activist who fought to illuminate and center discourses of sexuality, identity and oppression in the public eye. Inspired by Haring, Huskin employed the line work and vibrant colors reminiscent of Haring's style in her design. This conglomerate of figures and icons screams "Haring," while also promoting the ideas and values for which he stood.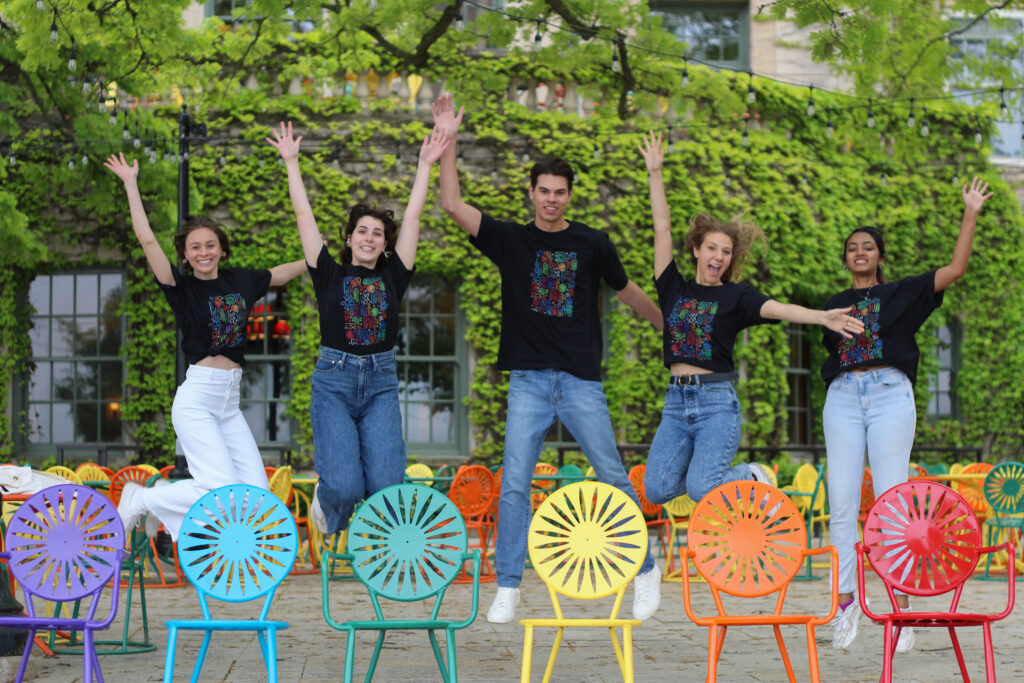 The t-shirt and design are not alone in standing with Haring's values. The Wisconsin Union—represented in Clara's design by the iconic Union sunburst—stands as an ally for all members of the LGBTQIA+ community. The Wisconsin Union works to not only be aware of the descrimination experienced by the LGBTQIA+ community but also seeks to do its part to create a welcoming environment with inclusivity as the cornerstone of your Union experience.
The Wisconsin Union is committed to LGBTQIA+ programming that brings speakers with this shared goal to our public. This commitment has brought activists from all over the nation to Wisconsin, an impressive feat particularly during the winter. Freezing rain or shine, these distinguished activists have continued to come and speak at the Union's buildings, spreading the good word of Pride, not just in June but year-round.
Guided by research, a respect for the LGBTQIA+ community, and a strong sense of intention in representing this community faithfully, Clara's design is a perfect fit for our Union community. These t-shirts will remain on sale, but make sure to get them before they're gone! These shirts not only spread the Wisconsin Union's message of acceptance and Pride, but their proceeds contribute to Wisconsin Union programming that has historically brought LGBTQIA+ voices to campus.
To purchase a limited-edition t-shirt, visit terracestore.union.wisc.edu or the Badger Market at Union South or Memorial Union. If you would like to check out more of Clara's work, visit her portfolio here.